News
Love is in the Air! Beautiful Actress Hilary Duff is Dating Producer Matthew Koma!
New couples on the town! Sorry guys, Hilary Duff, is off the market and is her new music producer boyfriend, Matthew Koma. Although she was off the market for few months, she is back again with a bang!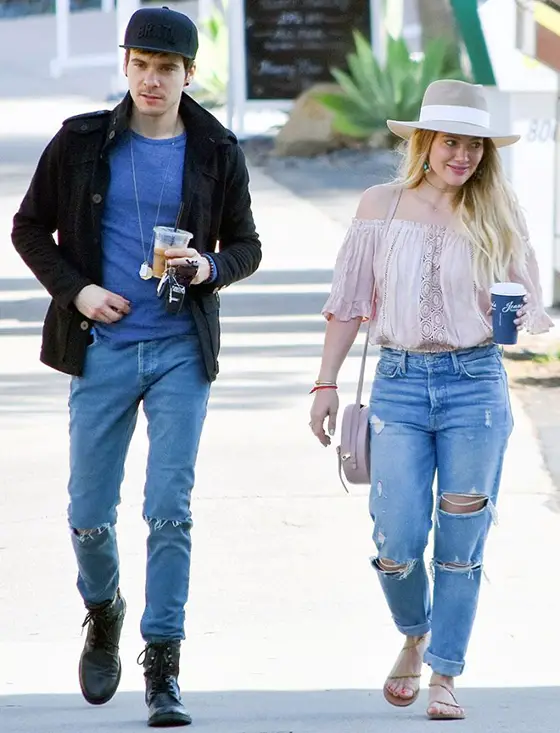 Caption: Matt Koma and Hilary Duff was seen together in Santa Barbara, California on January 15, 2017.
Photo credit: usmagazine.com
The newly made couple, Duff, and Koma spent the Martin Luther King, Jr. Day long weekend at Santa Barbara's San Ysidro Ranch on 14th January in the same hotel where she spent her wedding night with then-husband Mike Comrie in August 2010. That is interesting!
According to Us Weekly, the love birds enjoyed some R&R at the resort this past weekend. Both Duff and Koma, 29, headed north and were seen kissing while grabbing coffee with friends at Woodland Hills' Gasolina Cafe in Los Angeles on Saturday, January 14. A source said to Us Weekly:
"At the restaurant, they were seated on the same side of the table and pulled their chairs close together, they were leaning in and laughing a lot. They had their arms linked and kissed at one point."
Hilary Duff singer-actress and Matthew Koma, the musician, arrived at their hotel together. Moreover, the source added:
"They checked in to San Ysidro Ranch on Saturday afternoon and stayed on the property until Sunday morning. They went to breakfast on Coast Village Road at Jeannine's and then they took a stroll with their coffees. When they left, Matt was driving Hilary's car."
Before the love birds' weekend outing, Duff and Koma had earlier worked together on various tracks on Duff's fifth studio album 'Breathe In. Breathe Out', which was released in June of 2015. Koma had previously dated Carly Rae Jepsen who served as a co-writer as well as producer for several of Duff's songs.
Duff's new romance with Koma comes only months after the actress-singer split from her personal trainer boyfriend, Jason Walsh in November in 2016. Both Duff and Koma have not made this news official on their Instagram.