News
Author Mitch Albom's Life Behind His Best-Selling Books: His Family And Career History
Mitch Albom is undoubtedly a person with sheer talents as he is recognized by many work titles like, Author, journalist, screenwriter, dramatist, television and radio broadcaster, and last but not the least, a legendary musician. However, he may have written many books on love but ever wondered what do we know about his own? Well, for all out there who wish to know more, this is the place you have been seeking.
Being an author is mostly about the work of a strong imagination which can be brought down and written in papers and there is no doubt that Mitch Albom is a man with tremendous power over his pen and papers. He has written many stories related to family and love but the fact that if he is a family man himself is a matter of mystery.
However, we will not let that stay as it is, but he has not written so fondly about his personal issues but still, to take a look at it, we dare say it is worth it.
Mitch is a married man and has a wife who goes by the name Janine Sabino and the couple got married on a day filled with romantic atmosphere i.e. Valentine's Day on February 14, 1995. However, Mitch has not discussed any further on this matter. It also remains secret if the couple produced any children over the years staying as a married couple.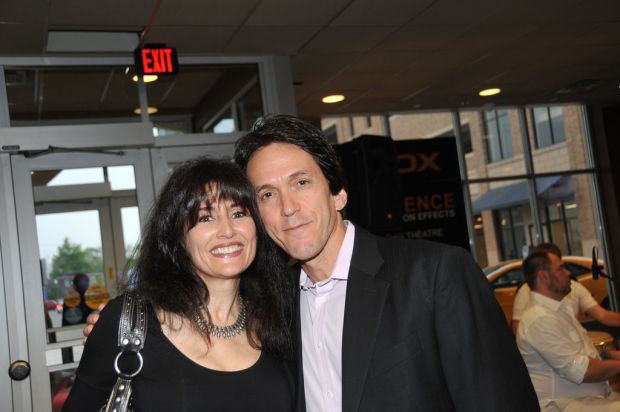 Caption: Mitch Albom with wife Janine Sabino in May 2011.
Photo Credit: flickr.com
His married life is on the dark side where nobody can have a glimpse as he is only in the media for his works.
Alom's Fame in different Dimensions 
Mitch Albom in his years as a working author, which he still is, he has written ten books in total; three of them belong to the sports category. Here is a list of the books he has written over the years that have successfully sold over 35 million copies published in 45 languages in 49 territories.
Tuesdays with Morrie (1997)
The Five People You Meet in Heaven (2003) 
For One More Day (2006) 
Have a Little Faith: A True Story (2009) 
The Time Keeper (September 2012) 
The First Phone Call from Heaven (2013) 
The Magic Strings of Frankie Presto (2015)
 Books in Sports category:
Fab Five
Bo
The Live Albom Collection
Mitch also seems to be fond of his writing as he often posts picture quotes which he excerpts from his books and he has also said some famous lines that people take as a source of inspiration. Here are some of the quotes made by Mitch.
"Detachment doesn't mean you don't let the experience penetrate you. On the contrary, you let it penetrate you fully. That's how you can leave it." – Have a Little Faith: a True Story.
"Maybe death is the great equalizer, the one big thing that can finally make strangers shed a tear for one another." – Morrie Schwartz, Tuesday With Morrie.
Despite writing all these books, Mitch is also a quite loved radio and TV broadcaster as he started a Sunday night sports-talk program called 'The Sunday Sports Albom' in 1988. The show is, in fact, believed to be one of the very first talk show on FM radio in WLLZ-Detriot which now has become Active Rock.
Mitch now hosts his Monday show which is an hour-long sports talk show, 'The Monday Sports Albom.' On the television side, he regularly appears on The Sports Reporters and SportCenter in ESPN. Apart from that, he has appeared in other major TV shows like The Today Show, The Early Show, Larry King Live, The Late Late Show with Craig Ferguson.
A little different from his usual works, Mitch is also a musician and has written a song titled 'Cooking For Two' for Arnold Schwarzenegger's television movie 'Christmas in Connecticut' in 1992.
Caption: Mitch Albom on The Late Late Show with Craig Ferguson
How rich is Mitch Albom? 
Now that we are aware how versatile Mitch Albom is as he covers a wide area of work and interests, as an author, TV and radio hosting, and as a musician and lyricist, Mitch has successfully gathered a massive net worth of $10 million.
However, Mitch being a man of a kind heart does not keep this huge net worth to himself as he is a very active person in charity and is linked to The Dream Fund, A Time to Help and many other small charity projects.
He currently co-hosts The Mitch Albom Show on WJR that includes commentary, interviews and offers additional information on traffic, sports and news alongside Ken Brown on weekdays.