News
Natalie Maines Splits With Her Husband! Files For Divorce Citing After 17 Years
Natale Maines, The Dixie Chicks lead singer, calls it off with husband Adrian Pasdar, filing a divorce after 17 years of companionship.
A conflictive difference was cited in her petition to end her marriage with the Agents of S.H.I.E.L.D. star, Adrian Pasdar. The source close to the couple reported TMZ that 'the split is amicable.'
On the other hand, A representative for the Dixie Chicks musician told PEOPLE, that the split is "a private family matter," and denied further comments.
Just a year back, a feature article which appeared on a country music news site called the duo one of "Country's Greatest Love Stories." It has turned out to be ironic, as the couple decided to split just a year later.
Manie, 42, and Adrian, 52 are parents to two sons, Jackson Slade, ages 16 while Beckett Finn, who turned 13 this month. Manie has reportedly pledged the request for joint custody; keeping the family spirit alive.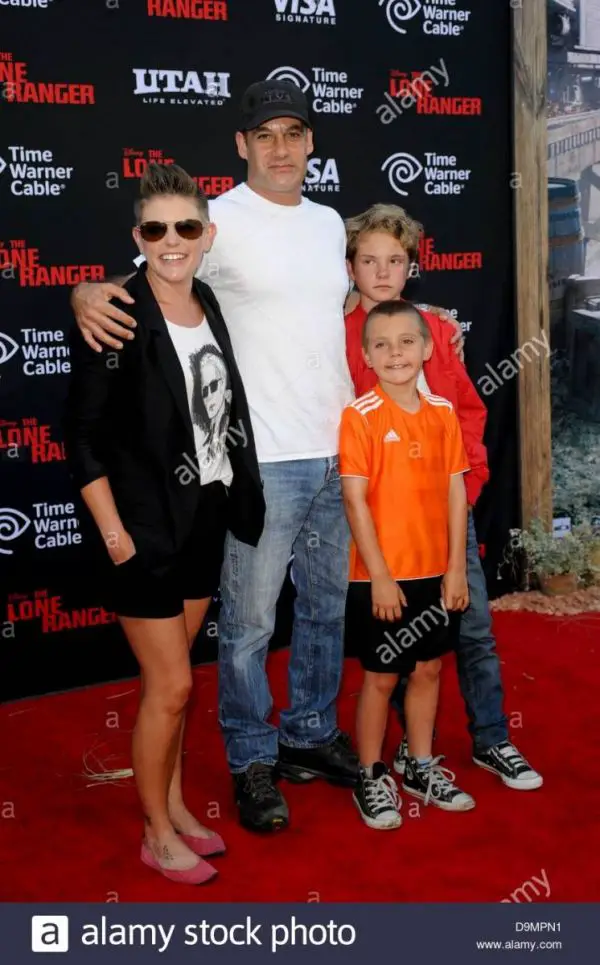 Caption: Natalie Maines with husband Adrian and their children, at the arrivals of THE LONE RANGER Premiere on June 22, 2013.
Photo Credit: Alamy.com
The chemistry between the duo was formed back in May 1999 at Emily Strayer's wedding to her first husband, Charlie Robison. Natalie was a bridesmaid, while the former star of 'Heroes' was coincidentally a groomsman.
They exchanged conversation then, and slightly more than a year later on June 24, 2000, they ended up getting married at A Little White Wedding Chapel in Las Vegas.
Natalie also made it to the news in 2013 when she revealed having a Lesbian girl crush on MSNBC news anchor Rachel Maddow. She stated,
"I love Rachel Maddow. She would be my lesbian girl crush," the singer tells PrideSource's Chris Azzopardi. "She's hot! And she's smart and beautiful ... and I like her hair."
Furthermore, her proliferating gay fan base got even solid as a result of her publicly criticizing the former president of U.S- George W.Bush.
She enlightened the situation, stating,
"After the controversy, I feel like there was even more of a connection, and that's just because we both know how it feels to be hated just for who we are — not for doing anything, bothering anyone, murdering anyone or being arrested. Just for being us. Apparently, that's not good in some people's eyes."
She even spoke out in defense of same-sex marriage. Supporting the idea of it, she told USA Today,
"I'm pro-gay marriage. Pro-gay everything."
Natalie, who is famous as an American singer-songwriter and activist, shares a birth name of Natalie Louise Maines Pasdar.
She garnered success as the lead vocalist for the female alternative country band the Dixie Chicks. You can check out one of her performance here,
Caption: Dixie Chicks- Miley Cyrus cover of Wrecking Ball. (Published on Mar 15, 2014)
We support the decision she made in regards of splitting with husband Adrian and wish her more success in the days to come.