News
OIly Murs Smitten With Rumored Girlfriend; Just Months After Dating TV Presenter
Leaping On Another Affiar? 
English singer Oliver Stanley Murs, mostly known as Olly Murs, seems to be moving on with the new relationship as he was reportedly seen dining out with a mysterious woman on 16th May 2018. 
The pair were pictured leaving out from the Chai Tang restaurant in Mayfair before they waited outside the restaurant, probably for a taxi. During the time, Olly and the mysterious blonde stood close and chatted facing each other, offering only a back view of the woman.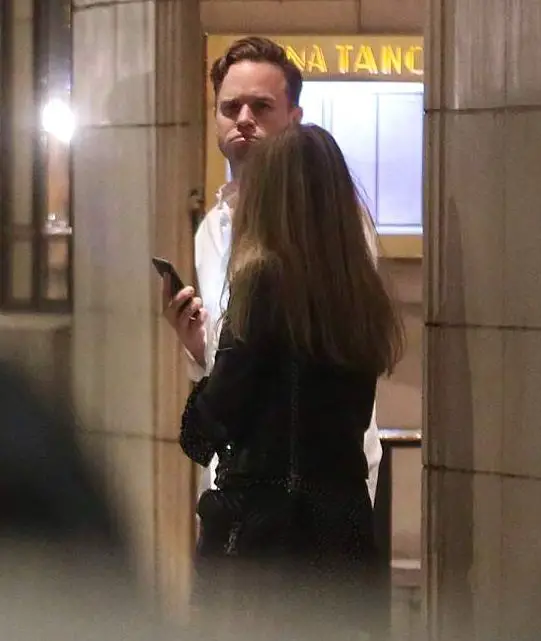 Olly Murs in a dinner date with a mystery woman at Chai Tang restaurant in Mayfair on 17 May 2018 (Photo: dailymail.com)
The 34 years was in a dating relationship with TV host Melanie Sykes before being seen with the anonymous. The one-year long affair of the two only surfaced out in the media before 2017's Christmas. 
The reports supported that the pair bonded through their love for fitness after a mutual friend introduced them to each other. However, the duo was not together when the news surfaced as Melanie announced her single status via Instagram on 22 November 2017. 
Melanie uploaded a picture of herself and in the caption, exclaimed:
To all Those writing shite about me & my life. This is what a single, happy, healthy, 47yrs old independent mother of two teenage sons looks like. DEAL WITH IT!
Olly also quoted himself to be single during his show The Voice in January 2018. He even admitted to having a fling with Melanie after the guest panelist Kelly Brook asked about his relationship with Melanie. He affirmed:
"Mel's amazing...there might have been something"
Olly has been romantically linked with numerous women since his split with girlfriend of three years Francesca Thomas back in 2015. He took a long time to move on from breakup as he initially planned to get married and have a family with her. 
During an interview with OK! in January 2018, Olly even confessed being in pain when Francesca got engaged to the person, coincidentally named as him, Ollie Roger. He stated, 
Francesca left a big mark on my heart. She was my first proper girlfriend during this whole mad life which changed everything for me.Of course, there's part of me that misses what we had and what we went through. But life moves on, she's moved on and I need to do the same. I'm trying to. 
Just after the break up with Francesca, he was linked with an English singer, Diana Vickers. But Olly slammed the rumors saying that they were "ridiculous and a load of rubbish!"