News
Paige Price Engaged To Actor Frankie Muniz; Officially Getting Married Now
Paige Price throws the marriage "Dice" turning her actor-boyfriend, a husband!
Model Paige Price is finally engaged to his longtime actor-boyfriend Frankie Muniz after two years of dating life.
Paige, who started modeling at the age of 18, revealed that she is getting married to "the master of proposals" boyfriend in the Instagram post that she shared on 19 November 2018.
Calling Frankie the man of her dream, she poetically wrote the long caption;
"You teach me every day, you compliment me when I'm at my worst, and you push me past the edge but you're there to pick me up when I start showing signs of falling. I love every piece of you, and I appreciate you more and more every single day.
The Malcolm In the Middle star popped the question to the model at the "Pinal Fairgrounds & Event Center's" Lantern Festival in Casa Grande, Arizona, on 18 November 2018. And she stated that she "ugly cried" after he popped the question and could not wait for more to be his wife.
Updates On Engaged Actor:- Katie Holmes Engaged To Boyfriend! How's Everybody Reacting To The Ring
In the shared pictures by Paige, aged 25, bright lights were floating in the night sky behind the couple which probably has had made their nights mesmerized.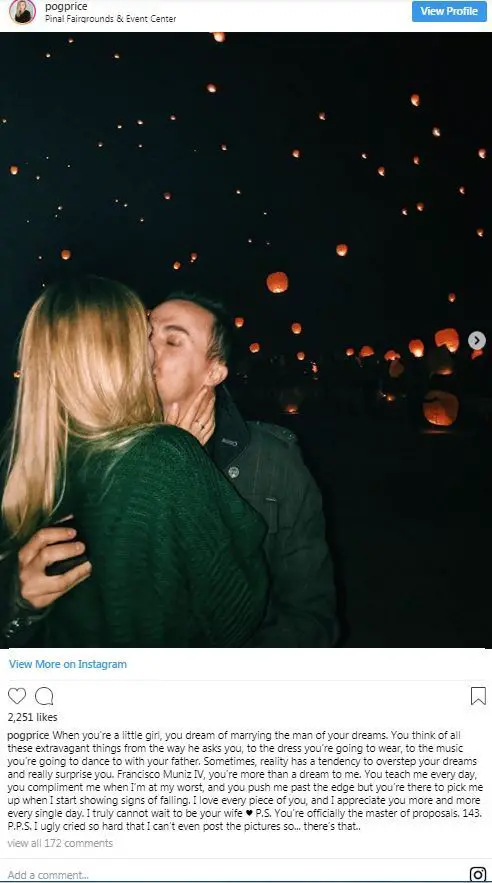 Frankie Muniz proposed his long-time girlfriend, Paige Price (Photo: Paige Price's Instagram)
And watching beautiful Paige crying so hard, probably made Frankie emotional as she has been the support of his life. He frequently speaks on how he would be lost without Paige as he has been living with his massive memory loss.
The Arizona native is well-coping the 32-years-old actor's everyday things as she writes the whole journal to make him remember his things. While competing in Dancing With the Stars' season 25, he revealed to US Weekly
"So she writes literally in detail—she's a writer too, so it works—like a journal that I can look at any day. It does bring me back there because there is really cool, amazing detail."
Frankie, who claims that his bad memory is making his work difficult on the set of Malcolm in the Middle, said that his girlfriend has been a great support and called her the strongest girl.
Discover:- Roxy Sowlaty & Boyfriend Are Engaged, Dating To Paris Proposal In Detail
The couple first met while Paige was following his passion for golf. Shortly after her 21st birthday in 2014, the model turned to host the short segments in the golf network.
While following the golf, she met the child superstar Frankie Muniz at Frank Sinatra 100th anniversary. And then soon the couple started flouring their dating life since April 2016.
Well, this is the second getting engaged experience for the award-winning actor as he previously knelt on his knees to propose ex-fiancee Elycia Marie Turnbow in 2011.