Trending
Pia Muehlenbeck Age 27 & Boyfriend Gets Married, Here's Wedding Pics
Instagram star is a married woman now! Pia Muehlenbeck and her long-time boyfriend Kane Vato were pronounced as a "husband and wife" in the lavish wedding ceremony on 4 December 2018 at Byron Bay.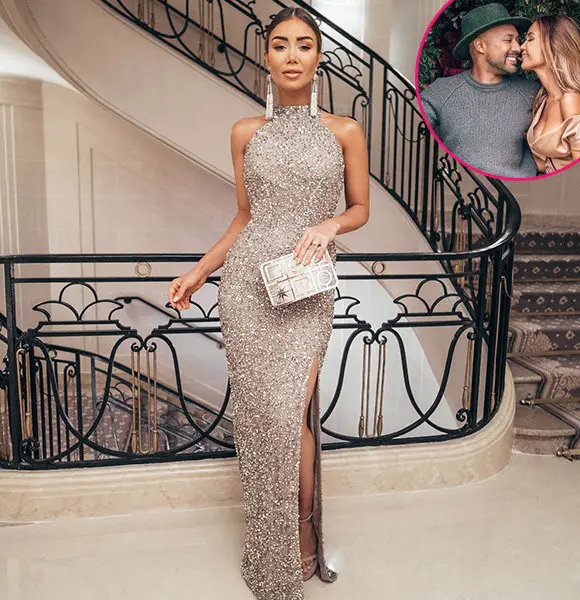 Aussie influencer and Instagram star, Pia Muehlenbeck is a married woman now!
The founder of Luxe Sportswear Co., Pia Muehlenbeck and her long-time boyfriend Kane Vato were pronounced as a "husband and wife" in the lavish wedding ceremony on 4 December 2018 at Byron Bay.
The former lawyer shared the first glimpse of their wedding among her over 2 million followers on Instagram quoting,
"Mr & Mrs. Muehlenbeck."
Other Instagram Star:- Riley Lewis Age 15 Not Married But Dating Boyfriend, TikTok Star Tyler Philips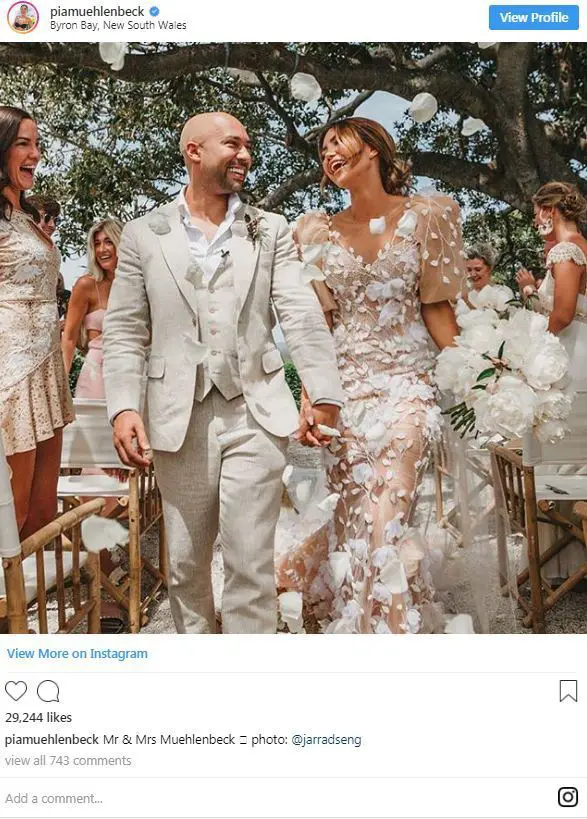 Pia Muehlenbeck gets married to Kane Vato (Photo: Pia Muehlenbeck's Instagram)
The 27-year-old Instagram model walked down the aisle with Pallas Couture designed wedding gown and a matching veil. 
Her wedding gown turned her day more memorable as the backless design hugged her adored body figure, and the dress went into a flowing fishtail. The dress featured the nude detailing and an array of white leaves and flowers, and the dress might have cost between $7,000 and $12,000.
Don't Miss:- Maya Henry Age 18 Kisses New Boyfriend Liam Payne! Officially Dating Now
Importantly, the wedding had a strict dress code and their friends and family seem to have abode by the dress code of "natural earth tones" theme for that day.
While the couple was mesmerizingly waiting for the day to exchange the vows, they had already made the strict dress-code and requested every guest to follow the theme to "wear natural earth tones."
Also, the Instagram model convinced her now-husband to add her surname, 'Muehlenbeck' on his name. And soon after they wed, he changed his social media profile name to "Kane Vato Muehenbeck."
Two days prior to his wedding, Pia's Instagram husband shared a video claiming that everyone is convincing him to change his surname to Muehlenbeck.
And on the bride side, hours before sharing the wedding vows with her boyfriend, Pia shared the Instagram video of herself practicing the wedding vows in tears. She said in the clip:
"This is going to be really hard to get out."
Also, she changed the bio of her Instagram which reads:
"Don't mind me, I'm just getting married today."
Similarly, her husband also seemed equally excited about their wedding as he too changed her bio:
 "'Getting married today to @piamuehlenbeck."
Previously, in October 2018, Pia gushed about her amazing wedding plans to Daily Mail Australia. She had disclosed that wedding theme would be "summery, natural, rustic and Byron Bay" and the celebration would last for a few days.
Also, during Rihanna's first-anniversary event in Sydney, she spilled all about her wedding plans while the wedding was just around the corner, 
"Wedding planning is going! It's literally 64 days away, which feels like I should have planned that a lot earlier but I'm one of these last minute people. But weirdly it's coming together quite nicely, I'm not stressed anymore, I'm excited about it!"
The newly married couple got engaged after Kane came with an unexpected proposal during their romantic vacation to France in October 2017. With their several years of dating life, the couple chose not to disclose their engagement news to 2 million followers. 
But the low-key engagement news got the limelight after her husband updated his Facebook relationship status to engaged.
Congratulations to the newly-married couple!