News
Pregnant NRL Wife Phoebe Comments on Teachers Backfired, Apology Accepted?
Last Wednesday, on the Today Show, Phoebe Burgess allegedly commented that there are loads of 'Lazy teachers,' which as expected, got her covered with full of rage teachers and their comments, for which she apologized later.
From a married couple to soon-to-be parents; Phoebe Hooke and her NFL star husband have shared a wonderful journey together from the past years. And now that the wife of NFL star Sam Burgess is pregnant with a baby, naturally she will get worried over her child's future but she has set off many teachers allegedly saying that teacher has time to mark homework but are just too lazy to do it.
Caption: Phoebe Burgess with husband Sam Burgess.
As Mamamia covered, she said,
"I think it's plain lazy to say you don't have time. You clock off at 3pm. Make the time."
This segment took place when Phoebe was discussing a matter of banning homework in a high school in England because the teachers did not have enough time to mark it and the soon-to-be mother who herself is pregnant with a child was against it and labeled teachers 'lazy'.
Her comment soon raised many voices, many of which were notably teachers. She got rounded in all her social sites with a flood of enraged comments made by people who did not think her comment was meticulous. Here are some of the comments that came from infuriated viewers.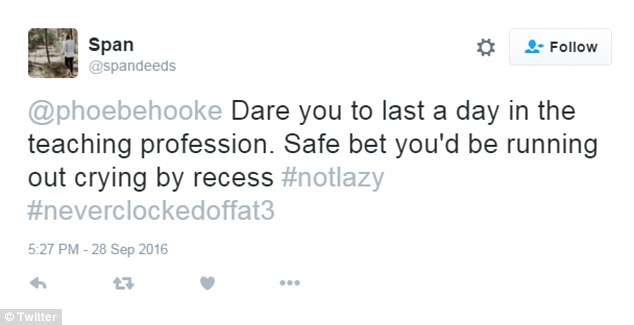 Caption: Twitter response
She did get a lot of responses through facebook as well.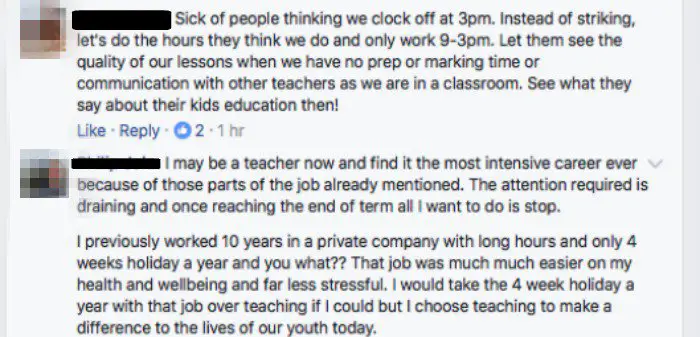 She has recently apologized for her words expressing that all the response left her deeply upset and embarrassed. She further said,
'With multiple teachers in my family, and being about to start my own family, the short clip you saw was not an accurate or fair reflection of my true opinion of how damn hard teachers work. In the short time, I had to express myself, I was making or attempted to make a point about homework and the importance, in my opinion, of it when it comes to learning.'
She apologized to her viewers in a very long response.