News
Remembering Muhammad Ali: The Record-Breaking Boxing Champion
Quick Information
Date of Birth

B- 1942-01-17, D- 2016-06-03

Nationality

American

Birth Place

Louisville, Kentucky, United States

Profession

Professional Boxer

Birth Name

Cassius Marcellus Clay Jr.

Nick Name

The Louisville Lip, The Greatest, The People's Champion

Zodiac Sign

Capricorn

Ethnicity/Race

African-American

Father

Cassius Marcellus Clay Sr.

Mother

Odessa Grady Clay

Brother/s

Rahman Ali

Son/s

Ali Jr., Asaad Amin

Daughter/s

Laila Ali, Maryum Ali, Rasheda Ali, Hana Ali, Jamillah Ali, Khaliah Ali-Wertheimer, Miya Ali

Relationship Status

Married

Wife/Spouse

Lonnie Ali (m. 1986–2016)

Divorce/Split

Yes (Thrice)

Ex-Wife

Khalilah Ali (m. 1967–1976), Veronica Porché Ali (m. 1977–1986), Sonji Roi (m. 1964–1966)

Gay

No

Dating/Affair

No

Net Worth

$50 Million

High School

Central High School

Height/ How Tall?

6'3" (1.91 m)

Weight

107 kg (236 lbs)

Hair

Short

Hair Color

Black

Eye Color

Black
Muhammad Ali (1942-2016) was one of the most remarkable and recognizable people in the world. He lived an exemplary life and fought for his beliefs and human rights. His life story has many fights both inside the ring and outside of it. Muhammad Ali was not just a record-breaking boxing champion but also a warrior for the discriminated people around the world.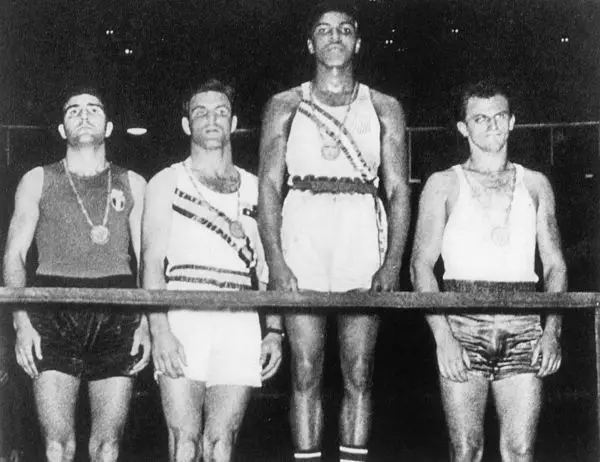 Caption: Muhammad Ali with the Olympic Gold In Rome 1960
Source: olympic.org
During his time as a boxer, Muhammad Ali won the World Heavyweight Championships 3 times, and an Olympic Gold Medal during the 1960 Rome Olympics. He was also the most prominent face during the Vietnam War because he refused to be drafted into the Army. This even cost him his World Heavyweight Championship, which he later regained after the Boxing Commission reinstated his boxing license.
During his lifetime, Ali earned many accolades for his boxing. Along with his boxing titles, he also made many world records during this time. According to the Guinness World Records, these are the world records that Ali has held over his lifetime.
1. Youngest Person to Defeat a Reigning World Heavyweight Champion.
In 1964, at aged 22, Muhammad Ali became the youngest person to win the World Heavyweight Champion by defeating a reigning world champion (Floyd Patterson was the youngest World Heavyweight Champion aged 21 after Rocky Marciano's retirement) after his win against Sonny Liston. Ali was a 7-1 underdog for the fight but won due to his better speed and movement.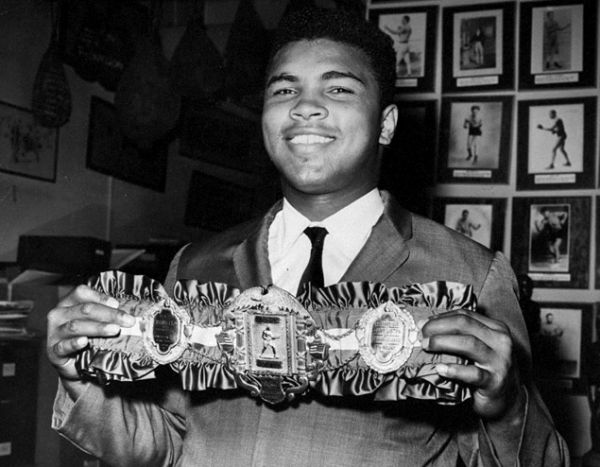 Caption: Muhammad Ali with the World Heavyweight Championship in 1964.
Source: emaze.com
Currently, both of those records are held by Mike Tyson, who won the World Heavyweight Title when he was 20-years old.
2. Most Lineal World Heavyweight Championship Wins
Muhammad Ali holds the world-record for most linear World Heavyweight Championship wins. He won his first World Championship in 1964 against Sonny Liston. He won his second World Championship in "The Rumble in The Jungle" bout against George Foreman in 1974. His final World Championship came courtesy of a win against Leon Spinks in 1978.
Muhammad Ali still holds this record, 34 years since he last fought in a ring.
3. Most World Heavyweight Championships Recaptures
As a result of his wins against George Foreman and Leon Spinks, Muhammad Ali also holds the world record for the most World Heavyweight Championships recaptured. He first lost his championship when he was suspended in 1967. He lost his title for the second time against Leon Spinks in February 1978 but won it back exactly 7 months later against the same opponent.
He shares this record with two other boxers, Evander Holyfield (USA) and Lennox Lewis (UK).
4. Most Expensive Boxing Memorabilia
For his entrance in the 1974 "The Rumble in The Jungle" fight against George Foreman, Muhammad Ali wore a black and white robe. That robe was sold in California, the USA in October 1997 for, a jaw-dropping, US $157,947. This transaction didn't just earn the buyer a piece of boxing history but also the world-record for the most expensive boxing memorabilia.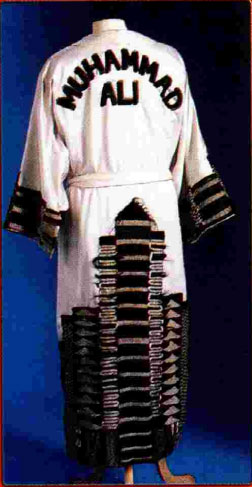 Caption: The US $157,947 Robe
Source: guinnessworldrecords.com
5. The Largest Fortune in a Boxing Career
In the sports sections of 1972 Guinness World Records books, Muhammad Ali was named for having the largest fortune in a boxing career. He was said to have earned US $8 million. At his time of death, Mohammad Ali's estimated net worth was $80 million.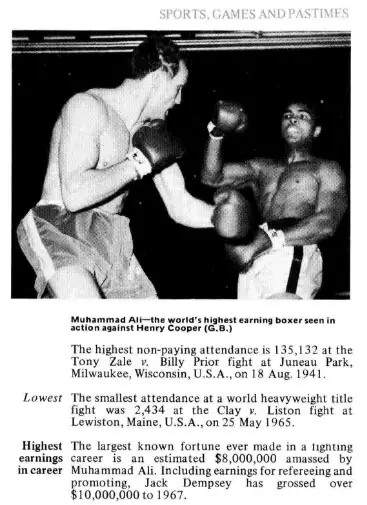 Caption: 1972 Guinness World Records Books' Sports Page Featuring Muhammad Ali.
Source: guinnessworldrecords.com
Former World Boxing Champion, Floyd Mayweather Jr. holds the record for the highest annual earning for an athlete ever. He made US $300 million in the year between June 2014 and June 2015.