News
Roger Mathews Age 43 & Wife Filed For Divorce, Split Reason & Details!
It just ain't over yet for Roger Mathews and Jenni Farley!
Roger Mathews is willing to keep on fighting to win back his wife Jenni "JWoww" Farley, the Jersey Shore star, after she filed for divorce. Multiple news reporters had reported on 27 September 2018 of JWoww filing for a divorce.
The reality star, aged 42, confirmed the news of their split in a video that he posted on Instagram on the early hours of 28 September but also reiterated his willingness to win back his wife back.
See Also: George Lamb Dating His Girlfriend But In Secret; Reveals Secret With Father Larry Lamb Who Is More Like A Friend
In the video, he addressed his admirers and divulged into the truth about their marital bond. Speaking in front of the camera he said,    
"Alright, so here you go blood thirsty bastards who have to know what's going on. You're the same people who go to a hockey game to see a fight breakout and go to Nascar to see somebody wreak in a car and get mangled. Nah, I'm kidding some of you are probably actually genuinely concerned. I appreciate that."
Opening up to his fans, he revealed that he did not blame his wife for filing the divorce and also clarified that there were not any cheating affairs that led her to take the decision. He clearly said the split came because of the repetitive misunderstandings between the two. He said,  
"There's no cheating or any dumb s--t or an juicy details. It's just she grew tired of the repetitive pattern we fell into. Again, I am not going to get into detail but it was a repetitive pattern and not a good one."
Adding to it, he even opened up to how he was not just ready to give up the relationship that he shared with Jenni. He restated his determination to win his wife back and said that he had no intentions of being a single dad. Turns out the couple is taking counseling which has given hope for the couple's dear fans. He said,
"I am going to win my wife back. I'm going to win her affection back, I am going to win her love back. I have no intentions on being a single dad. We're in counseling so there is hope. It ain't over 'till the fat lady sings."
Roger is eager to fight as he's "not done fighting" just yet for the sake of their children and their future relationship.
However, Jenni has not yet publicly addressed the split.
Don't Miss: Mike Sorrentino Next Level Romance, Proposes Soon-To-Be Wife Lauren; Wedding Plans!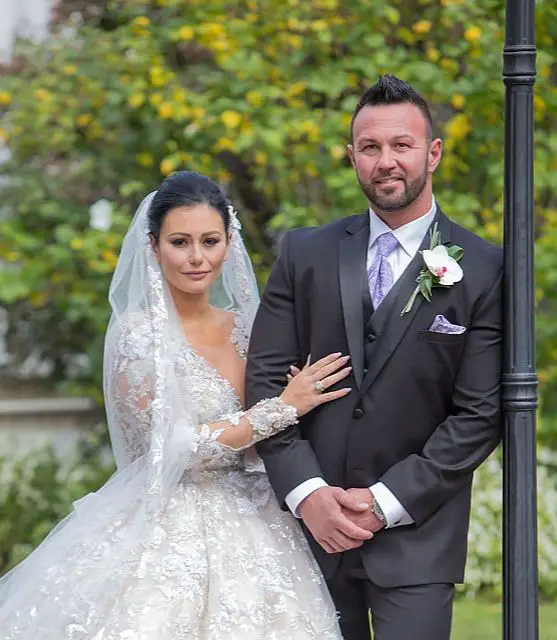 Roger Mathews with wife Jenni during their wedding back in 2015 (Photo: gettyimages.com)
The news of the split surfaced the media only two weeks ago after Jenni filed for their divorce on 12 September in Ocean County, New Jersey. She also made a claim that their relationship was on rocks for the past six months which eventually led to their separation. 
According to court documents, Jenni put in the desire to maintain the "primary residential custody" of their two kids - Meilani Alexandra Mathews age 4 and Greyson Valor Mathews who is 2 years of age.
You may also like: Lauren Pesce, 33, Engaged With Long-Time Boyfriend - 'Mr & Mrs Situation'!
Adding to it, Jenni also requested Roger to provide with child support along with health insurance of their kids and other health expenses. She also asked for equal distribution of their property that they acquired since they got married back in 2015 after meeting during the shooting of Jersey Shore.
Seems like the wife is intent on getting a divorce while the husband is keen to get back on!
Stay connected to find out about the newest developments in the life of the reality stars!