News
Rose Leslie & Kit Harington Married; Recited Wedding Vows In Front Of 'Game Of Thrones' Crew
Wedding bells for Jon Snow and Ygritte!
Rosie Leslie, who portrayed Ygritte in the HBO hit series Game of Thrones, has recited the wedding vows with her co-star Kit Harington aka Jon Snow turning their onscreen romance into real-life "happily ever after."
The couple, who met on the sets of Game of Thrones, tied the nuptial knot in a romantic wedding ceremony at Kirkton of Rayn church in Scotland on 23 June 2018.
On her big day, Rosie walked down the aisle in a long-sleeved lace wedding gown. The actress looked radiant with a flower crown on her curled bobbed hair along with a veil that extended to the hem of her gown. Kit looked no less as he appeared in matching the black jacket and striped pants, breaking many of his female fans' hearts.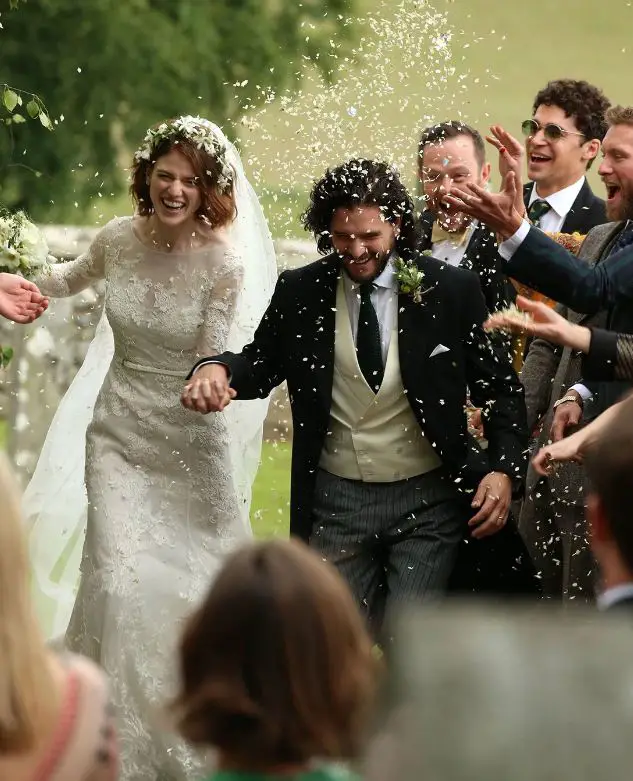 Rosie Leslie and Kit Harington on their wedding day in 2018 (Photo: people.com)
The Game of Thrones stars' wedding was the star-studded ceremony with many of Game of Thrones co-stars were on guests lists including the likes of Sophie Turner, Maisie Williams, Peter Dinklage, and Emilia Clarke. 
Sophie, who appears as Sansa in the series, attended the wedding alongside her on-screen sister, Arya portrayed by Maisie. The on-screen sisters were followed by Peter Dinklage, Tyrion Lannister in the show, along with Emilia Clark. Emilia plays as Daenerys Targaryen, current Kit Harington's love interest in the series.
Even though the series storyline gets complicated at times, Rosie and Kit showed pure love chemistry in the show. While they were dating on-screen, their romance was pure, which every GoT fans wished in their heart-to-hearts to be true. But as Game of Thrones is known for breaking their fan's hearts, Rosie was killed off in season 4.
However, fans were delighted when the couple engagement news surfaced in the media. They got engaged in September 2017 and as it turns out Kit was planning for a romantic proposal with trees covered in lights but the proposal came early and carelessly.
Regardless of it, Rosie, age 31, was happier than ever with the proposal from her now-husband. 
Prior to their engagement, the pair was fairly silent about their relationship keeping it a low-key. The duo officially confirmed their romance only in April 2016. Before that, the couple only had flying rumors of their relationship. Their relationship rumors first stirred up in 2012.
Well, despite their on-screen romance ended early, their love away from the camera prospered. They are now married, and there was nothing "red" about the wedding.