News
Samantha Lee Gibson, 29, And Husband Expecting First Child Together - 'A Baby Girl'
 The 29-year-old social worker Samantha Lee Gibson and her husband Tyrese Gibson, who is an actor of the movie "Fast & Furious," came up with the surprising news that both of them are awaiting their first child together. The couple confirmed the news via Instagram on Wednesday. 
 Talking to the People on Wednesday, Samantha, along with her husband Tyrese, confessed that Samantha is pregnant. They jointly affirmed
Both of our love and energy and magic and families are bonded forever because we're going to have this child,"  "It's unbelievable."
The pair, who first met in 2015 through mutual friends, is expected to welcome their daughter in September. Moreover, Samantha's husband even shared the video on Instagram on Wednesday, where he can be spotted coming up publicly about their first baby daughter. The caption read:
It's not a rumor. So proud to share the news - were # pregnant! "Take my hand and never let go, I will love you and stand with you through thick and thin from my heart, our love will inspire others to lovers to love deeper... Take my hand and where ever you lead me I will follow you around the world".. -Samantha Gibson. I love you too .I guess the world knows now.......
Their love life came into the spotlight after they were spotted together at the 33rd Annual UNCF Mayor's Masked Ball in Atlanta in December 2016. They tied the knot back in February 2017 and have been enjoying their married life since then.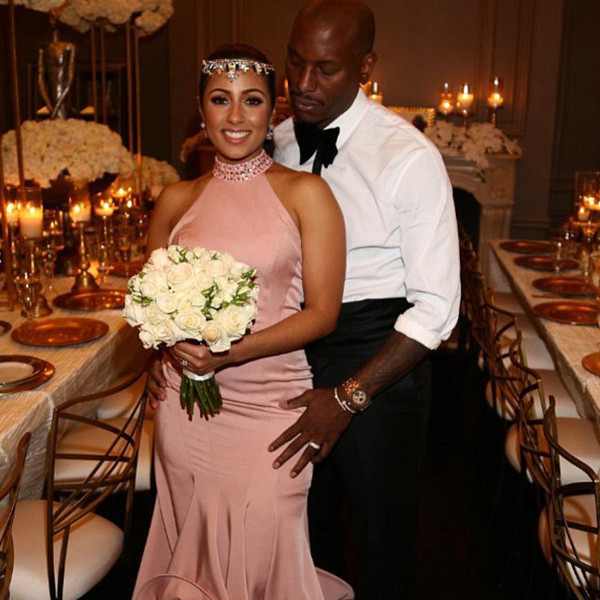 Samantha Lee Gibson  with her husband Tyrese Gibson (Photo: eonline.com)
However, it wasn't the first time for Samantha's husband to share the fatherhood as he is already a father of a daughter, Shayla who is currently running at the age of ten.
Tyrese welcomed his first daughter Shayla from his ex-wife Norma Mitchell, with whom he took a public custody battle last year. As of now, Tyrese and his ex-wife have settled the issue and have a 50/50 custody agreement. Tyrese Gibson was bound in a marital relationship with his ex-wife, Norma, for two years, until they got divorced in 2009.
Gushing about Samantha Lee Gibson's professional life, she is a social worker who puts child trafficking and human trafficking in the focal point. 
Before pursuing her career in social service, Samantha completed her graduation from the University of Georgia. She later earned her Master's degree in social work from the same university.
Besides social work, she even participated in the Miss Latin UGA pageant in 2011 when she was still at university. Furthermore, she has great skill in mixology and bartending as she joined Professional Bartending School of Atlanta in 2014.