Entertainment
Samantha Lee Gibson Wiki: Age, Wedding Revelation With Actor Husband And Facts Of Once Anonymous Bride
Being a public figure has advantages as well as disadvantages. While other people can enjoy their daily activities without any hurdles and media attention, a celebrity is bound to attract people's interest in their personal as well as professional life. But when a celebrity chooses to not publicize their personal life, they are often surrounded with different controversies and rumors.
Being a public figure has some advantages, that comes along with some disadvantages as well. While other people can enjoy their daily activities without any hurdles and media attention, a celebrity is bound to attract people's interest in their personal as well as professional life.
However, when a celebrity chooses not to publicize their personal life, they are further surrounded by different controversies and rumors.
In this context, Samantha Lee Gibson is one of them, who caught massive media attention after she was linked with a favorite celebrity.
Well, there are many people curious to know more about Samantha since she was identified as the wife of a famous American actor, singer, rapper, and producer Tyrese Gibson.
So today, let us help you know more about Samantha with her wiki-like-bio below.
Samantha Lee Wiki Unveils Age, Net Worth & Secret Wedding With Husband
Samantha Lee Gibson is a woman, whose identity remained a mystery to the public for a long time.
Read Also:- Lydia McLaughlin Age 37 Wiki Reveals Parents & Hefty Net Worth In Detail
However, it was until this March, when Samantha was identified as Fast and Furious 7 actor Tyrese Gibson's new wife. The pair had allegedly tied the knot on 14 February 2017.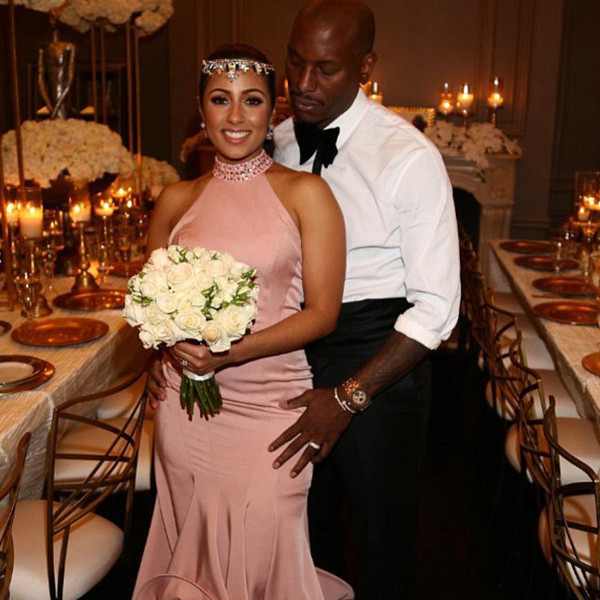 Samantha with her husband Tyrese on the day of their wedding (Photo:- Tyrese's Instagram)
The pair tied a knot in a secret wedding ceremony on Valentine's Day. Tyrese Gibson (age 39) also shared a video on his Instagram to confirm Samantha's identity.
The video, which included different pictures with Samantha, is now removed from his Instagram account. However, the video was made available on YouTube until it got deleted, as it couldn't evade the eyes of his fans, followers, and media. 
She and her husband Tyrese had dated for a year before tying the knot after meeting through mutual friends in 2016. Later that year, the smitten couple were first photographed at an Atlanta charity event.
Samantha, who has been able to conquer the heart of Gibson, is from New Jersey. According to TMZ, Samantha is the graduate of the University of Georgia, from where she earned a Master's degree in social work.
Also, she holds a bachelors degree in psychology from the same. TMZ explained:-
"We're told she's (Samantha) put her education to work on serious issues -- fighting sex and human trafficking and counseling for inmates. She's also handled cases for the Division of Family and Children."
While Samantha was still at the university, she participated in the Miss Latin UGA pageant in 2011. She also has a certification in mixology and bartending. She received the skill in 2014 from the Professional Bartending School of Atlanta.
TMZ also reported that Samantha has plenty of her own money and enjoys a wonderful net worth. However, her earnings are still a mystery, whereas her husband Gibson accumulates the net worth of $25 million.
Don't Miss:- Josephine Skriver Is Engaged To Boyfriend; Ringing Wedding Bells Gleefully
As per a source, the pair first met in 2015 through mutual friends, after Gibson posted an open letter in 2015 to his "wife of the future." Samantha also filled that slot. However, they were pictured together for the first time in December 2016 at a charity event in Atlanta.
Since the secret wedding was randomly announced back in February of 2017, Samantha's relationship with her husband remains under the wraps. Soon after Gibson introduced his wife to his followers as his "black queen," the pair was surrounded by haters and controversies.
The R&B singer then shared an image of his wife on Instagram on March 2017 to clap back at haters, who attacked their marriage. Despite the controversies, Samantha and Tyrese are living blissfully, supporting each other in good and bad times.
Samantha Husband Wins Child Support Against His Ex-Wife
And on 21 August 2017, Samantha's husband Tyrese shared a picture of himself from the hospital bed, where his nine-years-old daughter Shayla was seen hugging him.
While Tyrese shared the image, he captioned it saying that he had a 3-hour surgery where his amazing wife and daughter were by his side. Tyrese wrote:-
"By my side…….. My Amazing wife and Daughter has been by my side every step of the way…. When it comes down to the real stuff no one is ever there but family……"
He continued:-
"Father God I thank you for your extended grace and mercy 3 hour surgery I made it through. I was in the middle of my procedure during the eclipse, I hope one day I figure out exactly what that meant.  God has a way of sometimes forcing us to slow down…. When I get up? I feel like I'm about to change the world…… #PrayerWarriors I feel your love…… thank you! #MyLastPort #RecoveryMode."
Tyrese is surely lucky to have such a supportive family, right?
Interesting:- Paige Butcher Age 39 Gives Birth To Baby No.10 For Eddie Murphy
Talking about Tyrese's past, he was previously married to Norma Mitchell in 2007, with whom he shares a ten-year-old daughter, Shayla. Gibson was bound in a marital relationship with Norma for two years, as they got divorced in 2009.
Although their separation had been amicable, the former couple over the years has developed a tumultuous relationship because of debate over the amount of child support. For about a year, the one time married duo engaged in a public battle since they were awarded joint custody of their daughter.
And then in November of 2018, the tide which swept their once-flourishing relationship turned in Tyrese favor following a ruling by a judge. The stated ruling waived Tyrese of child support expenses incurred by Norma while running non-work errands.
Samantha & Her Husband Welcome 1st Child
Good news would soon follow for Samantha and co following the win in court.
On October 1, 2018, she and her husband Tyrese welcomed their first child, a baby daughter named Soraya Lee Gibson. The latter took to Instagram to share the joyous news.
Discover:- Steve Harvey's Wife Marjorie Elaine Harvey Age 54 Net Worth & Kids | Bio
Samantha's husband announces the birth of their first baby (Photo:- Tyrese's Instagram)
The married couple had first announced their pregnancy in April of 2017. Speaking exclusively to People Magazine, her husband Tyrese quipped:-
 "Both of our love and energy and magic and families are bonded forever because we're going to have this child. It's unbelievable."
Suffice to say, Samantha and Tyrese are relationship goals!