Entertainment
600Breezy's Media Frenzy With Girlfriend Takes A Whole New Turn
600Breezy who has amassed a hefty net worth throughout his career has been caught up in a spiral with his girlfriend after her claims came around.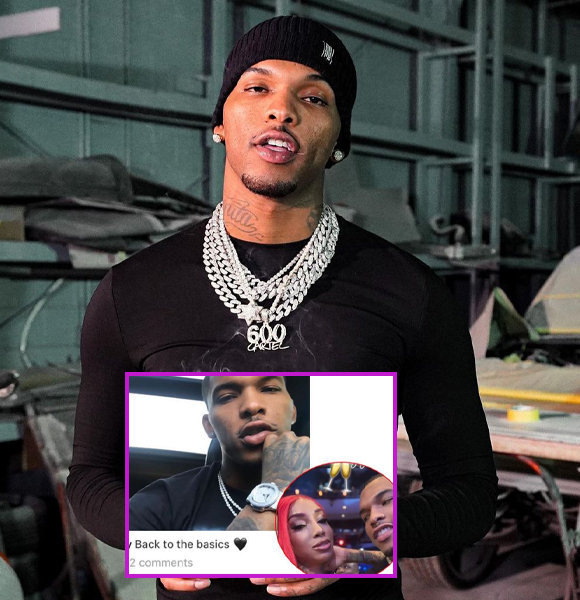 Usually, we would have to tune into The Maury Show to see a similar situation that happened in the life of the musical artist, 600Breezy. However, in this case, it happened in real.
After being revealed that he was the father of triplets, Breezy, real name, Antonio Valentino King, has denied the claims and any knowledge of being the father. 
600Breezy's Girlfriend
Breezy was in a relationship with one of hip hop's fav, Queen Key. While their social media presence might not have been like a typical girlfriend boyfriend, it sure was interesting. 
The whole media frenzy started when Key posted an NSFW tweet of Breezy, which is a whole other story, but after the story began to spiral out of control, Key came out with a revelation that she was Breezy's baby mother to triplets. 
The revelation came out with a dig at Sky Days, who was at the time in a relationship with Breezy. Sky Days was a star from the VH1 show Black Ink Crew at the time. 
Personal Life Of Another Rapper: Multi-Talented Personality Ed Lover: Divorced With First Wife, Married Again?
Talking about Breezy's incompetency to accept her and abandonment while she was pregnant, she wrote the following while mentioning Sky to be "old."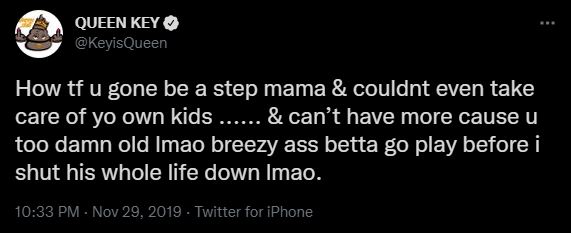 Queen Key's Tweet Regarding 600Breezy (Source Twitter)
Key later on, while replying to a Twitter user's tweet, revealed that she was having two boys and a girl.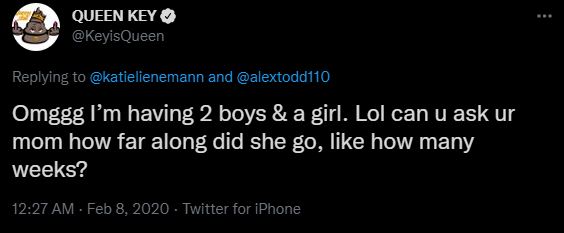 Queen Key Talking About Her Children (Source Twitter)
However, the "Unique" singer had his own side of the story. He was adamant in not accepting that he was the father of her children and denied being the father and all the claims. 
This very evidently made Queen Key mad, and she went on an Instagram rant to further express her views. She expressed her concern not to be with him or anything; instead, she just wanted her rightful child support checks. 
By the looks of it, the two solved the matter in closed doors as very little conversation regarding this matter has happened after the incident.
As of now, Queen Key is a mother to three wonderful children but seems like Breezy being their father, is still in question. 
His relationship with Sky also ended shortly after, and as of now, he seems to be single. 
Despite being crawled up in his own world of relationship problems at times, the American hip-hop star has done reasonably well in the world of music, helping him amass a net worth ranging to millions. 
More On: Actor Richard Blackwood: Is He Married? Dating Someone? Who is His Girlfriend?
600Breezy's Net Worth 
Breezy has successfully proved himself to have come to stay in the music industry for a long period of time with his incredible talent. However, life wasn't easy for Breezy as he was shot six times during the course of his life, and the first was when he was just 21. 
"The reason I started rapping is because my homie LA Capone was killed coming out of a studio. It was the fact that so many people was dissing him and he wasn't able to defend himself so I take it upon myself to make a song called "Don't Get Smoked," and I went crazy from there."
This was 600Breezy's reply when he talked about why he started his journey in the rap game during an interview with Fake Shore Drive.
Apart from these tragedies, additional problems have always haunted him. From being in trouble with the law multiple times, he also had to endure the trouble of someone trying to kidnap his brother. However, his little brother was eventually let go and returned home. 
Although all of the problems in life, the rapper has only grown and has made a significant mark in the field of music. 
Also known as Antonio, he now enjoys a life of luxury that he openly flaunts on social media. Undoubtedly, his net worth is listed in the six-figure range, looking into his music sales and immense fame.