Sports
Aaron Donald's Sweet Relation with Brother, Sister & Parents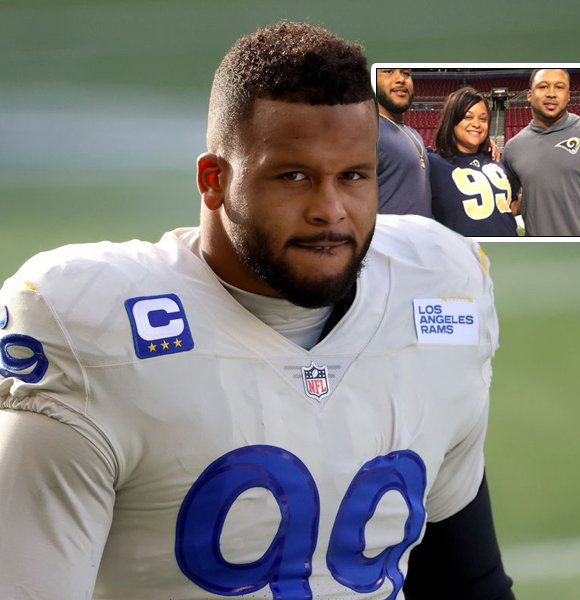 Marching his way through his performance as one of the most excellent defensive players of all time, Aaron Donald has definitely made himself known among all NFL fans.
Aaron credits his success to his brother, sister, and parents. The defensive tackle player's physical build might intimidate the enemy, but he is actually very soft at heart. Moreover, his older sibling was also a linebacker, which was a massive source of inspiration for him.
Aaron Donald's Equation with Brother
Athletism runs in Donald's genes. It might come as a surprise to some, but Aaron Donald's elder brother Archie Donald Jr. was a fine player too. He used to be a standout linebacker in Toledo and was involved with the NFL as an undrafted free agent until he retired in 2012.
Although Archie Jr. might not have had a record-breaking career like his little brother, nonetheless watching him hit the fields was definitely a motivating factor for Aaron.
The two brothers grew up sharing bunk beds together, and as they grew older, their bond became even stronger, fueled by the passion of football and the love for their family.
You Might Kike: Footballer Zack Moss Says He Plays For His Mother
In fact, the Donald boys shared a dream to help their hardworking parents retire from a young age. Aaron's family comes from a modest background, and his mother and father had to work hard to provide for him and his siblings.
The siblings took their effort to heart along with sweaty childhood memories. Aaron and Archie Jr. used to work out in their house's basement with their father. Training started as early as '4 AM!' fueled with the dream of relieving his old folks from financial burden, the brothers trained vigorously.
Even now, after shifting houses, the Donalds still go down to their old home to train together. 
Furthermore, Los Angeles Rams' star player Aaron has more than one sibling who's got his back.
He also has an older sister, Akita Donald, who is frequently seen in the audience supporting her little sibling. She also seems to be affiliated with AD99 Solutions, which is Aaron's non-profit organization dedicated to the youths of Pittsburgh.
Aaron Donald's sister supporting him (Source: Twitter)
Aaron also shared a lovely picture of his siblings on his Instagram.
The two boys pose with their sister Akita in the middle at a stadium, and they look like a happy bunch of siblings.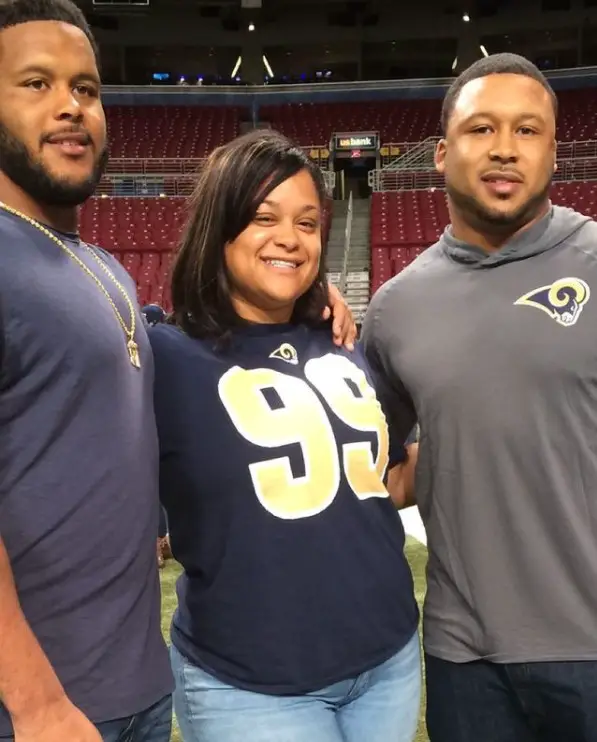 Aaron Donald poses with his siblings (Source: Instagram)
Equally supportive are Aaron's mom and dad. With all three kids doing well in their lives, Mr. and Mrs. Donald are pleased to see their hard work coming to fruition.
Aaron Donald Makes His Parents Proud
Aaron was born to Anita Goggins and Archie McDonald in Pittsburgh. Since then, he has achieved many feats, including the 'AP NFL Defensive Player of the Year' title not once but thrice!
But above that, being able to help his parents retire has been the most significant achievement for the player. He says it was the "best feeling" to be able to call his father and break him the news. 
Aaron called his mom and dad to tell him about his contract with the Los Angeles Rams and said he could hear them crying over the phone. He said,
"Retire. Sit back and watch the games now, old fella, it's all on me."
It must have been a special moment for the athlete to share the good news with his father, who pushed him forward and taught him all about discipline and work ethics, and now, Archie and Anita stand proud and never miss any of their son's games.
With motivation from his lovely family by his side, Aaron manages to set records and perform better and better with every game.