Music
Aaron Neville's Wedding Details- Who Is His Wife?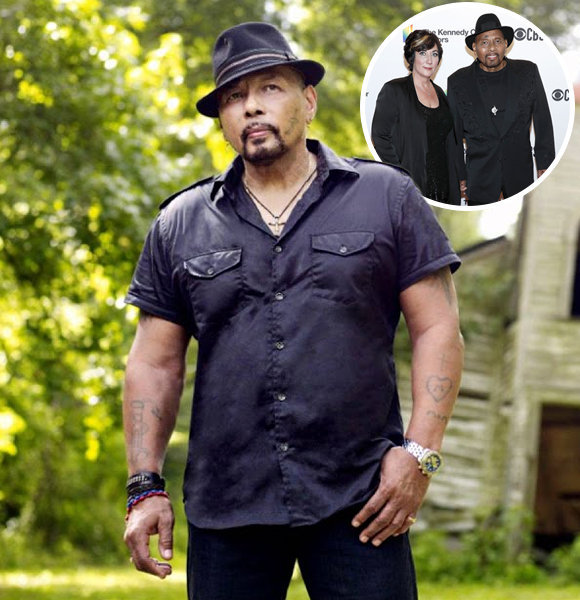 Taking the music industry to another level since the late 60s, Aaron Neville has been around the industry for more than 40 years.
Successful career along with a beautiful family with his wife, let's jump into the question,
Who Is Aaron Neville's Wife?
Married to his long-time partner Sarah Ann Friedman since 2010, the husband and wife are about to complete their 12 years of magical bond.
Working in the industry where the couple's work shows expression and feelings, Aaron's partner, Sarah, is a photographer.
Married on November 15th, 2010, the couple preferred to keep their wedding intimate, exchanging rings in front of 15 guests, designed by Stuart Jewelry Design.
The ceremony occurred at the Eleven Madison Park restaurant in New York City.
After knowing the details about their beautiful day, you must wonder how the couple met.
The lovely pair met at a photo shoot.
Hired to take a portrait of her Husband's group, Neville Brothers, wife Friedman met the love of her life while she was working.
Explore: CNBC's Sara Eisen Is Soon-To-Be-Married to Matt Levine In A New York Wedding
After their first interaction, the couple started to take things forward and later got engaged.
Celebrating their honeymoon in Turks & Caicos, the duo are very much in love and happy, evident through their social media posts dedicated to one another.
For instance, take the legendary singer's Twitter post.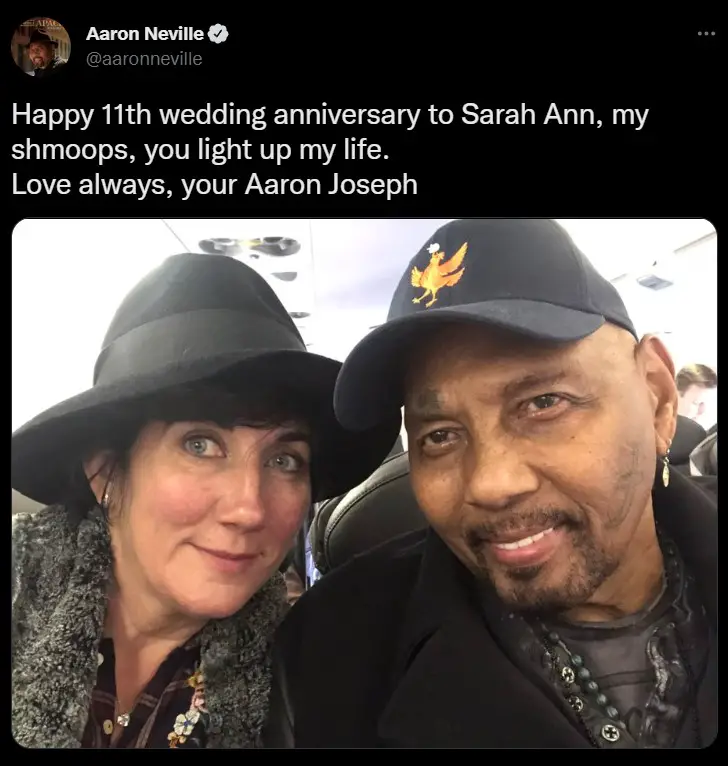 Aaron Neville's tweet for his wife (source: Twitter)
On the couple's 11th wedding anniversary, Neville uploaded a picture along with his partner Sarah, captioning,
"Happy 11th wedding anniversary to Sarah Ann, my shmoops, you light up my life. 
Love always, your Aaron Joseph"
However, that is not all to his adorable way of showing love for his wife. The singer released a song for his partner!
With the title Sarah Ann, Aaron released the song on July 15th, 2016.
Following the lyrics, 
"With your lens you saw right thru me
You saw everything that I could be
You save me from my hell
You picked me up when I fell
I wanna wake up with you everyday
When I do I want to hear you say
You'll always be mine
Forever 'til the end of time
Oh sweet Sarah Ann
Oh sweet Sarah Ann"
The husband and spouse are absolute couple goals!
Read About: Sorry Ladies! Actor Alan Tudyk Is Now Officially Married To His Beautiful Wife Charissa!
Furthermore, talking about the singer's relationships, he was previously in a four decades-long relationship.
Past Relationship and Family
Aaron was previously married to his late wife Joel Roux-Neville in 1959.
The former couple was high school sweethearts.
Getting diagnosed in 2004, Aaron's former partner passed away at age 66, surrounded by the people she loved. Her family.
During the former couple's marriage, the duo gave birth to four kids, Ernestine Neville, Ivan Neville, Aaron "Fred" Neville, and Jason Neville.
After reaching a significant height of success, the R&B singer retired from touring at the age of 80.
Following his retirement, there were questions regarding the star, such as "Is Aaron Neville Still Alive?"
Yes, the star is alive and leading a happy family life with his partner and children.
Be sure to tune in for more updates!