Entertainment
All about Adam Levine's Mind Blowing Tattoo Collection
While Adam Levine Says No to Leg Tattoos, His Upper Body Engraved with Several Tattoos, Seems to be Running Out of Space. Learn Meaning Behind Each Tattoo.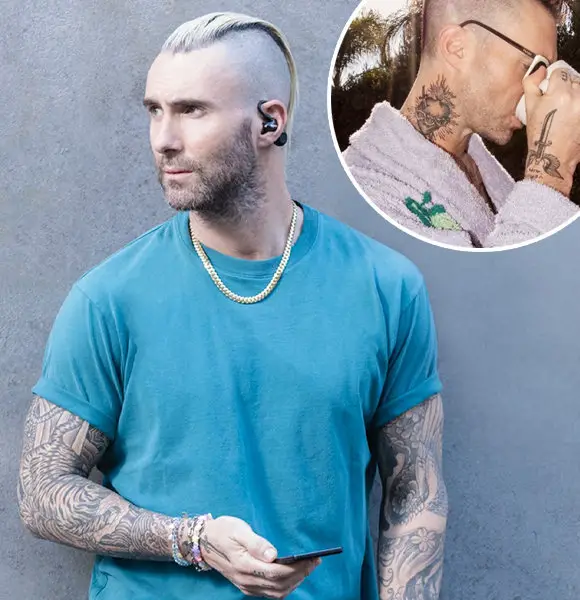 Pop and R&B is probably incomplete without Adam Levine's numerous hits, which have dominated the music charts for several years. But, as much as he is known for his music, his fans are hooked on his tattoos spread all over his body.
What Does Adam Levine's Tattoos Mean?
The Sugar singer's 13.6 million Instagram followers and millions of fans worldwide are pretty used to seeing the countless eye-catching tattoos on his body. Still, little do they know about the meaning of each on his tattoo.
Exploring his tattoo collection in-depth, the singer talked to People magazine and gave insights into his artistic ink designs covering almost his entire upper body.
His body tats received even more attention when the singer went shirtless during the last part of his performance at the Super Bowl of 2019, revealing his heavily inked skin.
Besides the tattoos, the shirtless performances did raise some controversies, but who wouldn't flex a little with the intriguingly artistic tattoos as Adam.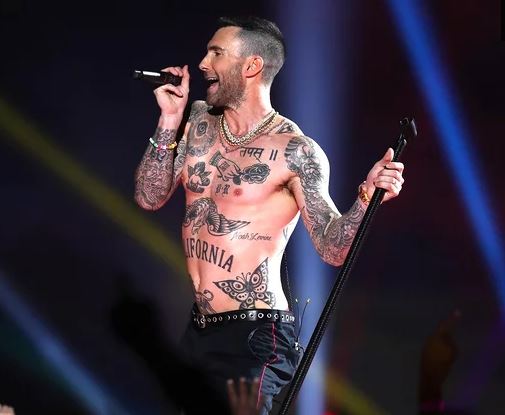 Adam Levine performing shirtless, revealing his tattoos (Source: People)
Get to know - All You Need to Know about Secretive Live Life of Lola Astanova
Let's start with his first tattoo. Talking to People after being featured on the magazine's cover page as the Sexiest Man Alive titleholder, he explained some of his early tats. As he explained, the dove inked on his left bicep is what he got first.
Describing his first tattoo, the Memories singer said,
I was 21. It was five days after 9/11. I felt this needed to say something with this peaceful thing on my body.
Since then, there was no looking back, and the singer never stopped adding more to his endless saga of tats.
Moving on, the one on his abdomen that reads 'CALIFORNIA' is another standout. Showing his gratitude towards his birthplace, Los Angeles, the singer also has 'Los Angeles' engraved on his arm.
However, not all of his tattoos hold profound meaning. Some are instead just for fun. As he mentioned about his neckless tattoo around his neck, the Locked Away singer said,
I don't think that you have to necessarily ascribe meaning behind every tattoo.
Well, Adam's tattoo of a shark seemingly on the side of his ribcage might have popped several questions in your head. Taming the curiosity of his fans regarding the shark tattoo, the artist said,
I've always had a strange fascination with sharks. I actually think they are the most fascinating creatures on Earth. I guess the tattoo had something to do with that.
Besides his shark fascination, another fascination seems to be an eagle, which he has engraved slightly below his chest. The tiger tattoo on his right arm is another one on his animal tattoo collection.
Adam Levine's tattoos displaying as he does yoga (Source: Instagram)
Adam's tattoo on his chest that reads 'tapas' in Sanskrit reflects his love for yoga. Right below the Sanscrit word is a tattoo of a hand holding a flower, and the hand encloses two words that read 'True Love.'
More on - Who Is Ava Max Dating Currently? A Look Into Her Personal Life
The large one on his back is indeed a major attention grabber. The mermaid tattoo with wings holding a skull surrounded by ocean waves and a boat, along with other details, took six months until it was completely done.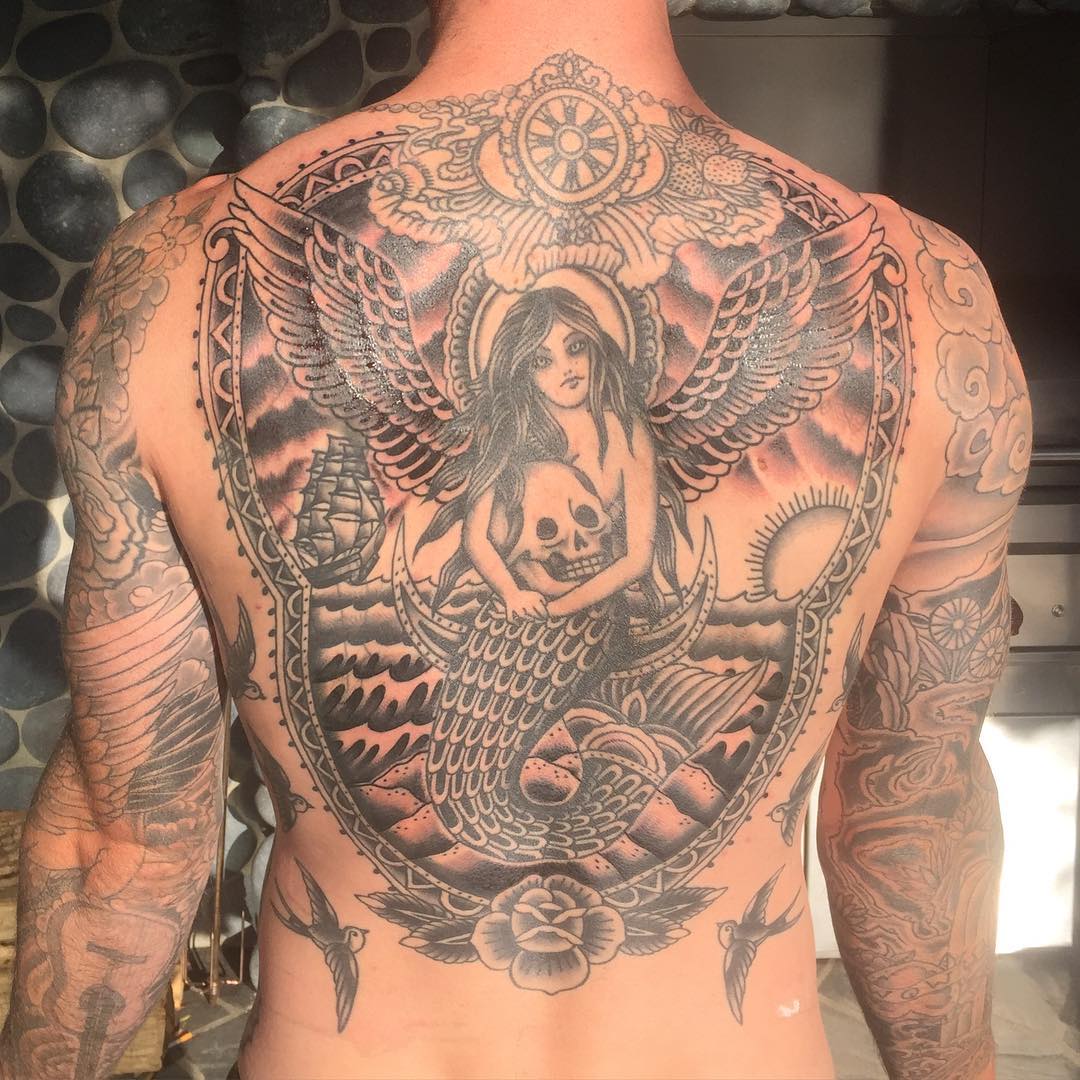 Adam's back covered with mermaid tattoo (Source: Instagram)
He even thanked the artist, Bryan Randolph, who inked the giant figure on his back through his Instagram post of February 23, 2016.
Some of his tattoos are also dedicated to his beloved family members. For example, 'MOM' is dedicated to his mother while 'Noah' represents his daughter's name.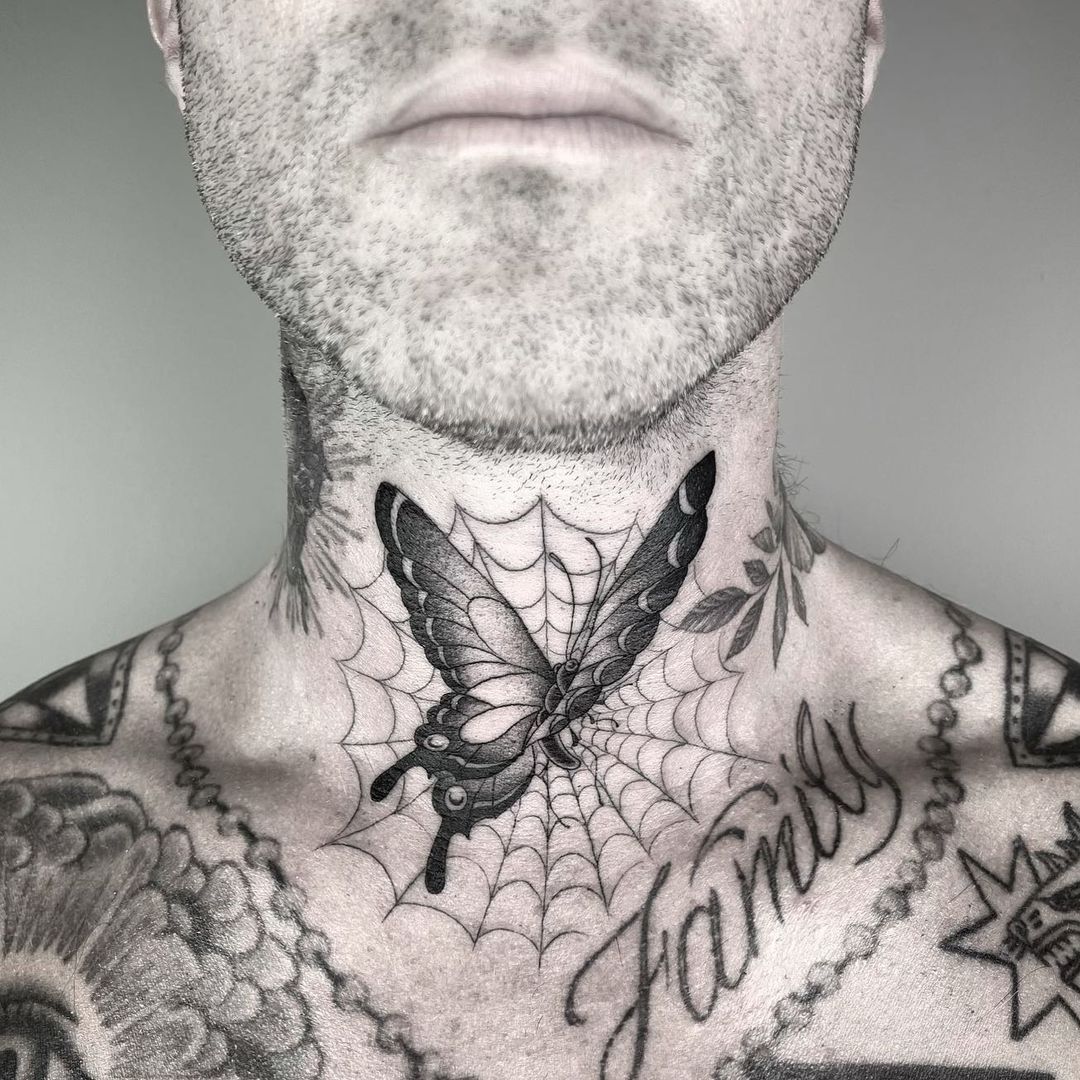 Adam's spider web tattoo (Source: Instagram)
Among the several of his tats, the most recent one is on his neck, displaying a spider web with a butterfly on it.
Sending out his shout-out to the tattoo artist, Nathan Kostechko, Adam posted the spider web tattoo on October 5, which already has over 300 thousand likes from his followers on his Instagram when writing this article.
While his upper body is almost running out of space for new tattoos, the singer mentioned he is against hand or leg tattoos. 
As Adam's tattoo collection is full of surprises, you never know when he will make the next addition. So stay tuned for further updates on any future tattoo of the Grammy Award winner.