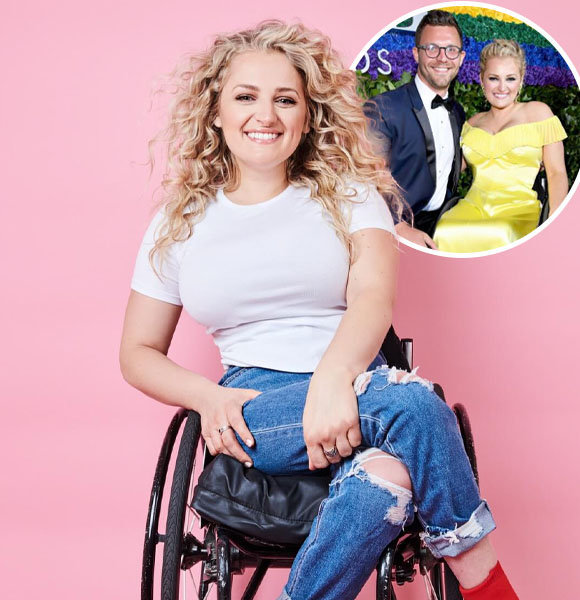 Ali Stroker is making history as a  great actress and the first actress with a disability to win a Tony award. She has taken on various roles on stage with ease and shines bright as a rising star.
She has found her passion for acting and is living the dream, but is her dating life equally harmonious? Fans have been dying to know whether Ali has found Mr. or Miss Perfect or if she's been rocking it single.
Who Is Ali Stroker Dating?
Ali has passed the dating stage as of now. She has gone from dating to engaged to married to her husband, David Perlow.
Her husband is a fellow theater enthusiast by heart and a director and actor by profession.
Moreover, he is an avid supporter of Ali's work. The two met in college but began dating only in 2015, which later blossomed into a marriage. 
For Ali, acting on stage wasn't the only dream she had fulfilled. She said that having a partner like David was a dream that she's living now. She stated,
That's my dream. To find this part­ner, who wants to be by my side and is so proud of me.
Indeed, finding a partner who shares the same passion as you is truly a blessing, and Ali has been blessed. Her husband used to carry her around the stage and the stairs and was always sure about her potential.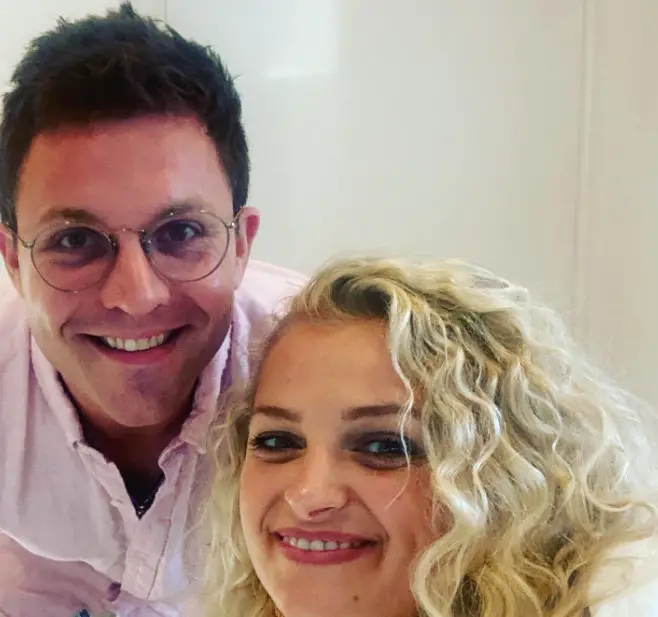 Ali Stroker and Her Husband, David Perlow (Source: Instagram)
But that's not it. David isn't the only dreamy lover Stroker has had. Before David, she dated singer Dani Shay from 2012 to 2015.
Ali has been open about being gay. Although she doesn't delve too deep into labels, she has dated both men and women in the past so that she may identify as bisexual.
Talking about her dating history with Dani, the former pair announced their relationship while doing what they love.
They announced their love to the world through a music video in which they both starred as the main characters.
Also check out: Maitreyi Ramakrishnan Stands Proud about Her Ethnicity
The video was followed by a wave of love and blessings from fans. Moreover, Ali swooned over her partner in an interview with Newnownext and said she didn't even realize when she fell for her.
I had never dated a girl before, and I never really thought I was going to.  When I met her, I was so excited because I had never felt connected like this to anyone, ever.
Furthermore, she threw in a lengthy list when asked about her favorite things about Dani. 
"My favorite thing about Dani is her fearlessness to be aware of all parts of me and this relationship. She's so aware, and so connected. I'm never afraid to tell her how I'm actually feeling," she said.
However, despite having such an amazing connection, their dating phase later came to an end, and David came into the picture. She hit the jackpot with this one, too, as they both have each other's support in their careers.
The duo is proud of each other and their success, which has blessed them with impressive net worth. Thanks to her booming career, Ali has a note-worthy amount of net worth to her name.
What Is Ali Stroker's Net Worth?
Ali was born on June 16, 1987, and was raised in New Jersey by her parents, Jody and Jim Stroker. She has two siblings, an elder brother, and a younger sister. 
Read more on:Da'Vine Joy Randolph's Staggering Net Worth & Personal Life
Unfortunately, Ali met with a disability at a young age. She got into a car accident with her brother when she was two years old and faced a spinal cord injury. 
The injury resulted in paralysis, leaving the lower half of her body immobile. 
Nonetheless, she has made her mark in the acting field despite the physical challenges and has excelled in her career. Her performance in 'Oklahoma!' won her a prestigious Tony award for Best Featured Actress in a Musical.
Consequently, Ali Stroker has earned a handsome net worth of $1 million throughout her career, according to Celebrity Net Worth.
With no plans to stop and future projects rolling in, her net worth is likely to increase.