Entertainment
Maitreyi Ramakrishnan Stands Proud about Her Ethnicity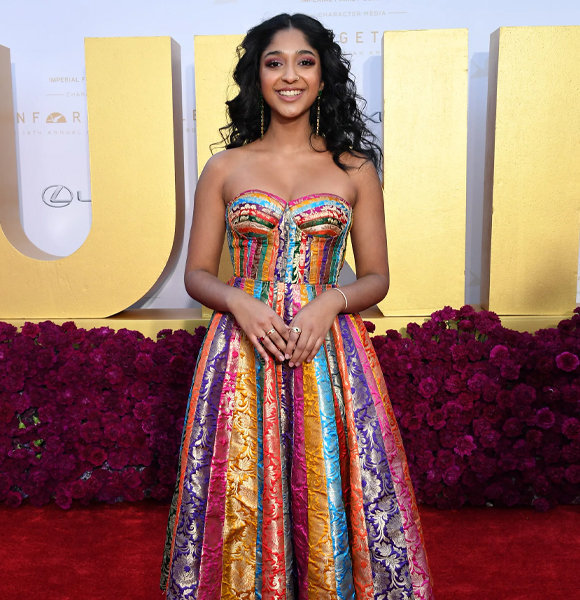 Maitreyi Ramakrishnan is a fairly new face in the industry, but she already has an impressive fan following. She has gained mass popularity with just one role in 'Never Have I Ever.'
Moreover, she has brought a fresh wave of representation for people of her ethnicity. Maitreyi is not afraid to flaunt her cultural roots and takes pride in her ethnicity. 
Many people whose curiosity lingers around the question 'where is Maitreyi Ramakrishnan from?' might not know about her background. So, we're here to provide you with all the details.
What Is Maitreyi Ramakrishnan's Ethnicity?
Maitreyi comes from the Tamil ethnicity. It is an ethnic group originating from South Sri Lanka; however, Maitreyi holds Canadian nationality. 
She was born and raised in Canada by her parents, who migrated from Sri Lanka to Canada as refugees due to the civil war. She has spent her whole life in Canada but is still close to her roots.
Also check out: Where Is Olivia Brown Nowadays? Has She Left the Show Biz?
As minority representation in Hollywood is taking new leaps, representation for Tamil ethnicity and other ethnicities in South East Asia is still low despite them constituting a large number of the population. 
Maitreyi understands the importance of this and is vocal about her culture and roots. She has said that she identifies as a Tamil Canadian and not a Sri Lankan. She stated,
That's not my country. My country is Canada. But my culture is definitely Tamil.
Likewise, her show 'Never Have I Ever' dances around the feeling of not just a teenager going through her dating life but also a teenager going through different phases of accepting and resisting her culture.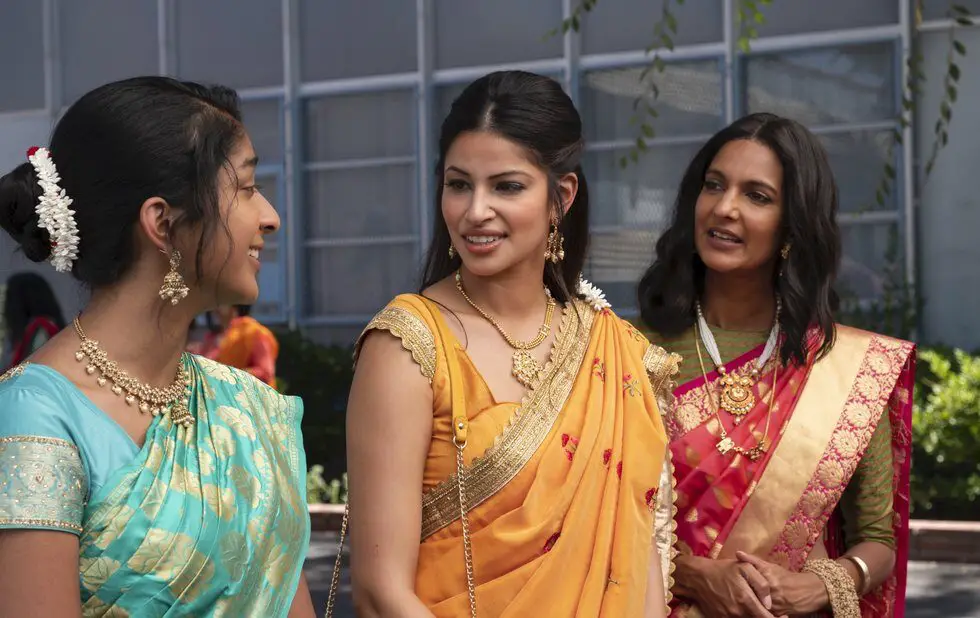 Maitreyi Ramakrishnan and Co-Stars in 'Never Have I Ever' (Source: Now Toronto)
Maitreyi says she has faced similar struggles of identity herself. In an interview with Now Toronto, she said that she would not fit in with people of her ethnicity because she was not "Tamil enough."
The feeling of being out of place in the community is something the show has portrayed beautifully, and many people could relate to it, especially teens.
However, Maitreyi has taken control of the narrative and stands proud of her ethnicity.
From pronouncing her name correctly to representation and inclusivity in media, she has a strong stance on it all which is inspirational.
"I think identity is really important in this day and age when you need to make space and know who you are," she told Brown Girl Magazine, proudly embracing her ethnicity.
"And me identifying as Tamil-Canadian really resonates with me because I want people to know who I am and for other people to know and to feel seen and even if they're not Tamil or Canadian themselves, they can feel that they can identify and be proud of who they are, just as I am about myself," she added.
You know how people are just from all cultures and because of that I've never really been felt ashamed of being Tamil or who I am.
Of course, she has loyal fans and support from her parents that keep her going. 
Maitreyi Ramakrishnan's Parents
Maitreyi is the first one in her family to enter the glamourous world of showbiz, so although it was a shocker, her parents have been super supportive. 
More on celebrity parents: Kyliegh Curran's Family Life- How Her Parents Helped Her Be a Star
From her audition and selection to this day, her family has been there as s support system for her.
She is super close with her mom, and just like every mother-daughter relationship, she still takes her mom's opinion as advice.
Likewise, her father has is own way of showing support for his little girl. He isn't too active on social media, but he frequently shares news and tweets about Maitreyi.
Nonetheless, the fresh talent has already made herself a familiar name and face in the industry and has certainly given her family something to be proud of.
This is just the beginning for the young star, and we can't wait to see what more is yet to come from her side.