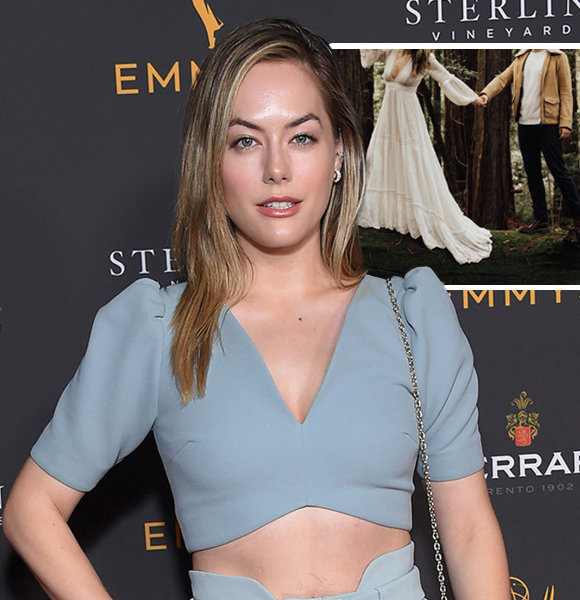 Annika Noelle has enchanted viewers with her talent and beauty on 'Bold and the Beautiful.' However, with her increasing popularity, fans have raised many unanswered questions regarding her relationship with a special someone named Zach Fisher.
Her name has been linked with Zach Fisher in the past. But, after dropping a surprise bomb on fans by announcing her engagement on Instagram, she has once again raised curiosity surrounding her marriage and fiance.
Who Is Annika Noelle Married To?
Annika has not confirmed the news of her getting married. Moreover, she has kept her lover's name a mystery as well. So, the question still remains with a big question mark.
However, Annika hasn't kept us completely in the dark either. She shared breathtaking pictures from her engagement day on her Instagram with her mystery man.
But, before you get excited about seeing him, let me tell you that she has cleverly cropped his face out of the pictures.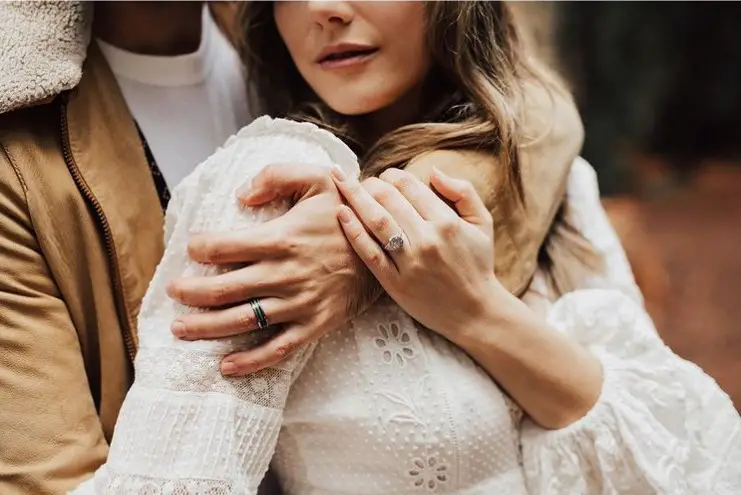 Annika Noelle's Engagement Pictures With Fiance, Supposedly Zach Fisher (Source: Instagram)
Attention clearly draws straight to their gorgeous rings. She wrote "She said yes." for the caption, topping off the elegant post.
For now, we can only assume but not guarantee that the man in the pictures is Zach Fisher. Annika has only revealed Zach Fisher's name in the past as her partner. 
The two were in a relationship in 2018. In an interview with Soap Opera Digest, Noelle mentioned Zach Fisher as her boyfriend.
Zach is a recording engineer, and he owns a recording studio called Big Bad Sound. Describing her new relationship, she said,
It's still new, but we have fun. I would never imagine myself to be dating a musician, but I am!
That was the last we heard about the Zach Fisher Annika Noelle relationship.
Moreover, she hasn't dropped any new names of a potential partner since then, and neither has she talked about separating from Zach. Judging from those facts, we hold a slight guess that Zach Fisher is still the man in her life.
Although Annika has kept the identity of her fiance a secret, she has courageously opened up about a tragic event in her life.
Annika Noelle Shares Her Difficult Story
In 2021, Annika talked with Glamour magazine and shared the heartbreaking story of her miscarriage. She was playing a woman who lost her baby and was just finished filming the storyline on-screen.
You might like: Who is Antonio Sabato Jr.'s Wife Now after Two Divorces?
Horror awaited for the young actress as real-life reflected fiction. Then, a few months after she got engaged, Noelle found out that she was pregnant.
She said she and her fiance were "simultaneously overjoyed and terrified" about the new journey as parents.
They were preparing themselves for the arrival of a newborn, but unfortunately, Annika lost her first child at ten weeks. As devastating as it might be, she bravely took some time to heal herself from the grief and tried for baby number two.
Fate betrayed her once again as she faced a familiar sorrowful emotion when the technicians told her that they didn't feel a heartbeat. Annika had lost her second child at eight weeks and was devastated. She said,
The secret was isolating, yet the shame was debilitating. I felt like I had failed at something that should be easy.
On top of that, she had to go on set and act as if nothing had happened while the reality was troubling her so much. She admits to being a very private person, so she chose to keep the sadness to herself while it was happening.
However, deeply moved by her experience, she chose to share her story. She stood strong through it all and respects every woman who has been through events like this in their life but is still pulling through.
Now, she is a brave advocate for women's rights and has found solace by sharing similar stories and raising women's voices.