Baby Fendi embraces her new path to motherhood but remains mum about her boyfriend with whom she shares her child.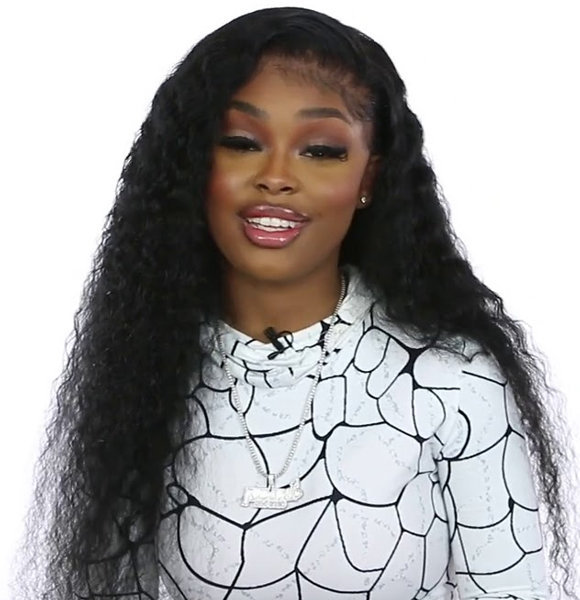 "I never knew real love until I met you. My Tru Love," an internet personality who goes by the name Baby Fendi wrote on her recent Instagram post of September 2 while expressing her motherly love to her newborn.
Fendi posted a series of pictures while holding her baby girl in the hospital bed, and she could not look any happier. After the big revelation by the singer, she has her fans intrigued to learn who her boyfriend is. 
Who Is Baby Fendi's Boyfriend?
The proud mother is very transparent about her professional life or her journey as a new mom, but she does not fancy sharing about her love life. 
However, she once did mention her preference regarding the guy she would like to date through her YouTube video in 2019. In the Q&A video, she answered some of her curious fans' questions and said she would not prefer dating a rapper. 
Baby Fendi discusses relationships and more in her YouTube video (Source: YouTube)
One fan popped up a question about the boy whose face was tattooed on her right arm, which some even considered was her boyfriend. She cleared the air saying that she made a tattoo in memory of her best friend, who had already passed away. Also, she often mentioned him in her songs. 
Although she did not mention anything regarding her having a boyfriend, she did talk about how she dealt with heartbreak. Her process to get over a heartbreak is to make songs, as she described.
Moreover, Fendi's response to another question from a fan sure did reveal she has dated a few guys in the past. Replying to the question 'do you miss anyone you used to date?' the singer said she did not miss any of her exes. Also, she added that she wished them the best despite the heartbreaks from her past relationships. 
Further, she elaborated that dating a non-celebrity would be difficult because they quickly tend to be insecure of the media attention that she has as an artist actively involved in the music and entertainment industry. 
Although she admitted being single in her video a couple of years ago, a lot has changed ever since. She is now a mother embracing her motherhood flawlessly, but still, she is private about the baby-daddy. 
So it remains for us to wait and see when she decides to open up about her child's father. But until then, her music and endless social media posts with her daughter are more than enough to keep her followers hooked. 
Get to know - Cracking Into Gavin Magnus's Relationship History
Baby Fendi Embracing Her Motherhood 
On May 20, 2021, Fendi took to her Instagram account for the first time to casually reveal her baby bump. In her following 'gram post, she announced her pregnancy with a lengthy caption and paired it with a picture where Fendi flaunted her baby bump proudly. 
In the caption, she wrote, 
I can't wait to give birth to my little goddess words can't describe how much I love you. I prayed so much for you. You literally saved me. I NEEDED YOU. You're making me into the woman I always dreamed to be. I literally can't wait to be your mommy. I promise to give you everything I never had.
Ready to shower her daughter with everything she has to offer, Fendi finally welcomed her baby girl, Tru, on August 31, 2021. 
Since her baby's birth, her 'gram feed has been flooded with adorable pictures displaying the mother-daughter bond. 
She even has a separate Instagram page solely dedicated to her daughter, and the page has already gathered 11.1 thousand followers to this date. 
More on - Rapper Willie D Admits Fatherhood Is The Most Rewarding Blessing
More On Baby Fendi
Fendi, age 23, is a YouTube and music artist by profession who made her YouTube debut with her channel Baby Fendi created in 2017. Her channel contains sneak peeks of her regular lifestyle vlogs and her music videos. 
To this date, the YouTuber has amassed a total of 26 million views on her videos. Besides, her active engagement on Instagram has also added to her exposure immensely, with an additional 196 thousand followers.
Among her several songs, her most popular ones with over a million views on YouTube include Pop My ..., Glock 19, Changed On Me, and Ride. Analyzing her YouTube views on Socialblade, her annual earning from the YouTube channel tends to be around 16 thousand dollars.