Entertainment
Inside Bob Roll's Not-So-Known Family Life & Well-Known Professional Accomplishments
Bob Roll's wife, who shares a daughter with Bob, never backs away from praising him for his motivating personality.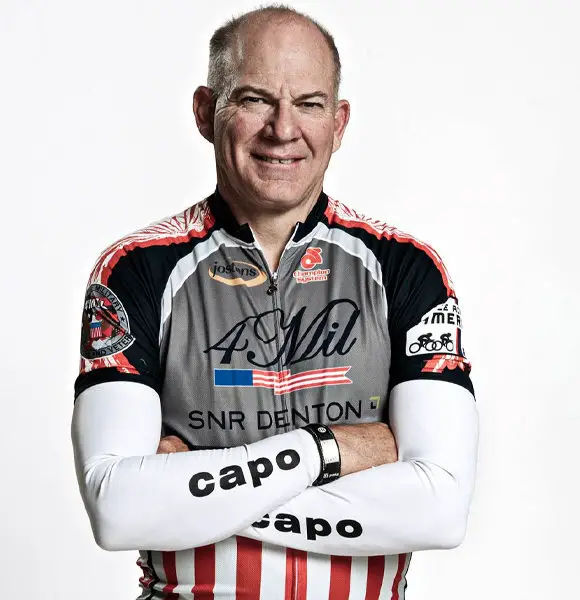 "I think Bob has incredible talent and personality. He could boost anybody's morale," said the multi-hyphenate sports personality Bob Roll's wife praised him in an issue of The New York Times. 
While people still gush about Bob's legendary professional accomplishments, the former American cyclist's family life is somewhat under wraps.
As he is not very flashy about his love life on social media, his interviews shed light on some of his personal details.
The gathered information suggests the television sports commentator relishes a long-term married life with his wife, Ciara Roll.
The couple expanded their family of two, welcoming their daughter Ruby Rolls, who barely makes any public appearances.
However, she was once pictured with her father at his workplace, where he was about to give his prediction for Tour de France final podium.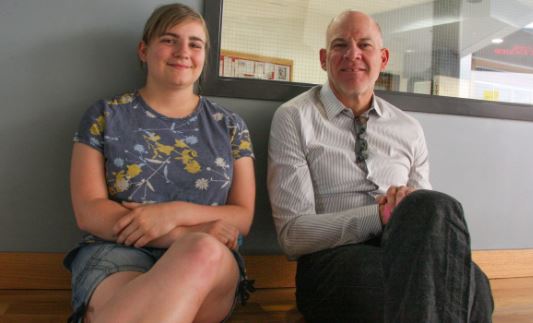 Bob Roll with his daughter, Ruby (Source: roadbike review)
Throughout Bob's extensively successful career, his wife's evergreen support has played a major role. In fact, she is the one who urged him to help the former road racing cyclist Lance Armstrong get back at racing again when Lance was on the verge of halting his sports career because of cancer.
Learn about- Nick Wright's Successful Career In Sports Journalism
Bob's Support That Got Lance Racing Again
One of the inspirational stories about Bob that still echos is his support for Lance that later led him to win the 1999 Tour de France title.
The title win was even more astonishing as lance had just recovered from cancer that had him at the lowest point at the time. 
Lance was diagnosed with cancer in 1996. His battle with cancer led him to the point of depression that he almost considered quitting his sports career. 
Lance's coach Chris Carmichael could not bear to see him give up, and he approached Bob to help Lance. Talking about Lance's situation at the time, Carmichael quoted,
We thought if he committed to one race, the desire might come back to race again. And if it didn't, who said he had to race again? But we said if you're going to race even once more, you have to be in shape. Let's put together a training camp and get ready.
Carmichael could not find anybody else more perfect than Bob as Lance's training partner. Bob's wife also encouraged him to take the opportunity.
Bob, describing his training period with Lance, said,
We trained hard in miserable weather conditions, but I don't care if it's raining or hot, if I'm in France or Morocco, I just love to be on a bike. Any day on a bike is a good day. Lance picked up on that, and we rode with a little more intensity every time.
Bob constantly reminded Lance of the talent he possessed. He kept boosting his confidence to get him back on track with the same winning mentality Lance once had before he hit his lowest point after cancer diagnosis
After the fruitful week-long training, Lance proved to be the king of American cycling by winning the 1999 Tour de France.
Since then, the former cyclist won six more Tour de France titles until 2005. With his mind-blowing comeback, Lance continued bagging several prestigious wins and eventually retired from the sport in 2011.
If it had not been for Carmichael and Bob, Lance's story would have been a whole different story.
More on - Steve Francis Net Worth: How Rich Is American Former Basketball Player?
More On Bob's Career Highlights & Net Worth
Bob's well-decorated career includes his titles as an American former professional cyclist, television sports commentator, author, and blogger.
The three-time Tour de France racer's impressive cycling journey includes his participation in several prestigious tournaments such as Giro d'Italia, Paris-Roubaix, Tour de Suisse, Dauphine Libere, and so on.
In addition, his career wins include the titles Coors Classic in 1985, Tour de Romandie in 1988, and San Francisco Hill Climb in 1997 and 1998.
Later retiring from cycling, he transitioned to television broadcasting as a sports commentator at NBC Sports Network.
As for his earnings, the former cyclist probably has an annual salary of over 68 thousand dollars as per the basic salary report of a sports commentator by Comparably. 
Not to mention, his YouTube channel, where he goes by the name Bobke with 22.6 thousand subscribers, also adds to his assumably impressive net worth.
As Bob has always been a matter of interest to his fans and followers, once he garnered attention for his weight loss in 2017. However, the rumor of him losing thirty kilos which prevailed in some online social platforms, had no substantial context or fact. 
Well, with being a renowned public figure, trivial rumors are not uncommon. Moreover, at the age of 61, Bob's career does not seem to slow down and keeps adding to his inspiring accomplishments.