Sports
Inspiration for Millions- Bruce Arians, a Three Time Cancer Survivor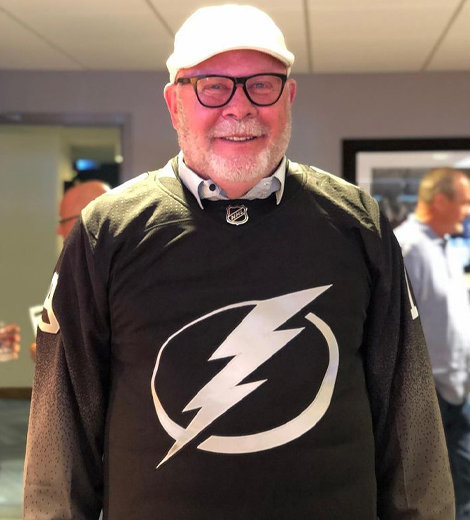 The head coach of Tampa Bay Buccaneers, Bruce Arians, has been recently tested positive for COVID-19, as announced by his team. 
However, this is not the first time the American football coach has gone through complications with his health or extreme medical conditions. 
Arians is a big-time cancer survivor who is an inspiration for millions, really. He still stands tall irrespective of the complications he has endured in the past. And mind our readers, he has not only battled the life-threatening disease once but multiple times. 
Bruce Arians, a Cancer Survivor
Arians have been in the field for over four decades now, and as his professional career has seen changes in his life, so has his personal life. 
More primarily surrounding his heath. Over the past 15 years, Arians have lived through three forms of cancer. 
His health complications began in 2007 when he was diagnosed with prostate cancer.
Beating the deadly disease black and blue, he emerged victorious over it, only to again face complications with a form of skin cancer in 2013. The skin cancer cells were removed from his nose in 2013. 
On his way to recovery, Bruce had to be time and again rushed to hospital, sometimes with pain in his chest or sometimes with the doubt of having a kidney stone. 
More On: Jerramy Stevens Expecting Twins With Wife Hope Solo | What Is He Doing Now?
Ultimately, he was tested for renal cell carcinoma, which was a form of cancer that affected his kidneys. Eventually, one of his kidneys had to be removed in 2017. 
One would actually think that someone who has endured so much in life might have decided to take a rest with their professional career. 
But the sheer determination and weight the cancer survivor has towards his aspiration obliges him to get up from bed every day and work. 
Due to this, the respect he has gained all over the industry for his willpower is unmatched. Also unmatched is his capability to look forward to the bright side and keep moving despite any stumbling block in his life. 
His health difficulty calls for orderly precautions that he must maintain time and again.
For example, earlier, he was seen with a contraption strapped around his chest, which many social media users unknowingly used as a chance to troll him, but little did people know that it was, as a fact, used for health reasons. 
More Inspiring Stories: Cancer Survivor Amy Robach: Her Married Life, Husband, and Divorce
What Is Bruce Arians Wearing Around His Chest? 
Bruce stepped onto the field wearing a device around his chest that was strapped through his shoulder. Upon seeing the picture (which circulated around October 2021), many social media users took to their social media and trolled him for it. 
While some said, "I love how Bruce Arians wears a Sony Walkman on the sideline," others compared his strap to a Star Wars character, Darth Vader. 
We would like to hope the trolling was done unknowingly, as there were lots like this that circulated on social media, and it still does at times.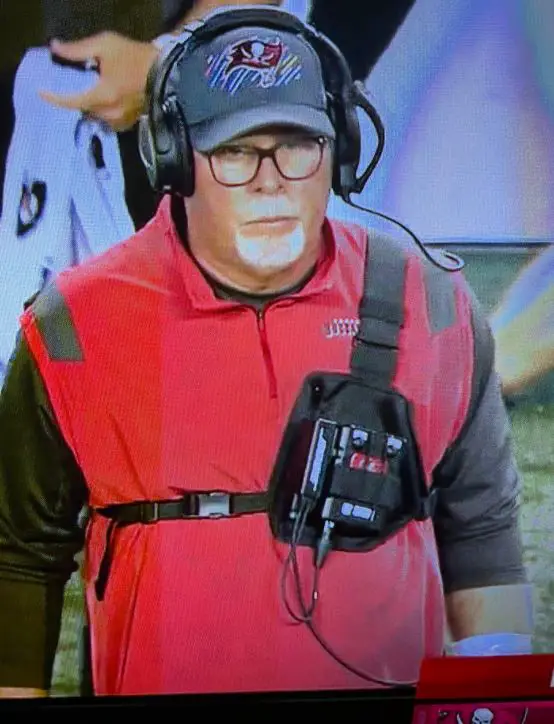 Bruce Arians With His Belt Around His Chest (Source - Twitter)
But just to educate our readers, it was neither a fashion statement nor a "Halloween costume idea," it was a mic battery that he needed to monitor his health. 
Explaining his strap in an interview, he said, 
"That's just the normal belt, and I have to wear that so tight that it sticks a nerve in my leg,"
Further adding, "Yeah, one of our doctors said, 'You know, that belt's so tight that can cause that problem. It's like the superficial nerves like you got shingles burning down your leg the whole time of the game."
Arians continued, 
" So I was like, let me throw it over my shoulder and see if it works. It's a helluva lot more comfortable."
So there you go peeps, its all for health reasons, and we fully hope that it has made things easier for Bruce; not to forget to mention, it does not look awkward AT ALL!
Now, as he has just been tested positive for the virus, we at LiveRamp Up extends our prayers to his well being and hope  to see this three-time cancer survivor in action soon enough.