Entertainment
Jerramy Stevens Expecting Twins With Wife Hope Solo | What Is He Doing Now?
Jerramy Stevens is a former American footballer who played as a tight end for Seattle Seahawks and Tampa Bay Buccaneers, during his eight-year career at NFL.
Further, his career highlights also include making it to the Super Bowl with the Seahawks in 2005. Although Seattle lost the match against the Pittsburgh Steelers, making it to the Super Bowl was a huge accomplishment in itself.
Jerramy Stevens Expects Twins With Wife Hope Solo
Jerramy Stevens is going to be a father.
The happy news came from his wife, Hope Solo, as she was co-hosting the beIN SPORTS Weekend Winners on 16th December 2019. Hope announced the big news, saying,
"Yes, my husband and I get to practice equality from the very beginning with one boy and one girl."
Well, from her statement, it's evident that the couple is expecting twins: a baby boy and a girl.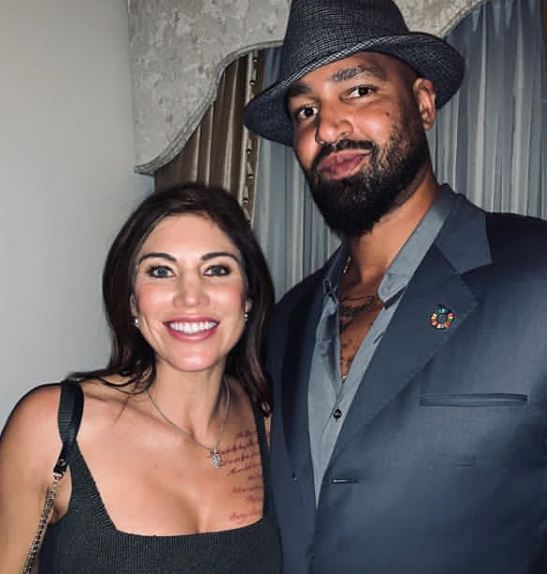 Jerramy Stevens with his wife Hope Solo in November 2019 ( Photo: Hope Solo's Instagram)
The recently announced pregnancy is not the first for the power couple. Previously, at the beginning of 2018, Hope was pregnant with twins, but she suffered a miscarriage a few months later and lost her babies.
You May Find Interesting:- DeRon Jenkins Wife, Children, Net Worth, Parents
After going through such a harrowing experience, the upcoming arrival of their newborns is sure a delightful news to Jerramy and Hope. As of now, the lovely duo is looking forward to starting their new journey as parents.
About Jerramy's Wife Hope Solo, How They Met?
Jerramy's wife Hope is also a former athlete like her husband; she was a professional goalkeeper and one of the most famous players in women's football worldwide. As a goalkeeper, she won gold medals with the U.S. women's soccer team at the 2008 and 2012 Olympics and also won the 2015 World Cup.
Jerramy and Hope met at the University of Washington, where they both attended. While Jerramy was the star tight end for the college, his future wife played on the college' women's soccer team - Washington Huskies.
The couple got married on 13th November 2019 at a farm near Snohomish, Washington State.
Career/ Net Worth
Stevens was born on 13th November 1979 in Boise, Idaho. He started playing football at a very young age.
However, his career took off at the University of Washington. His Washington team made history by winning the Rose Bowl following an 11-1 season in 2000.
Two years later, he was drafted as the 28th pick of the 2002 draft by the Seattle Seahawks. He played with the Seahawks from 2002 to 2007 and then played for the Tampa Bay Buccaneers from 2008 to 2010.
From his career, the former athlete enjoys an estimated net worth of $2.5 million. Together with his wife, the happily married couple share a combined net worth of $5.5 million.