Entertainment
What Is Cara Gee and Her Husband's Life Like After Their Magical Wedding?
Canadian actress Cara Gee is making it big on televisions with her performances in shows like 'Strange Empire' and 'The Expanse.'
Likewise, she has some big news in her personal life too. Cara and her long-time lover recently turned husband and wife, and fans are still gushing over the newlywed couple.
Meet Cara Gee's Husband
Cara Gee is married to her husband, Richard de Klerk. They had a beautiful wedding ceremony in March 2019 in a venue surrounded by little green wonders of nature.
Their wedding took place in the Moorten Botanical Garden in Palm Springs and was full of 'dancing, hummingbirds, and cacti,' according to Richard's wedding post on Instagram.
It truly sounds like a fairytale wedding. All that's left was some magic, but the dashing husband and wife's charm easily makes up for it.
Cara and her spouse shared a picture of them on their socials from their wedding day and were met with a wave of wishes.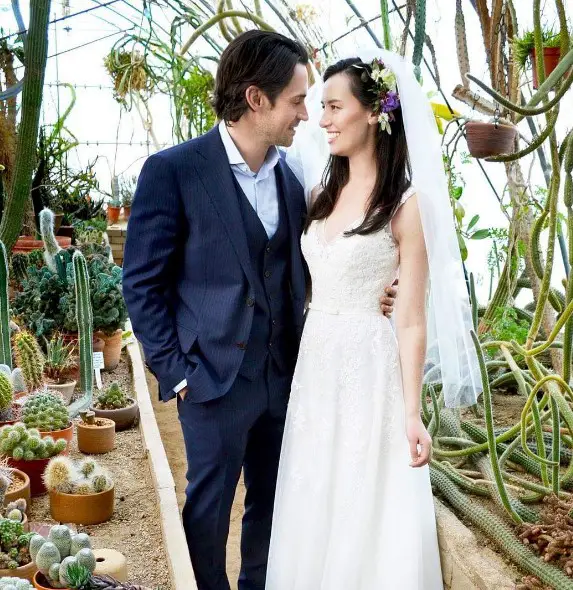 Cara Gee and Her Husband, Richard de Klerk (Source: Instagram)
Richard wrote in his Instagram post, " A couple weeks ago, I was fortunate enough to marry my smart, talented and beautiful love. We got to share our happiness and excitement with close friends and family. We couldn't have asked for a more beautiful celebration."
Cara's marriage is relevantly fresh, but she has a long history with her husband as lovers. Richard would post about her on his socials since 2015, so we're guessing they began dating somewhere around that time.
Moreover, the stream of good news has not stopped for the actress. Soon after her marriage, she announced that she was pregnant and welcomed her baby into the world in 2020.
You might like: Amanda Brooks Picture Perfect Life with Her Husband
They did not have any children before this, and we must say Cara is handling her first pregnancy like a boss! 
She worked and did what she loved most, even in the most difficult third trimester of pregnancy.
She was on the sets of 'The Expanse' doing an intense scene when she was eight months pregnant! She told Screenrant, 
 I was eight months pregnant, so there's something kind of hilarious about pretending to be drunk with a giant baby belly. It was very absurd.
Nonetheless, she also said that she had a great working environment on set, and the crew made her very comfortable. 
Similarly, she was flaunting her baby bump and pregnancy glow to press events and red carpets all the way up to the ninth month.
Richard accompanied Cara to the premiere of the movie 'Call of the Wild' and expressed his appreciation for his partner in an Instagram caption that read, "To say that I'm proud of my wife tonight would be an understatement."
Indeed, Richard is her biggest fan. He also comes from the same profession as Gee.
Richard has been active in the industry as an actor, producer, and director. You can see him on 'The Detectives,' 'Alone Wolf,' 'Strange Empire,' and others.
Contrary to the open pregnancy, the couple has refrained from sharing details about their child to the public. 
After a beautiful wedding and a newborn child, the couple surely has their hands tied. Further, their busy personal life after being parents is added by their demanding careers, which they seem to handle very well.