Celebs
All about Charlie Baker's Family Life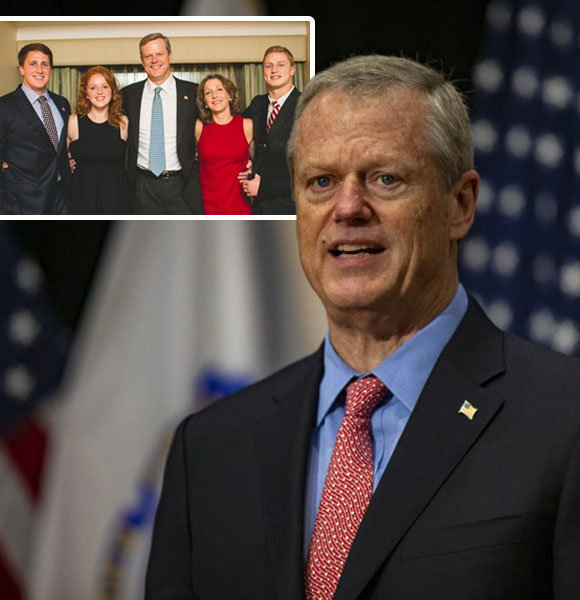 Charlie Baker, an American politician serving as 72nd governor of Massachusetts, considers himself a lucky guy to have been blessed with the love and support of his wife for decades. 
And he took to his Twitter handle to share the joy of celebrating three decades of togetherness with his beloved wife, Lauren Schadt. 
Charlie Baker and His Wife
The "married up" couple's bond dates back to decades, and still, the love they radiate for one another is extraordinary. Describing it in the millennials' language, their relationship totally makes for the "couple goal."
Evident to his flourishing love life are the love-filled social media posts he dedicates to his spouse occasionally. One of such posts happens to be Charlie's Twitter upload on the occasion of his 30th wedding anniversary in 2017. 
Treasuring some of his memorable pictures with his spouse, he wished her on the auspicious occasion through his Twitter. Among the three photos from the anniversary post, one reminiscent image was from his wedding day that took place in 1987. 
In the rare glimpse of their wedding, Charlie looked dashing in his black tuxedo while his wife looked gorgeous in her white lace gown with a bouquet on her hand. As they walked down the aisle holding their hands with big smiles on their faces, they could not have looked any more perfect. 
On the other hand, the remaining two photos were from their recent days. Although several years have passed, what still remains the same is the happiness that sparkles through their eyes whenever they are together.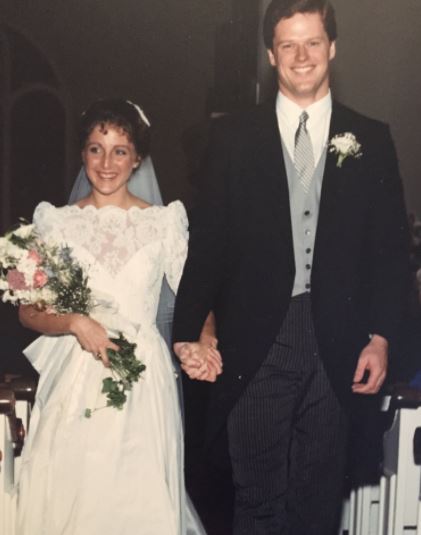 Charlie Baker and his wife from their wedding day (Source: Twitter)
While the couple's photos said it all about their happy married life, Charlie's adorable caption left no doubt about it. Referring to himself as a "lucky guy," the proud husband wrote, "30 years ago today Lauren Schadt and I got married. Everyone says I married up. They are right!"
Through a special Mother's Day Twitter post, he also expressed his gratitude towards his wife for being the incredible mother to their three children. 
Dont Miss: Openly Gay Politician Pete Buttigieg Welcomes Two Children Alongside His Husband
There are many qualities we can take away from their relationship, and one is undoubtedly the support that keeps the relationship intact and flourishing. 
Charlie is a massive supporter of his wife, whether in her personal life or professional endeavors. As a responsible first lady of Massachusetts, Lauren's work in improving the lives of children in Massachusetts is impressive.
In that regard, Charlie showed his support for his beloved spouse and praised her work through his social handle.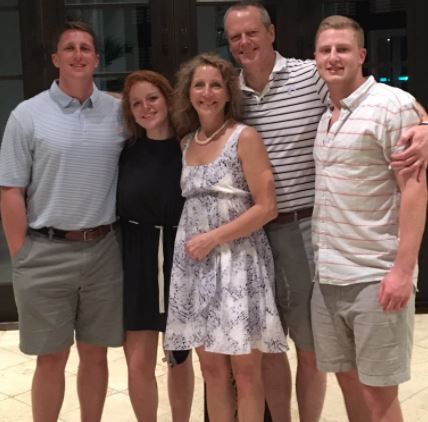 Charlie Baker with his family (Source: Twitter)
Leading the family by example, their children have also grown up to be responsible adults, and Charlie frequently takes his proud father moments to his social handle. 
Charlie and his wife are parents to two sons, A.J. Baker and Charlie, and a daughter, Caroline Baker. 
The politician's son, A.J. Baker, completed his education from Union College in political science and government and serves as a senior sports marketing manager at WHOOP. Likewise, Caroline attended Miami University for her higher education. 
The happy family of five share a tight knitted bond which is evident through Charlie's social media presence. Charlie indeed s a lucky guy to have a loving family along with tremendous professional accomplishment.