Entertainment
Chase Stokes Is a Great Big Brother to His Siblings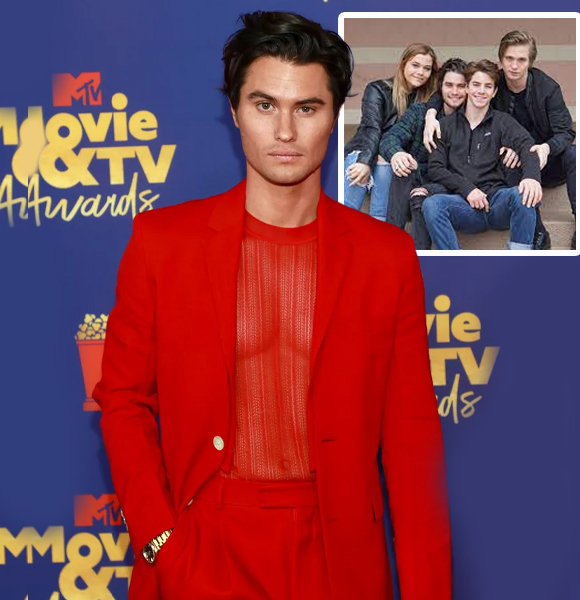 'Outer Banks' star Chase Stokes is making it big in the industry with his distinct looks and acting style. 
He has won over the hearts of many, and for many, he's the perfect lover boy, but on the other hand, he's a loving brother to his siblings off-screen.
Meet Chase Stokes's Siblings
Chase Stokes is actually the only child of his parents. He was born in Annapolis, Maryland as the only child of Jeff Stokes and Jennifer Canning.
However, he does have a lot of siblings. It's because his parents divorced when he was little, and they found different partners. Hence, he has a lot of siblings from his parents' other relationships.
There are six of them in total. Kaden Stokes and Kendall Nicole Stokes are his step-brother and step-sister from his father's second marriage, whereas his other siblings are Evan, Rylie, and Griffin Walker.
Chase Stokes and His Siblings (Source: Instagram)
Chase loves being a big brother, and it's a great happy bunch of brothers and sisters in the household. However, an incident with his sister and Instagram followers ticked him off. 
He had posted a selfie with his sister Rylie and topped the photo off with a sweet "Luv u" This led people to wrongly assume that she was his new love interest after his breakup with co-star Madelyn Cline.
The assumptions caused an unexplained outrage amongst the followers, and they went so far as to give him death threats.
Chase is a family guy, so getting these negative responses on a simple picture with his sister was upsetting, to say the least. 
He followed up the issue with an Instagram story in which he wrote,
The fact that I can't post a picture with my baby sister without death threats is just f**king absurd.
"Get a grip. Family always comes first and at the end of the day if you don't know my sister and have the audacity to send me horrific messages then just go ahead and click that unfollow," he added.
Furthermore, he noted that he would be taking a break from social media due to the frenzy. 
He ended the story with, "I will forever be a person who ALWAYS puts my family first. With that being said, and with that dumb s*it. I'm out. See you when I see you."
However, he is still active on social media and has moved on from the incident. It's evident that family means the most to Stokes, and being a good brother is a big deal for him.
Also check out: Michael Shannon's Career Has Become 'Angst Ridden'- The Reason Behind It?
He expressed his views on the topic in an interview and stated, "When you've got so many other siblings and you're trying to somehow manage that, be an older brother and not cross the lines between being a brother and also a second dad, I think you naturally go to that leadership role."
He has always been there for his family. Unable to resist the overwhelming situation, he posted on Instagram that his little brother Griffin was hospitalized.
While he didn't reveal the reason for his sickness, he did give an update that he was alright and that his brother was the strongest person he knew.
From his actions, it's clear that he has a great relationship with his brothers and sisters. Even though they come from different families, they treat each other as their own and share an amazing bond.
Chase is sure to give us more updates about his family via his social media, and we're looking forward to it.