Entertainment
Michael Shannon's Career Has Become 'Angst Ridden'- The Reason Behind It?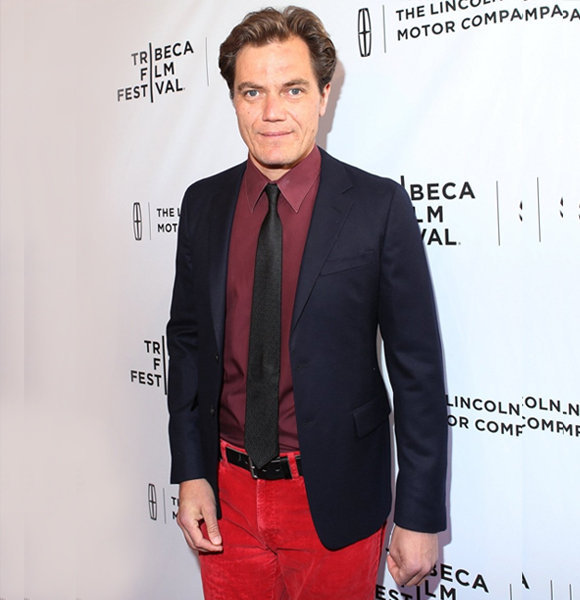 'Nocturnal Animals' actor Michael Shannon has won over the hearts of many with his powerful screen presence. 
All of his roles are impactful and leave a resonating memory in the viewer's mind.
However, the actor has his attention set on something else. It's his loving wife and children who keep him occupied besides his demanding career. 
Get to Know Michael Shannon's Wife and Children
Michael Shannon is married to his wife, actress Kate Arrington. The pair have been together for a long time and share a lovely family.
They are parents to two kids, daughters Marion Shannon and Sylvia Shannon. They do not have a son.
Actors marrying actors isn't a new thing in Hollywood. In fact, that's how most celebs have met their spouses. But not all of them work together. 
Michael and his wife are one of those few celebrity couples who have worked on multiple projects together.
Michael Shannon and His Wife, Kate Arrington (Source: Dailymail)
Get to know - How Ryan Stiles's Met His Wonderful Wife !
Things began in 2006 at a Chicago production of 'King Lear.' Michael and Kate met on the sets and fell in love. After many years of togetherness, they finally tied the knot in 2018.
In fact, Arrington was actually engaged to another man when she first met Michael. However, fate has its way of making things happen, and the talented duo was meant to be together in the end.
Since then, they have appeared many times together on-screen. Kate shared her experience working with her husband and said that it was not a difficult task. She said, 
Mike and I, working together, there wasn't a comfort that needed to be erased! It's been challenging, and I have such tremendous respect for him as an actor.
Moreover, Michael's wife explained that it made no difference that he was her husband, and they maintained professionalism. Well, they're pros for a reason.
"It actually has been, probably, a little less comfortable. The relationship has not made it easier, it hasn't made it harder. It's just separate for us. We really have tried to separate it, and it hasn't been difficult for whatever reason," she added.
Nonetheless, she loves that she gets to spend extra time with her man during work too. "We enjoy it, we like to get that time together, as well as all the time we have as a home and a family," she told The Digital Fix.
So, it seems like the couple enjoys working together, and it's been a plus point for their relationship. However, the busy work life has affected another aspect of Michael's life. 
He never really thought of having children, but now that he has two young girls, he describes his job as 'angst-ridden.' He said,
If I didn't have a family, I wouldn't have the gnawing sensation when I'm at work that I'm missing something.
It was more difficult for him as his daughter Sylvie went through surgery. Hence, the worrying increased for the actor and distracted him from work. 
Nonetheless, the experience, although difficult, was a learning opportunity for him, and it cleared any doubts he had about not having good enough parenting skills.
Now, he has gotten the hang of things. He has figured out the key to the intricate balance between giving enough time to children and working simultaneously. Plus, his wife is also there beside him at all times.
As a result, he is a part of a wonderful happy family. Likewise, his career is also steadily growing alongside many new upcoming projects to look forward to.