Celebs
Chris Santos Is Soon To Be A Man with A Wife !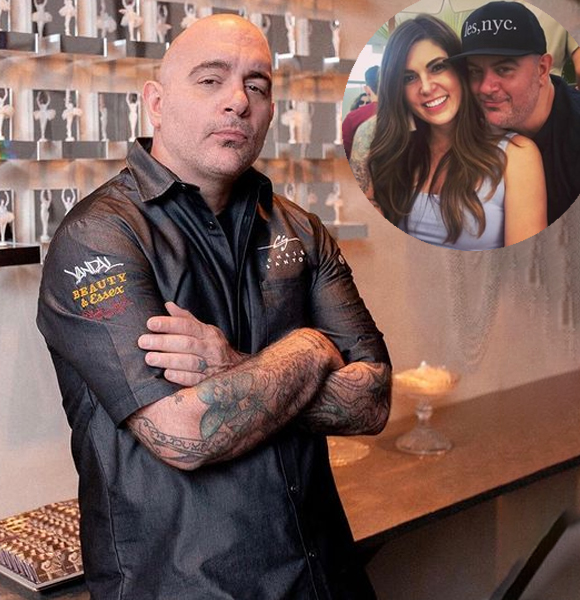 Chris Santos is a popular chef and entrepreneur who rose to fame with his television appearances on 'Chopped.'
But they don't really talk about his personal life on the cooking show, so naturally, fans are eager to learn more about a wife, fiance, or girlfriend in the talented cook's life. 
Is Chris Santos Married?
Chris is an appealing bachelor, but that won't be his status for too long. Chris is not married yet, but he is looking forward to a wedding soon with his fiance Natalie Makenna.
Actress Natalie Makenna (often misspelled Natalie Mckenna) and Chris are set to tie the knot a few months from now, and their excitement is over the roof. Chris cannot wait to give Natalie the title shift from fiance to wife.
He posted a cute picture of the two on the 'gram on February 15, counting down the days to their wedding.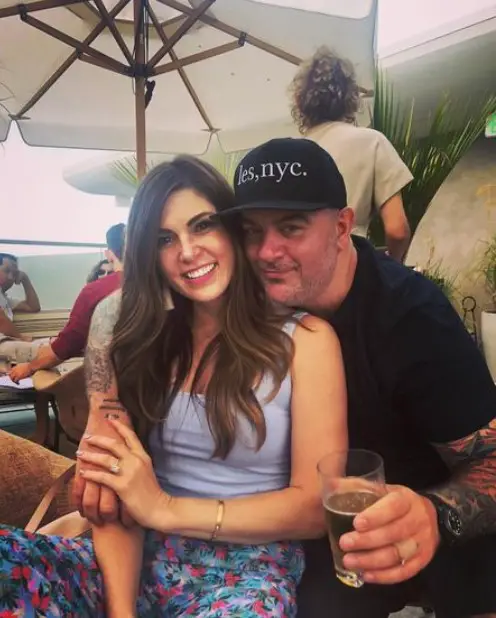 Chris Santos With His Fiance, Natalie Makenna (Source: Instagram)
"97 days 'til I get to call my beautiful best friend my wife! (Well I already do that, but then it will be official!) I can't wait to spend the rest of forever with you," wrote the celebrity chef.
The couple has decided to say their vows after five years of dating. Noting their 5th anniversary, Chris wrote a special message on an Instagram post to his beautiful fiance.
It may be officially a couple days away….but I can't believe this amazing, brilliant, beautiful, kind and incredibly talented woman has chosen me day after day for 5 years to be her person. FIVE! And, I get to marry her this year?
Adding in a lyrical reference to Frank Sinatra's song, he added, "I think Sinatra said it best….How lucky can one guy be?"
Moreover, Natalie has brought more than just love into Chris' life. She also helped him lose weight and maintain a healthy lifestyle, positively impacting his life.
It's clear that they are totally in love and ready to take on the marital life. Their social media accounts seem like a photo album of the love birds' sweetest memories, and we love to see them share the love!
Read More on: A Glimpse Inside Amara Walker's Beautiful Family
Chris does not have any children yet, but he has his hands tied on taking care of two pups, Gigi and Frankie Sinatra (we're taking a wild guess here and saying Chris is a big Frank Sinatra fan).
However, this will not be the chef's first experience as a married man. He was previously married to Taryn Santos. They married in 2009, but it is unclear when or why the pair split up.
Putting the past aside, Santos is busy planning his wedding and new life with his fiance. If that wasn't enough, he has five restaurants and TV shows keeping him busy and also earning him an impressive net worth.
What Is Chris Santos' Net Worth?
Chris Santos is an American celebrity chef who owns five restaurants across the country. He owns the popular restaurants 'Stanton Social,' 'Beauty & Essex New York,' 'VANDAL,' 'Beauty & Essex Las Vegas,' and 'Beauty & Essex Los Angeles.'
In addition, he has appeared in TV and radio shows such as 'Chopped, 'NBC's TODAY Show,' 'CBS's Early Show,' 'The Martha Stewart Show,' and 'The Rachael Ray Show.' Similarly, he has also launched his cookbook titled 'SHARE.'
From all his successful ventures, Chris Santos has amassed a staggering net worth of $8 million, according to CelebrityNetWorth.
With a stunning to-be-wife, awe-worthy net worth, five top-class restaurants, and a pair of skilled hands, Chris is living the dream life and is sure to progress even further.