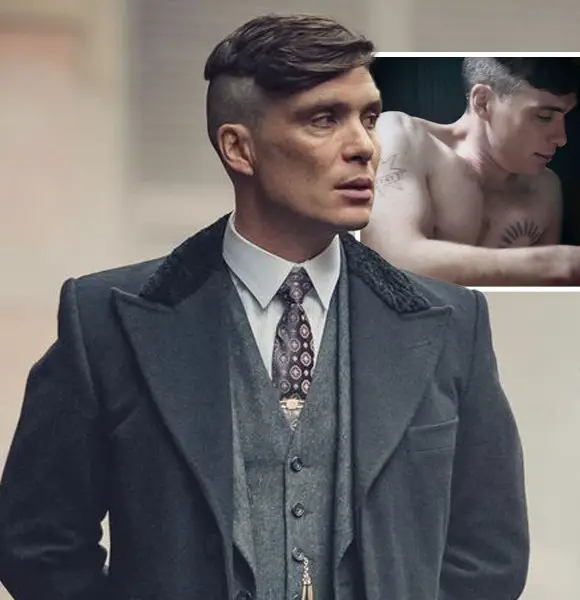 Cillian Murphy has earned himself the 'bad boy' image among viewers due to his flawless portrayal of characters.
After seeing him has the fierce 'Tommy Shelby' for six seasons, it has left fans wondering whether the tattoos seen on screen are real or not. 
Does Cillian Murphy Really Have Tattoos?
To answer the raging question, Cillian has not been inked in real life. Even though he looks dashing and absolutely rocks the look with artistic inks in the highly popular show 'Peaky Blinders,' it has been revealed that they are temporary.
But you can't really blame the viewers for believing they were real because they do look super realistic, thanks to Loz Schiavo, the stylist on the 'Peaky Blinders' set who designed them. The artworks were made in collaboration with Tattooednow, which is a company that makes realistic temporary inks.
Moreover, Loz did not just look up random designs and picked them to add to the "Gangster" look of the fan-favorite Tommy Shelby. Tattooednow explained in an Instagram post all the intricate meanings behind Cillian Murphy's tattoos.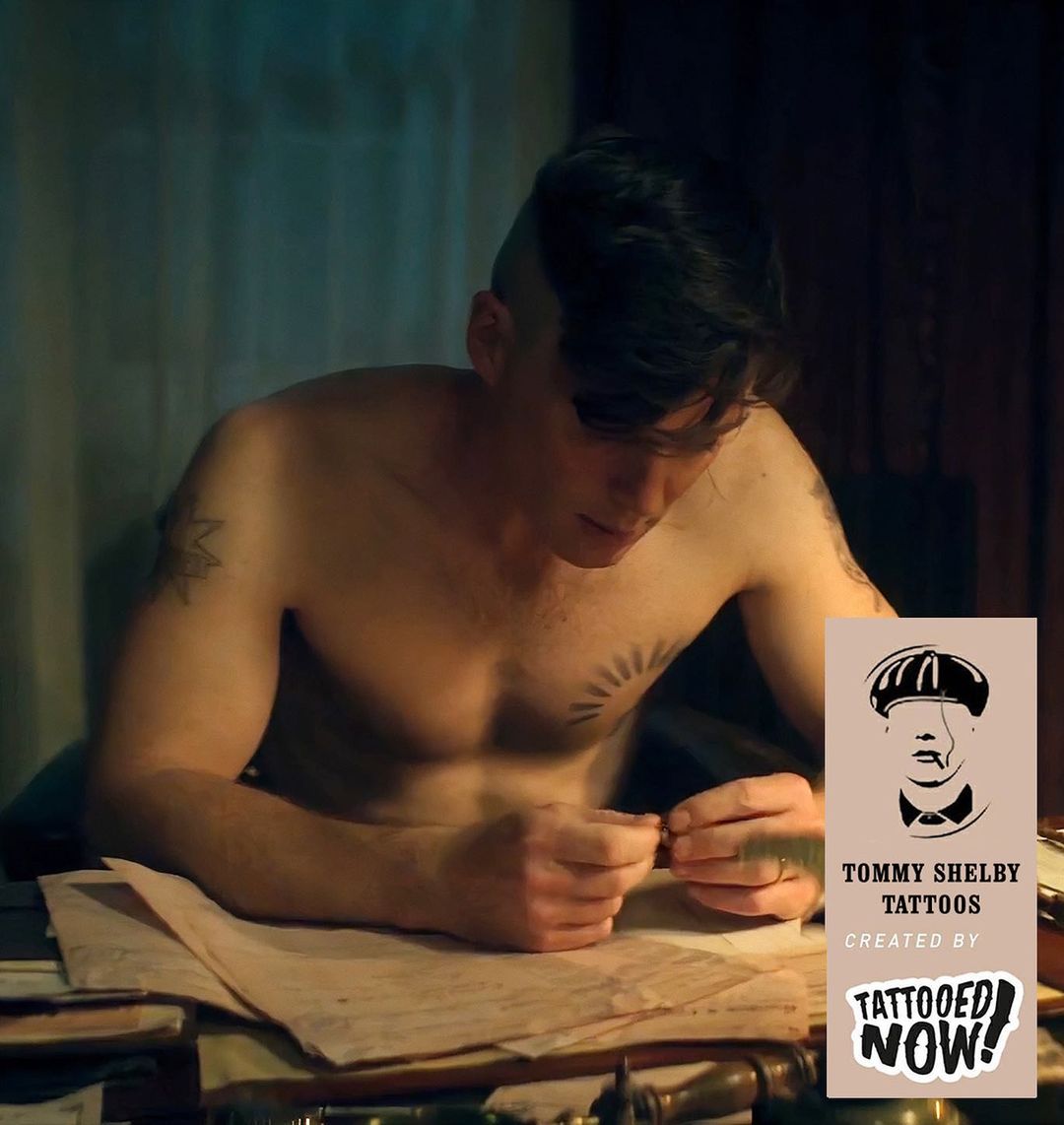 Cillian Murphy's inks (Source: Instagram)
The sun's rays seen on his chest were derived from an actual ink with Jesus amidst the rays, but Jesus was omitted because Cillian's character Tommy Shelby is not the religious kind.
Furthermore, on his right bicep, we can see the word "Forrard" which is meant to be a version of the word "Forward." This was inspired by Tommy's time spent in the military.
Read more about the Shelby brother: Actor Joe Cole Too Busy To Have A Girlfriend! 
Likewise, a rose entwined with a horseshoe can be seen on his left bicep. This is to denote Tommy obtaining a legitimate betting license in horse races. Talk about attention to detail!
Finally, a heart-touching marking of the letters T, G, and C is seen on Cillian's right arm, which is a tribute to his family; Tommy, his wife Grace, and his son Charlie.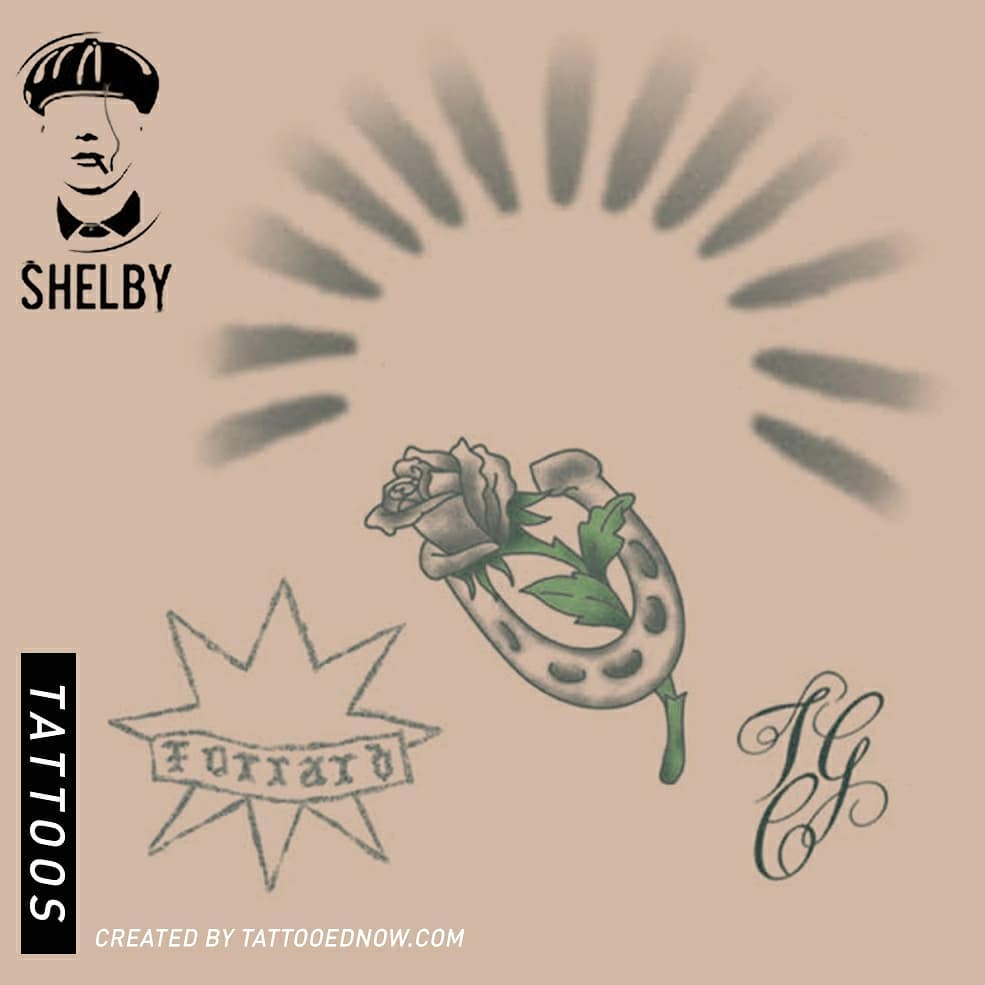 Cillian Murphy's ink in Peaky Blinders (Source: Instagram)
With the realistic finish and deep meanings behind the inkings, fans are bound to be intrigued by them. On that note, it can be said that stylist Loz Schiavo and Tattooednow have done a fantastic job with the final product.
More on the Peaky Blinders cast:  Natasha O'Keeffe, Pregnant for the First Time
Adding to the fan's curiosity, Cillian was again spotted in the thriller movie 'A Quiet Place 2' with ink on his bicep, adding to the rough and rugged look of the character topped off with a beard (which drove the fans CRAZY).
He was also spotted in a few interviews rocking the artwork in half-sleeved shirts, but from his recent appearances, it's confirmed; that one was a fake one too.
However, Mr.Murphy is the sneaky and private kind, and we would not be surprised if he actually got tatted one day without telling a single soul. Cillian is a private man who likes to keep his personal business.
What we do know is Murphy has been married to Irish visual artist Yvonne McGuinness since 2004, and the two are living a content life with their two children, Malachy Murphy and Aran Murphy.
However, Cillian has given us enough to look forward to from his roles in 'Peaky Blinders,' 'The Dark Knight Trilogy,' 'Inception,' 'Breakfast On Pluto,' 'A Quiet Place 2', and many more.