Celebs
Dale Gordon's Life with His Wife- Still Married or Divorced?
Dale Gordon is not a known personality or a public figure, but people do seem to be keen on his life. Why is that?
Well, that is because Dale Gordon is a husband of quite a popular spouse. His wife is the senior legal analyst for CNN and is also an attorney.
So,
Who Is Dale Gordon Married To?
Dale Gordon is married to the senior legal analyst for CNN, Laura Coates. While we have seen much of Laura and still continue to see her in the media almost every day, her husband Dale has decided to keep his presence away from social media. 
Married in 2014, the two's relationship is hard to understand. Not because it is complicated but because there is not much information regarding the two. 
There are numerous media outlets that argue that the two have been divorced now, and there is an equal number of outlets that discuss that the two are still together. 
It does get hard when a personality is so smart with keeping their relationships or the status of their relationship private. 
Several sites claim the two are ex-husband and wife, but we might just have proof that shows the two are still very much together and very much in love.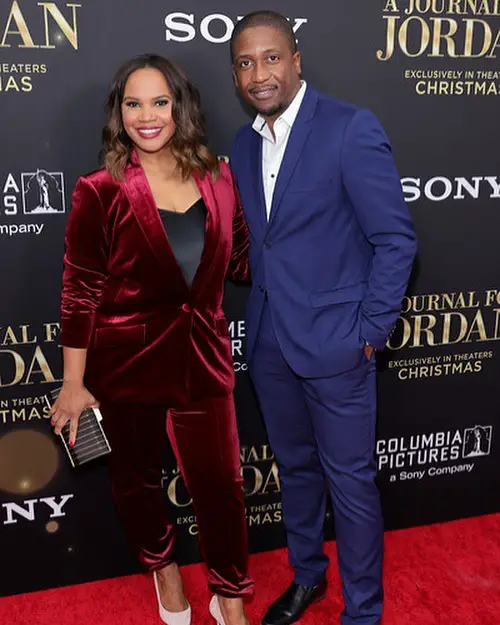 Dale Gordon With His Wife Laura Coates (Source: Instagram)
People speculated that the two might have divorced because his wife had stopped posting or talking about him on the Internet. 
This made people wonder if things have gone sour between the two. However, we can confirm things are just as good. 
On December 11, 2021, Laura made a post on her Instagram where Dale appeared standing along with his wife, side hugging her. 
According to Laura's official website, she resides along with him and their two kids in Washington D.C. 
The two are parents to two wonderful and beautiful children, a son and a daughter. 
More On: CNN Analyst Bakari Sellers Thinks Wife's Daughter As His Own! The Family Gestures Will Melt Your Heart
Their Two Children
Their daughter, Sydney, was born in 2014, but the name and birth date of their son have not been revealed yet. 
His wife, Laura, also doesn't show much of her children, and whenever she posts her children, she does it in a way where one cannot see their faces. 
This is absolutely understandable given how vicious social media can be at times, and protecting your child is always a parent's first instinct. 
Not only social media but even real-life can be equally vicious for a child, and Laura knows that because her child has been through similar experiences as such. 
During an interview, she shared a heartbreaking conversation that she had with her daughter where her daughter expressed that she did not like the way she looked. 
Laura, with deep sadness, said, 
"It was so devastating to hear my daughter tell me this morning that she just didn't like the way she looked. It broke my heart..."
She added,
If anyone has any suggestion for me about what I can do to make my daughter feel what I know she is — because dropping her off at school this morning almost killed me.
For all we know, the CNN analyst has done a wonderful job in teaching her daughter and her son all the right values in life, and as much strength as she is, surely her daughter will grow up to be the same beautiful and strong version of her mother.