Sports
D'Andre Swift's Show-Stealing Dad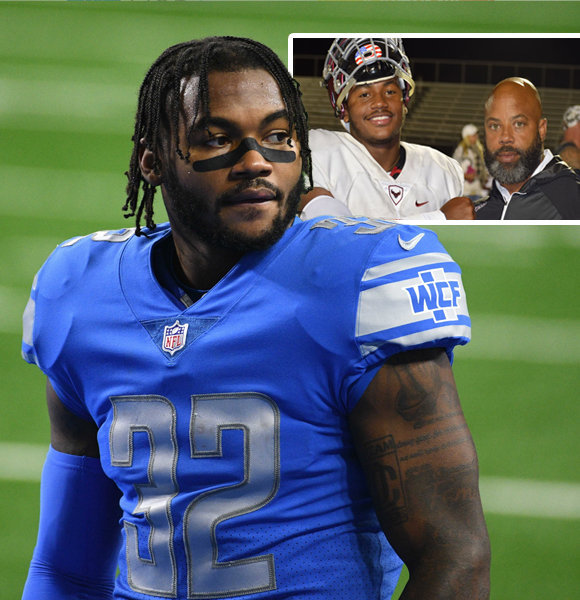 As they say, like father like son! 
American football running back D'Andre Swift forayed into the NFL franchise as a 2020 NFL draft. His outstanding gameplay and dedication to the game began garnering him tremendous fame and respect. 
But, who else also grabbed the public eye is his dad. Since D'Andre is now a well-celebrated athlete, it's not unusual for his admirers to be curious about his family members. 
But, his father gained the spotlight for a somewhat different reason, for his unbelievably pumped physique, which might even outshine his son in that case. 
D'Andre Swift's Dad on the Spotlight 
After seeing his D'Andre's father, you will probably get the idea of where the NFL athlete got his athletic gene from.
2020 was probably the best year for D'Andre when he got to bring his dream to fruition after his 2020 NFL draft selection by Detroit Lions. 
Having been actively playing in the arena as Detroit Lions's roster, he has proved to be worthy of all the hype. But, at the same time, another hype-worthy person in his family happened to be his dad, Darren Swift. 
The NFL fanatics even began claiming his father is eligible for the NFL draft. Let us explain why. 
D'Andre's dad has been grabbing public eyes even before D'Andre's NFL draft. But recently, his popularity has soared even higher.
Even at his relatively older age, the NFL athlete's father has maintained a body that looks like it could smash a dozen people at one go. His incredibly toned body can easily inspire people immediately.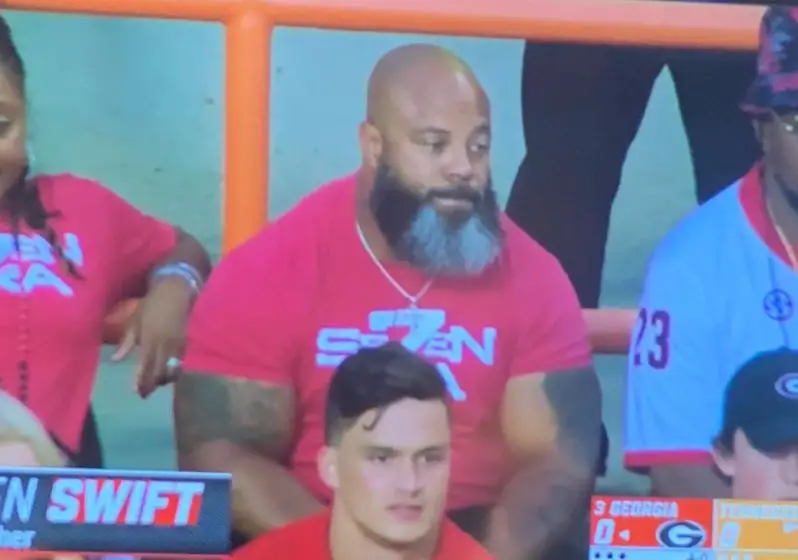 D'Andre Swift's jacked dad sitting in the audience (Source: Twitter)
Get to know  - Ian Book's Never Ending Support From His Parents
Whenever Darren is attaining D'Andre's games, the cameras always spot him in the audience crowd. 
Back in 2018, when D'Andre was in the arena playing for the University of Georgia, his father was in the audience; the cameraman could not help but capture Darren. Darren's gigantic muscular arms were bulging in his tight-fit half-sleeved pink t-shirt. 
Even the SEC ESPN Network took to its official Twitter account to flaunt Darren's ripped physique quoting the picture wittily as "D'Andre Swift's dad doesn't skip arm day."
Well, you bet he doesn't! So if you wonder what his gym routine is, brace yourself for the hardcore, intense workout routine he follows every day. 
Shedding light on his insane workout, in April 2020, the Twitter account The Checkdown shared a glimpse of his gym day. In the short video clip, which is now viewed by over 196 thousand people, D'Andre's father is seen weight lifting massive weights with ease. 
With a physique like that, who would not grab all the attention! Another Twitter post dedicated to D'Andre's father wrote, "D'Andre Swift's dad should throw his name in the NFL draft too."
Undoubtedly, he would make for a great athlete. But well, his son is there to contribute to the NFL now while Darren is busy handling his gym in North Philadelphia, Swift Fit.
D'Andre definitely grabs tremendous attention whenever he steps out in the arena, but his father is also a show-stealer wherever he goes. 
As D'Andre has just begun his NFL career, he has miles yet to go to set his dominance in the sport. But with his undying dedication and commitment to harnessing his skills, he is sure to accomplish incredible feats, while at the same time, we also get to watch his dad more often. What a treat!