Sports
DeAngelo Williams- An Extraordinary Player & Even More Amazing Human Being
Perfect example of a ONE-of-a-KIND Wedding!
Former American football running back DeAngelo Williams has one legacy that cannot be unmatched. Another aspect of his life that can rarely be matched is his extravagant and extraordinary wedding theme when he got married to his wife back in 2016. 
Although an old piece of news, a look into his wedding is clearly one not to miss and definitely one you will love. 
DeAngelo Williams's Wedding with Wife
The also professional wrestler has left majestic and extraordinary performances to his name and numerous accolades. Imagine someone having so much influence and talent that an award itself is named after them. 
Yes! Back in 2012, Memphis changed their "Most Valuable Player" award to be "DeAngelo Williams MVP Award," so one can really grasp the fact how much of an extraordinary talent Williams was. 
The former Carolina Panthers and Pittsburgh Steelers player retired after a decade from his career in 2016. 
We get it; you might not have clicked to learn about his professional life, as you probably already know.
Honestly, we are as excited to cover all on his wedding; however, the background was necessary as in 2016, while his professional career ended, something beautiful started. 
See! We are pretty smart!
He married his wife Risalyn Burzynski in 2016 in a fairy tale wedding. 
Well... not exactly a fairy tale, but it was definitely something out of a movie. Literally!
The pair did a "Walking Dead" themed wedding, and it was both mesmerizing and spooky. And they went quite all in. 
As per the former Pittsburgh Steelers athlete, he is a huge "Walking Dead" fan, and by the looks of it, the wedding happening in this theme was inevitable. 
"I'm a huge Walking Dead fan and I know the wedding day is typically for the woman or for women, so the whole entire wedding party are zombies and we get an opportunity to flex our Walking Dead muscle."
The former NFL star said their special day was entertained by bridesmaids and groomsmen with a full-on zombie look for a photoshoot that happened after their wedding. 
Another Pittsburgh Steelers Player: Chris Boswell's Engagement Picture Leaves A Question, If He Is Married
But what did it take to convince his gorgeous wife? Well, nothing much, really. 
"He didn't have to convince me. He really had to convince the bridesmaids," Said his wife. 
The couple, however, isn't alone in this journey. Hand in hand, cherishing life are four of their kids that the 38-year-old former football star regards as his biggest accomplishment. 
DeAngelo's Love For Wife & Children
DeAngelo who is considered one of the top running backs was once asked about the accomplishment he was most proud of, and his answer was short, to the point, and simply beautiful. He replied, 
"My wife and four kids."
Further, his wife is quite an impressive woman herself, as she is also an executive director of their foundation, The DeAngelo Williams Foundation that works for gathering funds to help the research for the cure and eradication of breast cancer. 
DeAngelo is also quite active in advocating for the cause, and well he definitely knows how to use social media in all the right ways. 
Besides, the happy family of six is often featured in Williams's Instagram posts. From accompanying each other to little trips together to sharing cozy family days, the family seemingly lives a very happy life.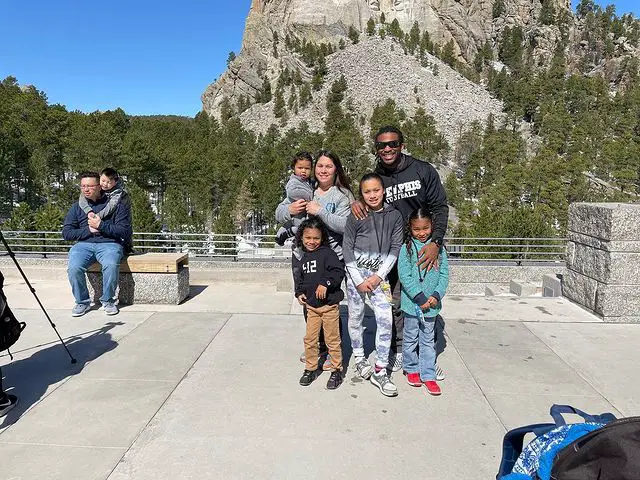 DeAngelo With His Wife & Children (Source- Instagram)
But what is most interesting is when Williams took to his Instagram account to share the picture of his three awe-dorable daughters with the caption, 
"It's amazing how blessed we are! It's amazing how a little fluid and faith can make such beautiful things! "
As hilarious as his caption is, the more intriguing thing about it is what follows after. He added, "Yes I'm talking about having the shirts from youth sizes to 3XL ... link in my bio!"
Another Charitable Player: Basketball Player, Tina Charles: Donates Half of Salary for Charity. What's She Saying About Rio Olympics?
He was basically advertising t-shirts for his foundations. And honestly, no complaints!
This just goes on to show how for DeAngelo, the cause he is working for and his family is the most integral part of his life.
The accomplishments in his professional career are sure tasteful, but his personal life seems to be even more delightful, one that he cherishes wholeheartedly.