Entertainment
Chris Boswell's Engagement Picture Leaves A Question, If He Is Married
Chris Boswell has come out of an injury however a question still persists if he finally has a wife or have they broken up.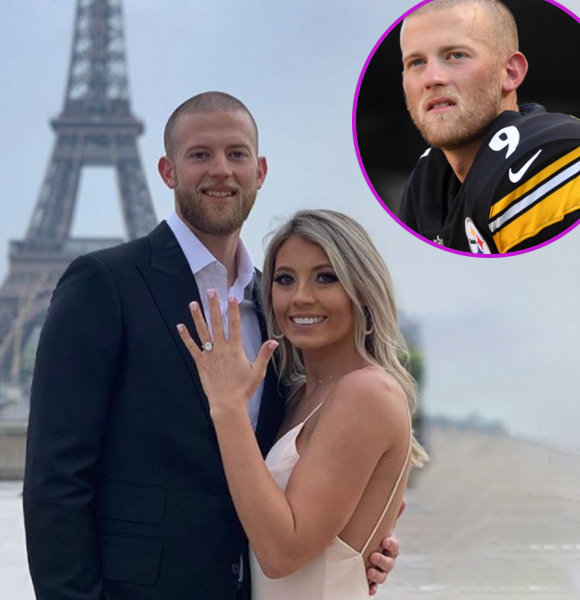 "My person for life! I love you!" The Steelers kicker made his engagement news official back in 2019 while donning a classic suit along with his partner in front of Paris, and after three years, their relationship has taken a turn that has shocked many. 
Chris Boswell's Wife
Three years ago, Boswell decided to open a new chapter in his life for the better. He proposed to his beau in front of the most beautiful destination, a dream destination. PARIS!
WHO DOESN'T WANT TO GET ENGAGED IN PARIS! THE BEAUTY!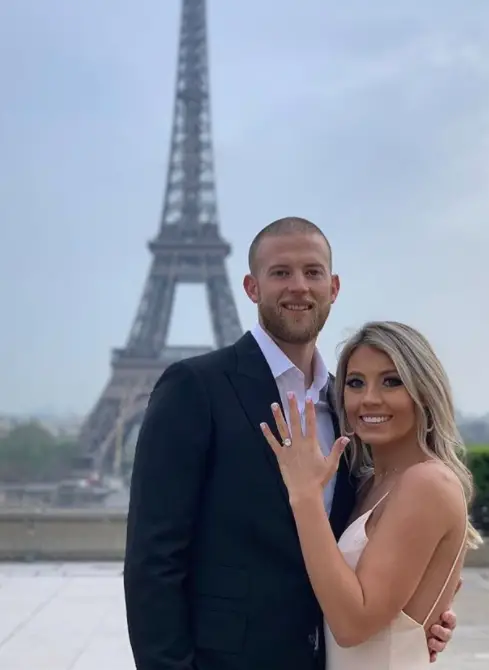 Chris Boswell With His Fiancé (Source Twitter)
Chris undoubtedly was showered with best wishes and congratulations all over the media. It was only a matter of time when he would soon announce that his fiancee was his wife. 
But the wait never ended... to this day. Yes! to this day, fans have waited to see the American Football player get married; however, by the looks of it, the day might not come any time soon. 
Why?
Well, because it seems like the two have broken up their engagement. There is no evidence of Boswell's engagement on his Instagram account, which he once posted proudly. 
Any details of what happened between the two or whether they are still together and have chosen to keep it private are unknown. As of now, Boswell seems to have kept his personal life under the wraps while enjoying a career that has given him immense success and hefty net worth, of course. 
Chris Boswell's Net Worth 
The NFL star completed his high school at Fossil Ridge High School, where he played high school football actively. But his professional career began in 2014 when he was signed by the Houston Texans. 
He was then signed by the New York Giants, with whom his relationship was unstable. After being signed on January 7, 2015, he was waived in August and was again resigned, only to be waived again in September. 
Eventually, Chris signed a contract with the Pittsburgh Steelers in October. Boswell never looked back from Pittsburgh since, and he is still with the team, but on a free agent tender, because of a five-year contract, he signed in 2018. 
Another Pittsburgh Steelers Player: LeGarrette Blount Wife, Kids, Family, Net Worth
His four-year contract of a whopping $16 million helped him generate a base salary of $3 million annually which will significantly increase in 2022, ranking it up to $3.36 million. 
With the amount of sum he gets, it is no wonder that the American football kicker has a net worth that puts in on a list of millionaires. 
Boswell, age 30, also owns a house in Allison Park, Pennsylvania. 
As of now, Boswell seems to be on a streak as in the 2020 season, he gave the Steelers a record for the longest field goal by making a career-long 59-yard field goal, and he, in October of 2021, made the Steelers win the match with three field goals against Seattle Seahawks. 
New York Giants Player: College Dropout Eli Apple Has Some Serious Stats To Flaunt Backed By Contract With Giants
More On Chris Boswell 
Born in 1991, Boswell's birthday falls on March 16. He also played his college football at Rice. Chris was a prolific player at the Rice, helping himself bag a title of three-year starter. 
While at Rice, he also was a member of Martel College. Recently in November of 2021, Boswell suffered an injury while throwing a pass. But fortunately, he is back from the injury and ready to get back on the field.