Sports
Derrick Rose's Fiancée's Close Bond with Her Step Son
Derrick Rose, an Aspiring Athlete with a Passion for Tattoo, Is Recently Engaged To His Long Time Girlfriend Who Is Closely Bonded with Derrick's Son.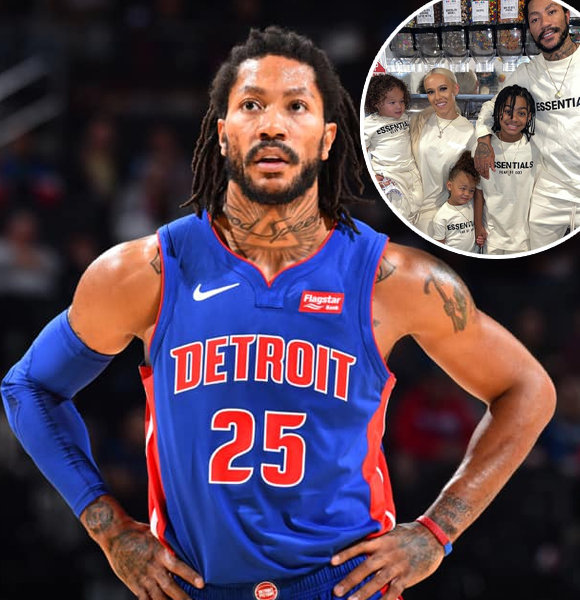 Derrick Rose, freshly engaged to his partner of several years, has achieved numerous successes in his career, making him one of the celebrated players in the NBA. But the way he balances both his personal and professional life, despite having a demanding schedule, is indeed praise-worthy.
Besides being a sought-after athlete, Derrick is a father to two sons and a lovely daughter who has managed to create peace and harmony in the family, although the children are from his different partners.
Derrick Rose's Partner Loves His Son
Derrick recently got engaged with his baby mother, Alaina Anderon. He shares two children, a son, London Marley Rose, and a daughter, Layla Malibu Rose, with fiancee Alaina.
They met back in 2016, but only two kids later, the couple dived into the next chapter of their relationship. Rose decided to commit to a promise of a lifetime when he proposed to his longtime girlfriend at Madison Square Garden. The pair shared the news on their respective Instagram accounts and sharing the special moment the NBA player wrote,
"I didn't know how you were going to perceive me. But this entire time I was hoping that you would believe me. Believe the words that I will have your back and love u forever,"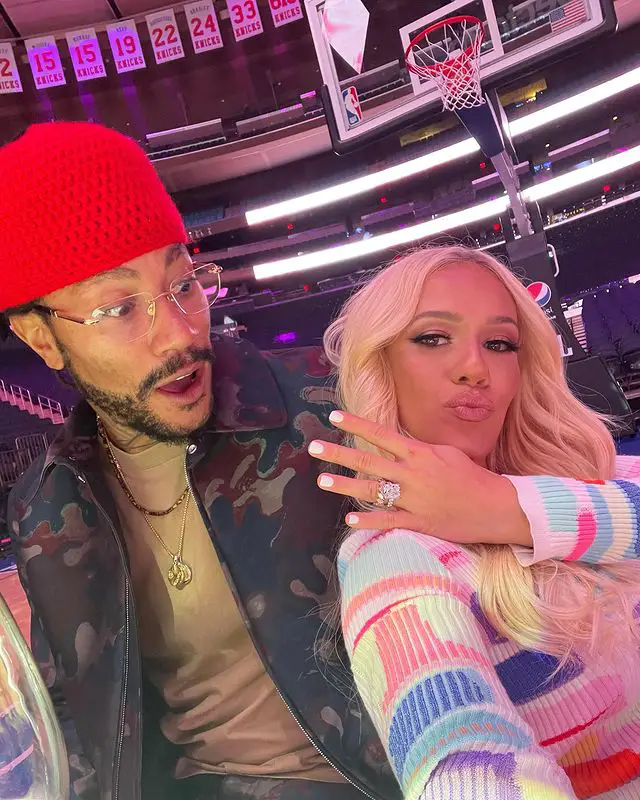 Derrick Rose's Proposal To His Girlfriend (Source Instagram)
But that's not the only blessing he got from his relationships. His relationship with his ex-girlfriend Mieka Reese blessed him with a son named Derrick Rose Jr. 
While one would generally think that Junior Derrick might not be used to his father's life as he is not with his mother anymore, that's not the case.
Sure, he is very close with his mother, but Alaina has roped the family together well, and all of them are very close with each other. 
More On : What Exactly Blew Jimmer Fredette's Unusually Short Contract With The New York Knicks?
She often shares pictures of the family of 5 on special occasions, and one such occasion was fathers day of 2021.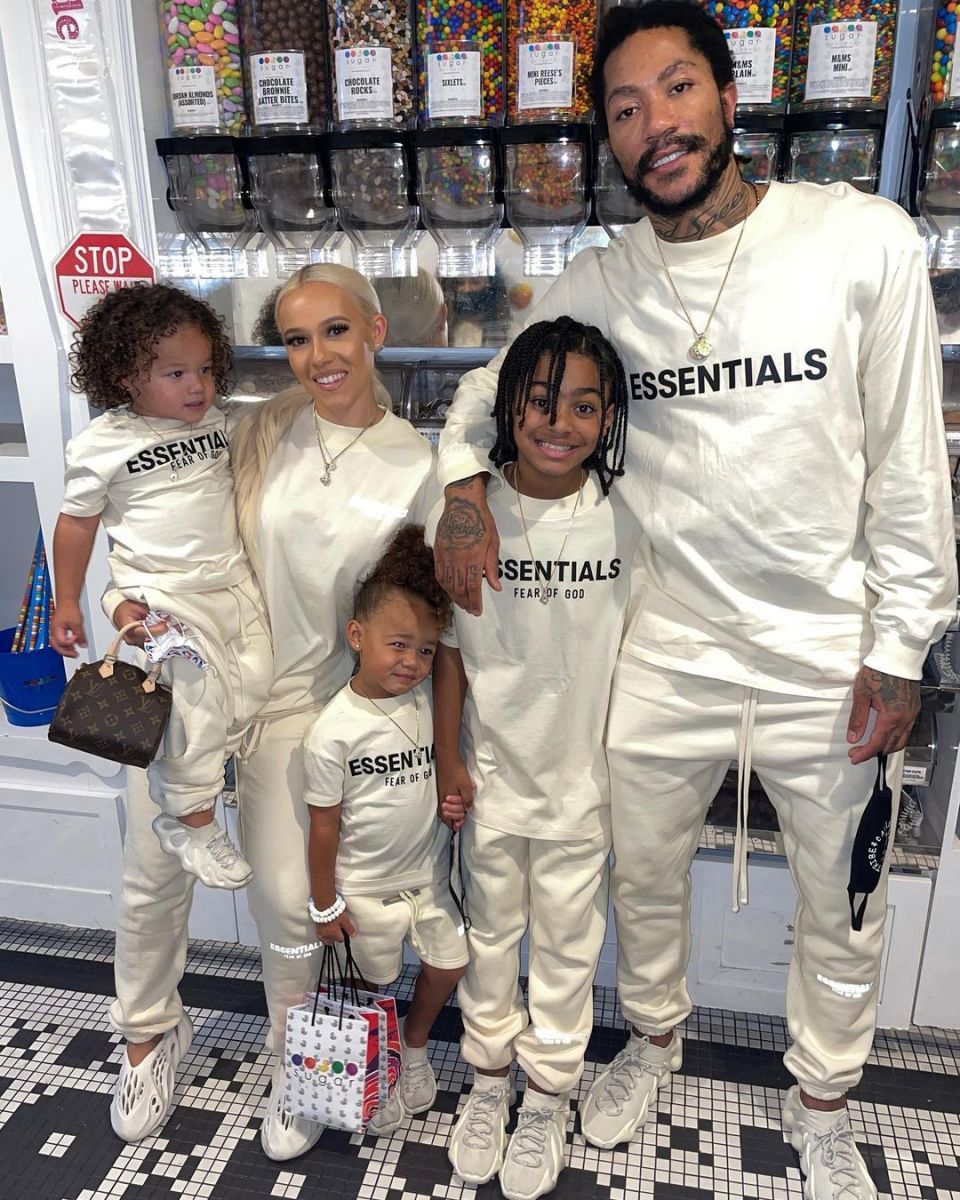 Derrick Rose With His Finance And His Children (Source Instagram)
The picture featured Derrick's son from his previous relationship and Alaina in the single frame, and nothing but warmth and love oozes out of the picture-perfect family portrait. 
Although not together anymore, Mieka and Derrick have handled the relationship very maturely, co-parenting their son. The ex-pair even came together to celebrate their son's birthday back in 2020. 
By the looks of it, the whole family seems to be pretty close together with Mieka, including Alaina. In the video, Mieka can also be seen holding her ex's and his fiancee's baby in her arms and the most amazing scene of it all, when all of them pose together for a picture. 
No, it's not a thing to be shocked about, but it sure is unusual! How many articles have you read with similar stories?
VERY FEW!
However, it's always good to see when two people work their differences out for a common purpose; their child.
The New York Knicks player has now embarked on a new journey with his fiancee, which will soon land them on a path of marriage. After all, it's one of the most meaningful experiences in life. 
Talking about meaningful, Derrick is one of the personalities with many tattoos on their body; very appealing, of course. But, it has always made people wonder about the meaning behind them. 
Very Interesting: Kemba Walker Found Wife To-Be? Here's What Mystery Girlfriend Looks Like
Derrick Rose's Tattoos 
Rose standing at the height of 1.88m, looks super attractive, and those inks on his body are just a cherry on top. He has almost or over 20 tattoos on his body; however, not a single one of those tattoos seems to have been made out of impulse. 
Rose's tattoos are well thought of and meaningful. However, the most striking tattoo is the number on his right and left color bone that reads 19 and 88, meaning 1988, representing his birthdate. 
He has "GodSpeed" tattooed on his neck, which features a triangle in its middle with rays coming out of it. In addition, Derrick has a tattoo dedicated mainly to his family. On his lefty chest features a tattoo of rose flowers that seem to grow out of the word "Family First."
Rose also has a tattoo on his back which contains a pair of wings and palms in which a child is laying down. As per, bodyartguru the child is his son, Derrick Rose Jr. 
These are just some of the many tattoos that the basketball player holds but looking into them reflects how much he values his relationships and family in general.