Entertainment
Did Mike Posner Come Out To The World Through His AudioBook?
Mike Posner lives a luxurious life with a hefty networth, but people often have questions about whether he has a girlfriend or a wife to share it all with.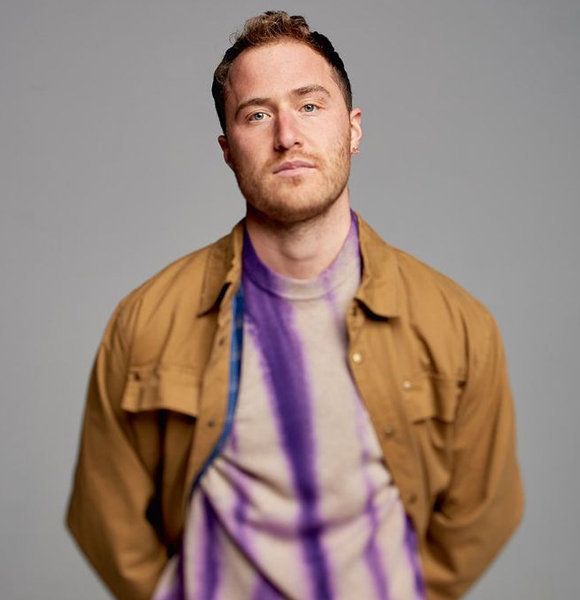 "I want to have sex with men and women I haven't met yet."
These words, engraved in the American singer Mike Posner's book of poetry, directly point towards his bi-sexuality. 
The singer released an audiobook of his first poetry book, Tear Drops and Ballons, back in March 2017. In one of his poems titled "A Song With Pitbull," he said the above-quoted words. 
However, the 33-year-old singer's relationship history with a few of his former girlfriends suggests he might not all be bi-sexual. 
Is Mike Posner Gay?
Well, the above words were not to disrespect Posner's feelings or disregard his sexuality; we would actually like to shower more love to Mike for coming out if that was a hint to his sexuality. 
However, looking into his past relationships, he has never dated a man, or let's say, there has been no news of him dating a man. 
Back in 2019, Mike was interviewed by Steve Batlin, a senior contributor for Forbes magazine, where he asked Posner about his career and his new album of the time. 
When he had to answer a question regarding the making of his album, A Real Good Kid, and how it "captured his life," he replied, 
Me and my girlfriend split up, then Avicii died, I had a friend who had his own drug scare. So then it became songs about this stuff that's happening in real time. I know it's so cliche, but it was my therapy.
The album did reasonably well in the charts, and apart from his breakup, the album was inspired mainly by the Please Dont Go singer's father's death. 
Mike Posner's Song Inspired By His Father
Apart from his unnamed girlfriend, he was also rumored to date model Kristina Colonna and Emily Osment, with whom he apparently went on a dinner date. 
Besides all the buzz regarding his love life, his father's death took a big toll on him back in 2017.
Another Singer: Taylor Swift is the Highest Earning Celebrity, Proclaims Parade Magazine. Find Out Who Else Made it to The Top 5 List!
What Happened To Mike Posner ?
Posner, age 33, lost his father, who was a crucial figure in his life. Posner lost his father in a battle with cancer back in 2017, which changed his life. 
His father was of Ashkenazi Jewish descent, making the singer's ethnicity mixed. Moreover, his mother also has French, English, German, Polish, and Irish ancestry. 
While he had just given up his drinking habits and stopped his drug usage, he faced his father's demise a couple of years later of his sobriety. The unfortunate incident made him go on a solo journey, walking from New Jersey to the Pacific Ocean. 
He documented his journey for his single, "Live Before I Die." Touching on his experience with BBC, he said, "Before I left, I suspected I had a little pocket of untapped potential inside me," further adding, 
 "I was wrong, there was a huge basin of untapped potential."
Mike Posner's Song, Live Before I Die
He also revealed how his mom was very supportive of his decision and left a message that read, 
"I think you're going to be shocked at how difficult it is, but I love you for trying it."
The journey surely was difficult, but the singer powered through the difficulties and came back as a winner. 
More On Mike Posner & His Net Worth 
Starting his career in 2007 working as a record producer with Big Sean, he featured on a mixtape with Big Sean in 2008 and released a second mixtape in 2009. 
Eventually, Posner was widely known as a prolific artist and started to garner attention. He has released six albums to date, all of which have done very well on the charts, and is widely loved by his fans and supporters. 
With his out-of-par skills and talent, he has garnered a significant fan base who are very loyal to his music and art. As of now, Posner stands at a net worth of $10 million, as reported by Celebrity Net Worth. 
Standing at the height of 5 feet 10 inches, he is a charitable figure.
Another Figure Who Travelled Nepal: Gbenga Akinnagbe is Not Married! The Actor is Dating His Interests
As of recent, in May 2021, he traveled to Nepal and climbed Mount Everest raising a fund of $250,000 for the Detroit Justice Center.