Sports
All On Dustin May's Family, Contract & More
Dustin May's Generous Contract Accompanied by an Impressive Salary Is surely Not To Miss & To Top It All of the Support from His Family Is Truly Heart Warming.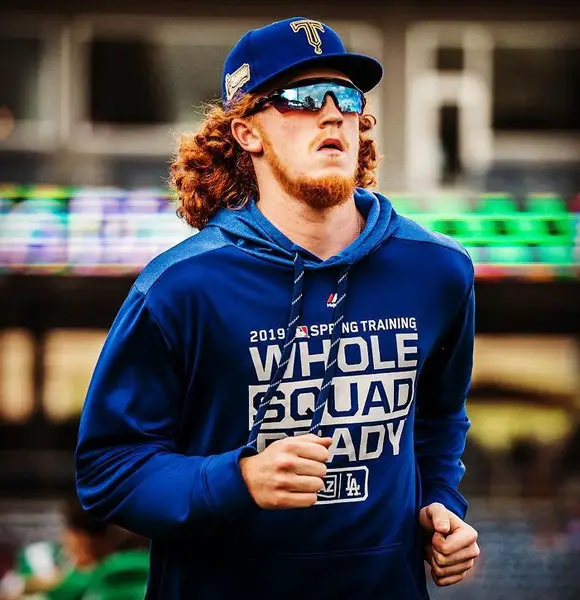 American professional baseball pitcher Dustin May, in the short term of his career, has accomplished much. May, age 24, started playing his major league two years ago and within such a small duration, he has signed a contract worth millions. 
Dustin May's Salary 
A graduate of Northwest High School, Dustin was selected by the Los Angeles Dodgers during the third round of the 2016 MLB Draft. 
He signed a contract deal worth a million to the Dodgers, after which he made his debut with Arizona League Dodgers. He played a season with the Arizona League Dodgers from 2017-2018 and was eventually shifted to playing his major league for the Dodgers in the 2019 season. 
Sporting gorgeous ginger hair, Dustin landed his first big win against the Miami Marlins on August 13, 2019. His pitching style is one of the most appreciated aspects of him as a baseball player. 
As of 2021, he has made five starts. Unfortunately, he had to undergo surgery that required him to sit off a season due to his torn UCL. 
Although May has yet to step on a glorious career, the start to his career has been a promising one. In such a short span, May has shown immense growth and has impressed important names in the MLB industry. It is only a matter of time when he lands even bigger contracts and more enormous salary.
As of now, his net worth is estimated to be in a six-figure range. Throughout the journey of his baseball career, Dustin's family has been his biggest support, and his mom claims for her son to be her favorite player. 
More On Another Los Angeles Dodgers Player: Dodgers' Cody Bellinger Is Unstoppable And So Are His Stats! A Scouting Report For A Better Look
Support From Parents 
Born on September 6, 1997, he grew up with his parents, younger sister, and one older half-brother. 
Growing up, his father worked for Little Debbie, the famous and delicious dessert factory, and his mother is an assistant principal at a middle school. 
A very cute incident that we have found particularly featuring his mother is a very aww-some moment. On a tweet made by MLB, they asked their followers who their favorite under 25 player was, and his mother Suzzanne's reply to it was ... well, you expected it. 
She replied to the tweet with,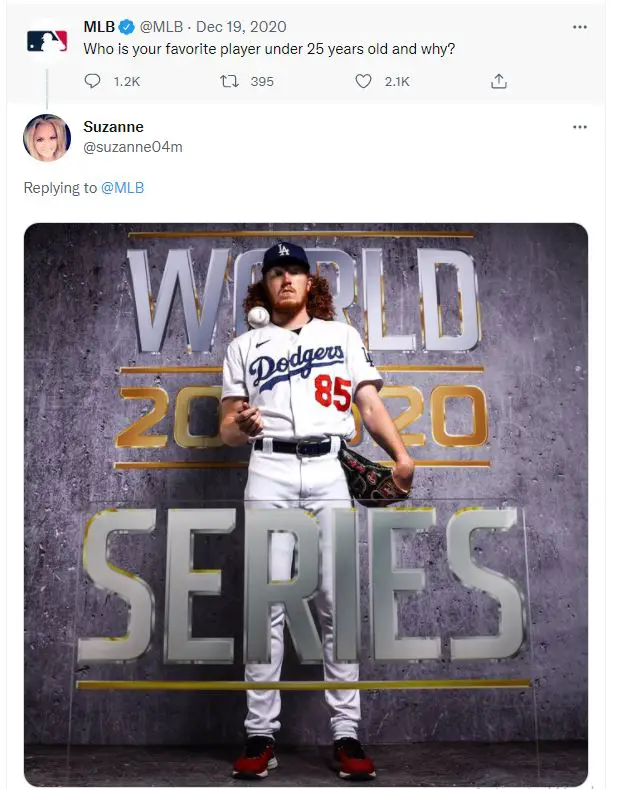 Dustin May's Mother Reply To MLB Tweet (Source Twitter)
OF COURSE! They are mothers, after all! Kudos to you, Suzanne!
The gorgeous long-haired player might not be playing any more of this year's season; however, he sure is going to come back stronger and give the Dodgers a big win.