Entertainment
Wedding Bells Alert!! Congratulations Are Surely on the Way For Dylan Walsh
Dylan Walsh & His Partner Who Are Soon Going to Get Married Has Started Their Wedding Preparations & Accompanying Them Are Their Lovely Children.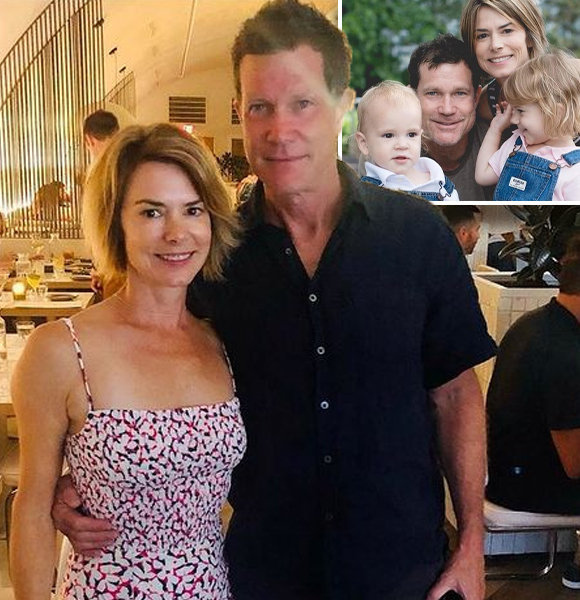 Dylan Walsh, the charming American actor, seems to have wedding bells jingling all over his life as recently his to-be wife or, let's say, financee (technically) has revealed the dates of their wedding.
His partner also gave some insight on their wedding plans, and GUYS, it's exciting. 
Dylan Walsh's To Be Wife 
Do you hear fireworks everywhere or the wedding bells jingle?
No? BECAUSE WE SURE DO!
The Nip/Tuck actor's wife has planned it all! From the venue to the florist to ... McDonalds. 
Well, it's neither a rumor nor speculation; it's what Dylan's wife wrote on her social media while announcing her wedding. 
The couple, who has been together since 2011, has decided to take their relationship to the next level. Also, apologies for using her title as a fiancee when they actually are not. 
The couple has stayed together for a decade now, but they haven't been engaged. Or maybe they did and kept it under the curtains. 
But the truth is they are getting married now. So, back to his to-be-wife, Leslie Bourque's Instagram post. 
A classy and chic florist card. That's what she posted pictures of while revealing to people that the preparation for their marriage is going on at a fast pace. 
In the Instagram caption, she revealed the conversation she had with Walsh. She shared how she talked about booking a florist and choosing flowers over the ring.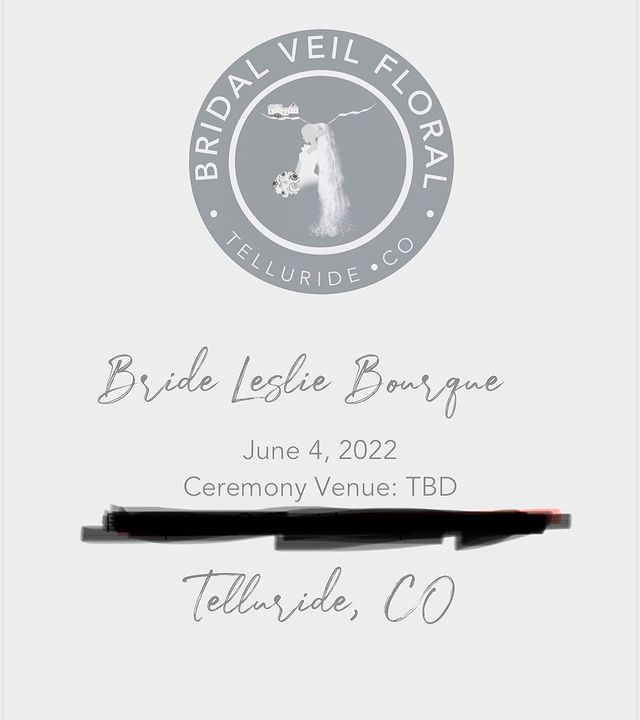 Dylan Walsh's Post About Their Marriage Date (Source Instagram)
The hilarious Instagram caption gives an essence of Leslie's character, and it sure is fun to be around. 
She further revealed that she used the "celebrity" card to book their marriage date. She wrote, 
"They were booked for the year of 2022, but I shamelessly used the "celebrity" card"
Oh, we haven't mentioned, have we?
THEY ARE GOING TO GET MARRIED ON JUNE 4, 2022. 
Another Soon To Be Married Couple: CNBC's Sara Eisen Is Soon-To-Be-Married to Matt Levine In A New York Wedding
The excited to be Mrs. Walsh concluded her enthusiastic caption by revealing that their catering will be handled by McDonald's. 
Quite unusual, isn't it, Leslie?
Well, that part might be a joke, but if it is not, we are hopping on a plane and self-inviting ourselves to the wedding, because who does not like McDonald's at a wedding, right?
Dylan's wife, as of recent, has also revealed who her photographer will be on a separate post and gave out details on why she chose her. 
The decade-long love and togetherness will finally convert into marriage, and we at LiveRamp Up would like to congratulate this lovely couple for their new beginning. 
However, they are not entering this stage of life alone; accompanying them are their two children that the couple love and adore wholeheartedly.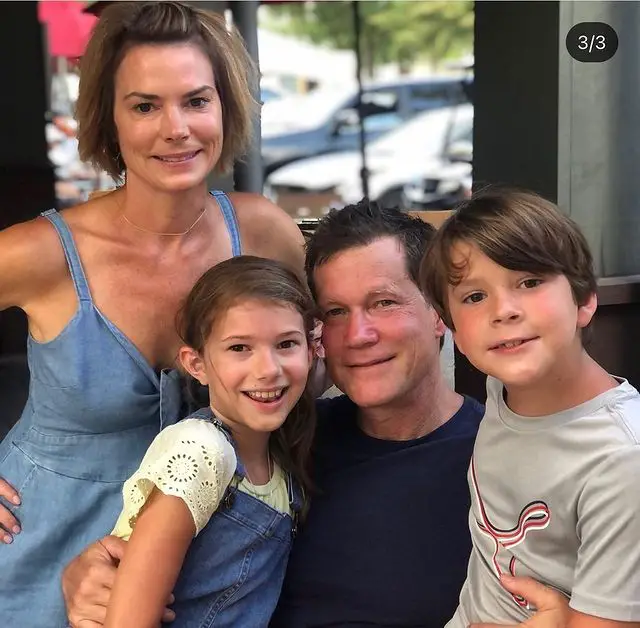 Dylan Walsh, His Partner, and Children (Source Instagram)
While Dylan does not post much on social media, he does not even have social media, but his wife compensates for his secrecy by handing out even the littlest details of their life. 
Covering Another Wedding: Wedding Bells And Baby Bells Rang Same Time For NBC News' Savannah Guthrie. About The Pregnant Bride And Her Married Life
How Did They Meet 
"We drank, we ate, we laughed, we cried and we had the best time. We had no idea we were officially bound together forever."
Leslie took her Instagram followers through the memory lane to share how it all started. She shared how they were in Louisiana and partied together and had fun.
But little did they both know they were to spend the rest of eternity sharing all the smiles, sadness, and love together. 
Leslie's post featured several pictures of the two together, but a particular picture of them is what Leslie reminisces about. January 1, 2011, was the day they had taken the picture.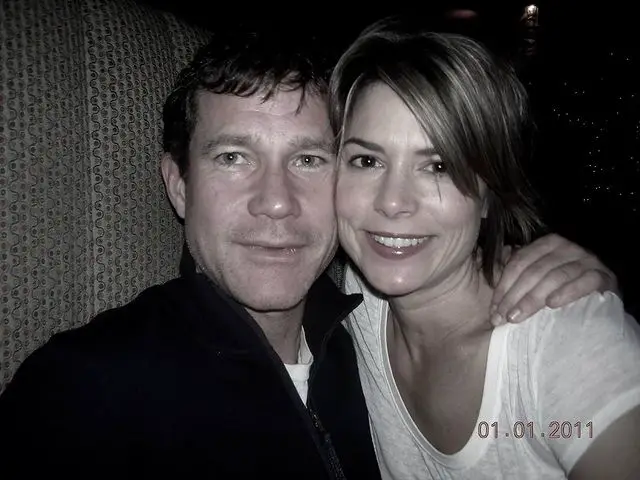 Dylan Walsh With His Girlfriend (Source Instagram)
She further revealed they found out about their first pregnancy weeks after the picture. Amelie Belle, their first daughter, was born after nine months. Additionally, sharing about the birth of her second child, she wrote, 
"We had no idea in 2 years from this date we would welcome our son Hudson Scott on Jan. 1, 2013."
Moreover, adding how the two were so in love and ready to take over the world, she concluded the caption with a short and sweet poem dedicated to his lover. 
This is not the only family that Dylan has as he is also the father to two children from his first marriage and one from his second marriage, all of whom are grown-ups now.
The family of four rides a wonderful train of happiness together, which has never stopped. The smiles shared in every family picture reflect the love and joy that glues this family together.