Sports
All on George Murdoch's Happy Family and Hefty Net Worth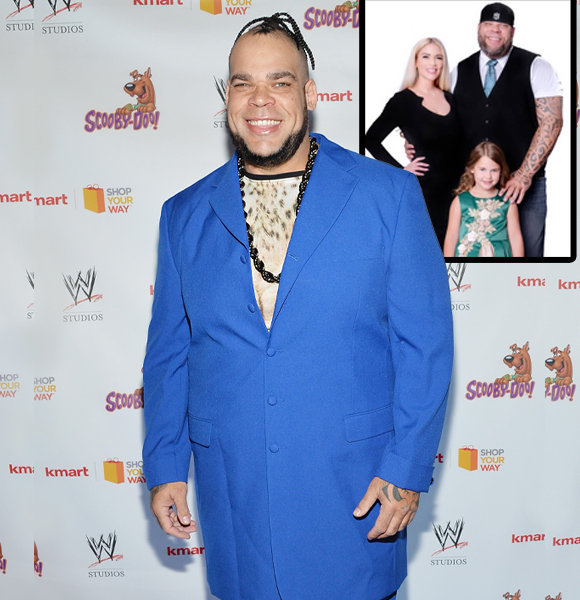 Brodus Clay, Tyrus, George Murdoch; the man has many names. Professional wrestler George has been a part of the sport since the 2000s and has left his mark.
But, when he's not tussling around in the ring, he's a loving father and husband to his wife and children. Indeed, George is a married man with a big family. So, who is George Murdoch married to?
Get to Know George Murdoch's Wife
George is married to his wife, Ingrid Rinck. They have been together for over a decade now and have one child together. 
But, the Murdoch family has more members to it. George has four other children from his previous relationships, whereas his spouse also has two kids from her past relations.
George doesn't really talk about his wife or kids, and he keeps his social media business-related. But his wife gives us in on the details of the happy family. 
Ingrid frequently posts pictures of the kids and her husband. Murdoch is away from home a lot, so when he's finally on vacation, the fam makes sure to go on trips together. 
George with his wife and daughter (Source: Instagram)
And when he's away, George still gives time to his loved ones.
Ingrid posted an adorable video of him talking to their daughter, Georgie, over a video call when he wasn't home. It's endearing to see the tough athlete melting down and talking sweet to his daughter. 
Similarly, she also posted a throwback video with pictures of her and George back in the day. They've been through it all together, and as a result, they share a bond that has lasted the test of time.  
"10 years watch us age. No it's not our anniversary. Just realized how long it's been," the wrestler's wife wrote in the caption. 
Apart from a lovely family, George and Ingrid share a passion for fitness. George's case is self-explanatory, but Ingrid is a fitness entrepreneur, weight loss coach, and healthy food enthusiast.
More on sports stars: Derrick Lewis Says His Wife Is His 'Ride-Or-Die'
She is also the founder of the brand The Rinck Routine, and George frequently shows his support for her by sharing about the brand on his page, which has gathered 189 thousand followers. 
Indeed, they share a powerful dynamic as a couple. Through Ingird's fitness brand and George's career, they afford to live a life of luxury. So, along with an amazing partner, Murdoch also has a handsome net worth. 
More on George Murdoch- Net Worth and Bio
George was born on February 21, 1973, to his loving parents and has reached the age of 49 now. 
He started his journey in wrestling in 2006 with 'Deep South Wrestling (DSW),' a WWE developmental territory. He progressed in the sport with his sturdy build and towering height of 6'7" and became a star on the rise.
Then, he went on to appear in various championships and shows such as 'NXT,' 'WWE Raw,' 'Superstars,' 'Wrestlemania,' 'Total Nonstop Action Wrestling,' 'Back For The Attack,' and more. 
Similarly, he also did television commentary and is now a regular on the panel of the Fox News show 'Gutfeld!.'
According to Celebrity Net Worth, he has amassed a net worth of $2 million through his successful career. Plus, there's no sign of stopping for the athlete as he's still very much active in the industry.