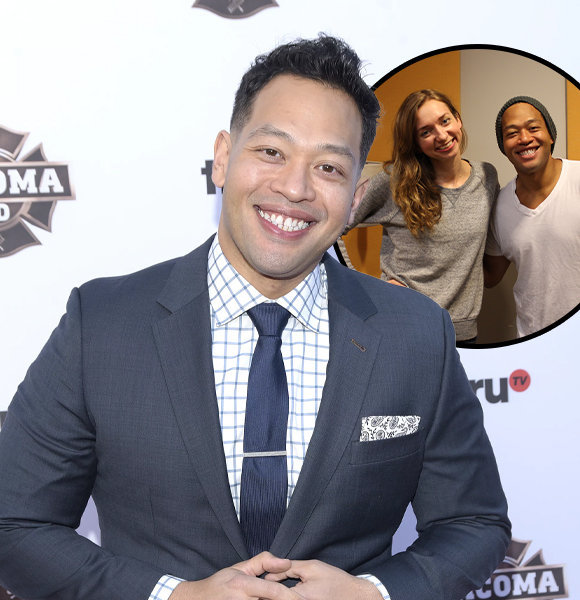 Eugene Cordero is a known name in the entertainment industry, especially for comedy fans. His wit, humor, and comical timing have been the reason behind the laughter of many.
But there's an unseen side to Eugene apart from it as well, and only his family, wife, and kids get to witness that side. So what is the humorous actor like when he gets off the stage?
Meet Eugene Cordero's Wife
You'd be shocked to know that the lovable goofball Eugene is actually quite the romantic in real life.
Eugene is married to his wife, Tricia McAlpin. She shares the same interests as her husband as she also is a comedic writer.
The pair got married in 2011 and have built a beautiful family together. They are parents to two children, a son, and a daughter.
The love is still fresh in their decade-long marriage, and Eugene is not afraid to proclaim his love for her. He often shows his soft side through heartfelt posts on Instagram.
For example, he shared a beautiful picture of his wife on kids on the occasion of Mother's Day. He wrote,
I am lucky enough to call her my wife and even luckier to witness her as a mother.
Moreover, he showed his appreciation for her and said he couldn't compare her love and dedication to the family.
"There is nothing in my life that I could do that would equal the dedication and love that she shows as a mother. Nothing. I don't even try to. It's next level," he added.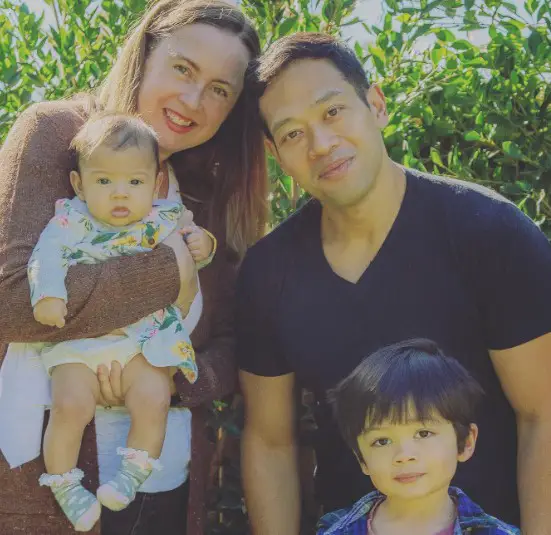 Eugene Cordero's Wife and Kids (Source: Instagram)
On the other hand, Tricia fully supports her spouse and is proud of his talents.
Congratulating him on bagging a new show, 'Crunch Time,' she tweeted, "Excuse me yes my husband is indeed crushing Hollywood as we know it. YEAH BABY I LOVE YOU!!"
Likewise, he is a passionate father and loves his kids more than anything else.
He must have been influenced by his parents, who are close to his heart. Interestingly, the three generations- Eugene, his father, and his son look super similar. 
Sadly, a rift arose in the happy Cordero family. Eugene shared that his father passed away in 2020, three weeks before his birthday.
But the comedian kept his spirits up and carried on his life inspired by his father. 
You might like:Sneak Peek Into Evangeline Lilly's Life with Boyfriend & Children
"I have always been proud to stand next to you Dad. I love you." he wrote in an Instagram post. 
But that's not it; Eugene has much more love in his life. He has two other special members in his family. Besides his wife and daughter, his mother and sister are the other important ladies in Cordero's life.
He dedicated another post on Mother's Day for his mom and sister. He wrote,
Happy Mother's Day to these two strong, caring, passionate women. Without them I wouldn't be the person that I am.
"My mom spent day in and day out showing me what true strength was and what real work ethic looked like. My sister guided me through life with compassion and support without judgement. As mothers, they are champions and as people, they are inspirations," he added.
A beautiful family surrounds Eugene, and he has an abundance of love and care in his life.
Not to forget, his career has also steadily been on the rise. So it's definitely a win-win situation for Eugene Cordero in all prospects of life.