Celebs
Evander Holyfield's Wedding Date With To-Be-Wife Revealed!
Former professional boxer Evander Holyfield's engagement news with his to-be-wife created quite a buzz on social media as this will be his fourth marriage.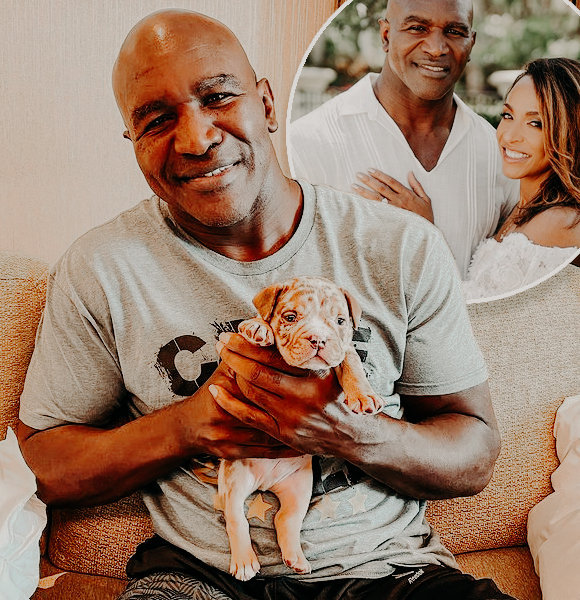 Former professional boxer Evander Holyfield's engagement news with his to-be-wife created quite a buzz on social media as this is going to be his fourth marriage. 
The announcement of the couple's engagement happened on October 14, and their wedding date is finally revealed. Well, it is not too far away!
Evander Holyfield & His To-Be-Wife
Donning matching white attires, the former boxer revealed the news of his engagement to the world.
On October 14 of 2021, he shared the big news with his social media followers on how he will now embark on a new journey with his beau. He wrote, 
"She said yes, I will marry you"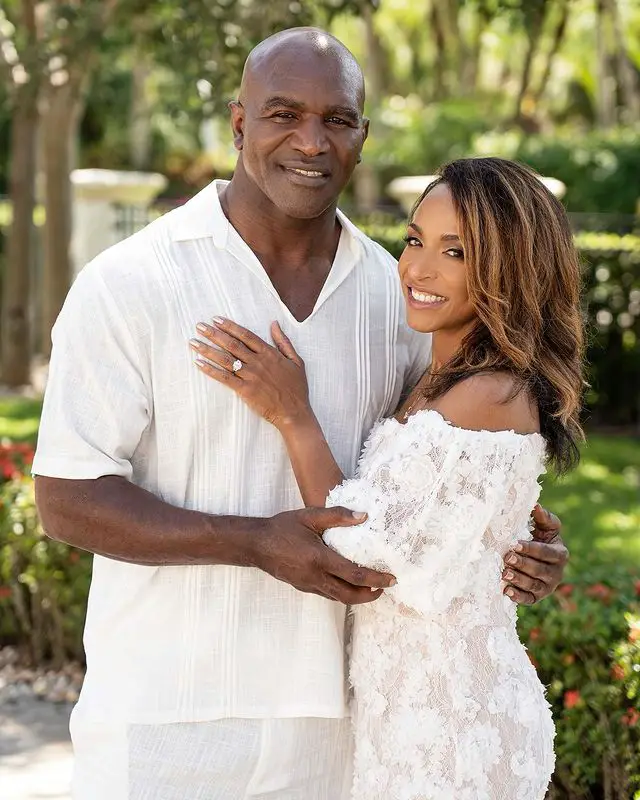 Evander Holyfield's with His Wife-to-be (Source Instagram)
It's been over two months since the news of their engagement broke out, and his fans and well-wishers are eager to know when the marriage actually is. 
Well, don't worry! We have got you covered. 
*DRUMROLLS* 
Wedding bells are on the way, and it is less than two months away!
Yes! The love birds will tie the knot on February 12, 2022, in Hollywood, FL, USA. Their reception will be held in The Guitar Hotel, Seminole Hard Rock Hollywood. 
We are as excited as you are as Holyfield and his now-fiancee, Shevoin Harros, will start a new chapter in their life.
The 'undisputed champion' might not post much regarding his personal life on his Instagram profile, but whenever he does, he makes sure it is on a very special occasion. 
Although Evander seems as excited as ever to start a new chapter with his partner, this is not his first taste at marriage. 
The four-time world heavyweight champion is married three times in total, making his marriage with Shevoin his fourth. 
Surely, one gets married to start their own family and live a happy life alongside their spouse, but sadly for Holyfield, he is yet to experience a successful marriage. 
A Boxing Legend: A Tribute to the legendary boxer Muhammad Ali: his record, wiki, death details & memorable moments
Past Marriages
Evander was first married to Paulette Bown for a  good six years (1985-1991) before separating. The pair have three children together.
The reason for his divorce was infidelity, as reported by CBS News, and upon divorce, Paulette moved away from the marriage with a $4 million settlement.
After five years of his first divorce, he got married to his second wife, Janice Itson, in 1996, whom he met at a religious crusade in Philadelphia in 1994.
However, the marriage too broke off, and once again, the reason was infidelity from the boxer's side. 
It was reported by CBS News that he had two kids out of his second marriage, and he was the one to file the divorce case to "dissolve his 2-year marriage."
Moreover, Holyfield married again in 2003 and was in 9 years of marriage with Candi Calvana Smith. The two eventually divorced in 2012 and had two children. 
His divorce was confirmed by TMZ in 2012, which also reported that their marriage was rocky from the start.
Candi also attempted for a protective order against her then-husband, who, as per her, "hit her in the head, face and back" in front of their two children. 
However, that charge was later dropped, but it is not that hard to pin that the ex-pair were having problems in their marriage beforehand. 
For all the details we provided, you might want to know, "How many children does Evander Holyfield have?" well, the answer is 11. 
He has eleven children from six different women, and as of 2021, Holyfield has a new addition to his family, a granddaughter. 
"My first grandbaby," as shared by himself. 
Evander's family is big and ever-growing as he also has to balance his relationship with other children from his previous marriages and affairs. 
Now, by the looks of it, Evander is ready to give another shot in marriage, and the time will tell how successful it will be. We fully hope that it works out well for him and his to-be-wife.