Entertainment
Francisco Lindor's Daughter Makes The Bond With His Fiancée Even Stronger
Francisco Lindor and his girlfriend take their relationship to the next level after the birth of their daughter.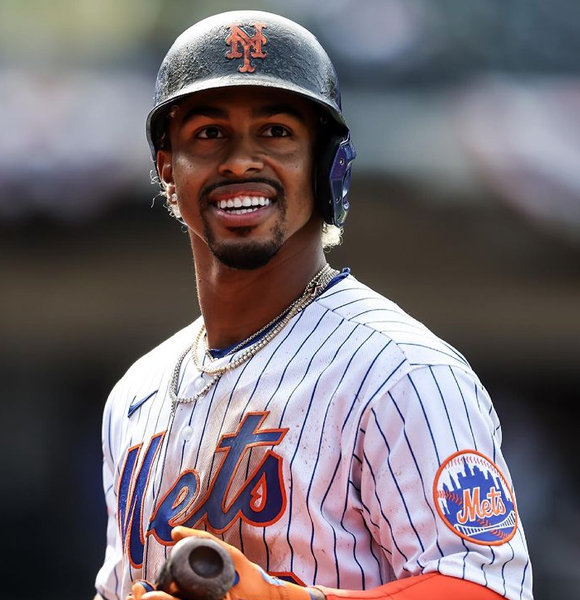 Francisco Lindor popped the question, and his girlfriend said yes! 
He asked the big question on December 27 of 2020, complemented by a nice setup of candles and sunflowers. 
Lindor's soon-to-be wife took to Instagram and revealed their engagement news by uploading a series of pictures of their happy day.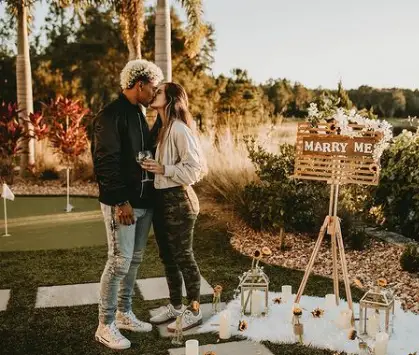 Lindor And His Fiancée, Katia On Their Engagement (Source- Instagram)
The Baseball star has been engaged to his fiancée, Katia Reguero, for one and a half years now, and their family is not limited to just the two of them.
A Happy Family  
The engaged couple is a happy family of three. The pair share a daughter who was born in November 2020.
It seems like the birth of their daughter made the two grow closer as they got engaged a month after their baby's birth. 
The couple's love for each other is pretty evident on social media. None of them shy away from expressing their love in front of the world. 
The player's to-be wife wished him on the occasion of his birthday and thanked him for making the world a better place for her. Posting a picture of sharing a kiss on a field of sunflowers, she wrote,
"Happy birthday to the love of my life! Thank you for infecting me with your joy and for making this world a better place. I wouldn't want to do life with anyone else. Here's to many more years of adventure by your side. I love you..." 
Francisco Lindor And His Fiancée On Sunflower Field (Source- Instagram)
It also seems like the pair are highly fond of sunflowers as they usually post their pictures on sunflower fields. Well, no wonder why the player had sunflowers all over his engagement set up, right?
To his fans wondering about his marriage date, it has not been revealed. However, Lindor seems quite excited about marrying his baby mother now that he has been engaged.
He expresses his views of marrying his wonderful fiancée soon enough. 
"I've got to get married. That's very important, Knowing where is going to be home for the next however many years, it's going to be huge. We'll see how everything goes. I just live life daily, but I'm living the dream, and it feels pretty damn good."
Says the baseball star as reported by Daily Mail.
Who Is Francisco Lindor's Fiancée Katia? 
While not much is known about his fiancée, Katia Reguero, she seems fond of playing violin as she usually posts her performances on Instagram. 
Further, the mother of the one-year-old seems to be very wary of environmental impact. She is very conscious of sustainable living and has been an active partner for Zero Waste, a company that creates eco-friendly stuff and protects the environment. 
With Katia's over 30.8k following on Instagram, she surely has been making changes one way or other. 
Her partnership with Zero Waste was official on July 7. With the help of zero waste, she plans to promote a zero-waste, healthy and sustainable lifestyle.
The family of three are living their life blissfully, and now, all that's left is to hear the wedding bells.