Marriage is bound by love, understanding, and going through thick and thin with one another. But moreover, it's about appreciating each other's presence. 
Such a loving husband is famous comedian Gary Gulman, who always appreciates his wife.
To those asking, 'is Gary Gulman married?' yes, he is happily married, and he never stops thanking her for being the support system in his life.
So, who is this mystery lady who has become the pillar of strength for our beloved comedian? 
Who Is Gary Gulman's Wife? 
Gary is happily married to his beloved wife, Sade Pilot. The couple met in 2014 and have been together ever since. 
Sade is known for her role in 'Passing Strangers,' featuring as a model in 2009. People recognize her for her work and as the spouse of Gary. 
The couple has made several appearances publicly, and many fans love to see them together. 
Bound by marriage vows, they are also strongly connected emotionally. Sade has stood beside Gary no matter what.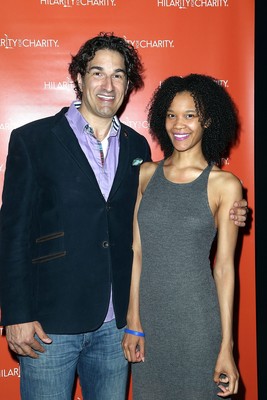 Gary Gulman With His Wife (Source: Patrick McMullan)
Gary was going through a bit of a rough phase with mental illness. That is when Sade proved her love and support for him. 
She supported and cared for him for so long that Gary can't imagine what would've happened to him without her.
Even today, the comedian constantly thanks her for being by his side through the hard times.
Regarding his depression, his wife once said in an interview,
There was a point when I honestly wondered if Gary would come out of it. My philosophy became: Make the best of every day because I don't know how long I'm going to have him.
As Sade was too worried about him, she made herself strong and made him feel better as each day went by. 
Now, Gary has recovered and is standing as strong as ever. He is able to work again and make people laugh with his comedic talents. 
He adores everything about Sade and loves her dearly. In a tweet, he stated, 
The sound of my wife brushing her teeth at night is my "Taps". Day is done.
Such a loving husband Gary is. Every woman wishes to be loved like that. Well, every man also deserves to be loved and supported by his other half through tough times. 
However, thanks to his wife, the comedian has made it past the horrors of depression, probably the worst phase he went through. 
Learn more about - Athena Karkanis Is an Amazing Mom On-Screen and Off-Screen!
Gary's Battle with Depression
Although every Gary Gulman fan has watched his special stand-up comedy show, 'The Great Depresh,' many are unaware of his story behind the comedy. 
His sufferings were far worse than one can imagine.
The outstanding comedian's condition worsened, and he had to be admitted to the hospital for 15 days straight. He considers himself lucky that he was with his loved ones when it all happened. 
He explained that he found it hard to get out of bed, cut his hair, or even shave his beard while depression had tightened t grip on him. The feeling was too much to handle for him. 
However, his spouse didn't give up on him, and his mother was by his side through it all. His two most beloved women were with him, so his recovery was inevitable. 
He spreads hope for those who remain hopeless, struggling with depression. He has become an example that a person who can go through tough times can still stand strong in the end. 
Now, he continues to share his life with his wife and give her back all the love and support he received. He is grateful for her presence in his life every day.