Entertainment
Athena Karkanis Is an Amazing Mom On-Screen and Off-Screen!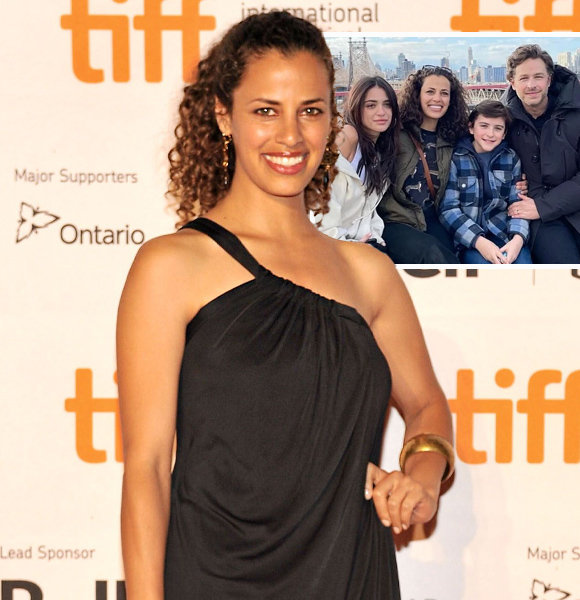 Athena Karkanis has delivered a memorable performance as Grace Stone in the Netflix series 'Manifest.'
Her spectacular portrayal of a mother on-screen has led people to wonder if the nurturing characteristic translates into real life as well.
So does the talented actress draw inspiration from her own kids, or is it just her acting skills that lead to a wonderful on-screen performance? Keep reading to find out.
Does Athena Karkanis Have Kids in Real Life?
It turns out the reason behind fans calling her 'the best fictional mother' is that she is a wonderful mom to her kids outside the sets too.
Indeed, Athena Karkanis has two kids, an elder daughter, and a younger son, just like in the show.  
However, the super mom has refrained from disclosing many details about her children.
Privacy can be a sensitive issue for celebrities, especially regarding their children, and Athena takes it pretty seriously.
She shared a picture of her two little ones on Instagram, but only after making sure to cover their faces with a heart and smiley faces. Moreover, she did not disclose their names either.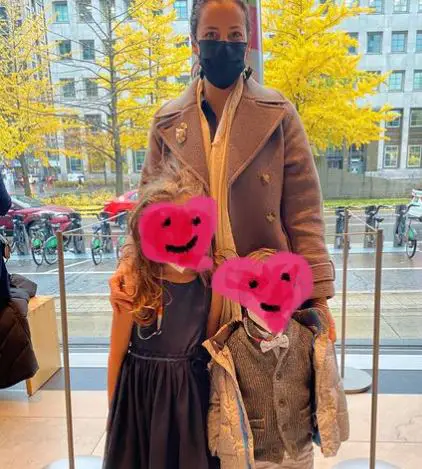 Athena Karkanis's Kids in the picture with faces covered (Source: Instagram)
However, she did share the background behind the picture; Karkanis and her children went to the theatre to watch ballet. While it might have been fun for the young ones, it was an emotional moment for her.
She went on a trip back in nostalgia, reminiscing her days in the theater. She wrote
I found myself overcome with emotion, thinking about how momentous this return to the stage is. As a performer (who's first many years of her career were on the stage) and as a lover of theatre and dance, I felt so happy and grateful to be there and to be sharing it with my children.
Moreover, the kids loved the show, too, making mama extra happy to share the love of performing with them. "That was the beautifulest thing in the whole wide world," said her four-year-old apparently.
You might like: Thomas Jane's Love Life Update! Is He Dating Now?
Now that you've known about her children, you might be wondering who their father is. But to everyone's surprise, Athena has not revealed her spouse's name either. 
Some sources state that she is married to a Canadian journalist, but there's no solid evidence backing that claim up.
But all seems well in their relationship as she had shared that her partner was extremely supportive to her when she was pregnant, and he continues to be.
She is, however, very close to her on-screen husband on 'Manifest,' Josh Dallas.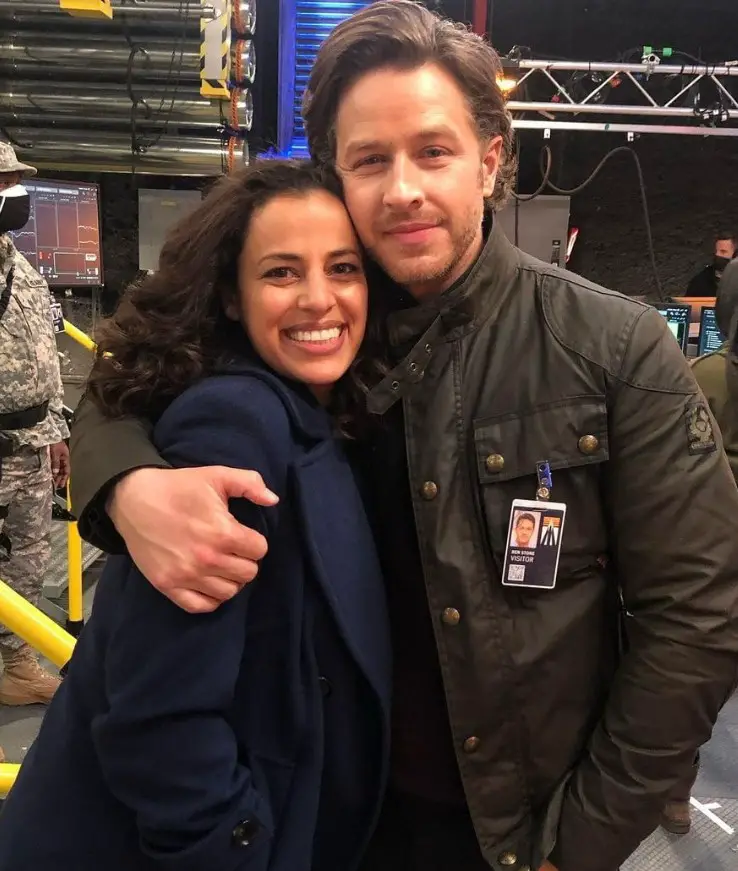 Athena and Her On-Screen Husband, Josh Dallas (Source: Instagram) 
Their chemistry on-screen is well-received by the audience, and their real-life friendship definitely contributes to it.
Fans might be wishing for a real-life romance between the two, but that has a low chance of happening as Josh is a married man.
Nevertheless, Athena puts up a great performance with Josh in the show. Her talent has landed her many roles in popular movies and shows throughout the years.
More on Athena Karkanis
Athena was born in Albert and raised in Toronto. Her parents come from Greek and Egyptian roots.
Her first choice in a career wasn't acting. She was a political science student but later realized her passion and opted for acting instead of law school. 
As a result, she has been a part of shows like 'Skyland,' 'Lost Girl,' 'House of Cards,' 'The Expanse,' and many more.