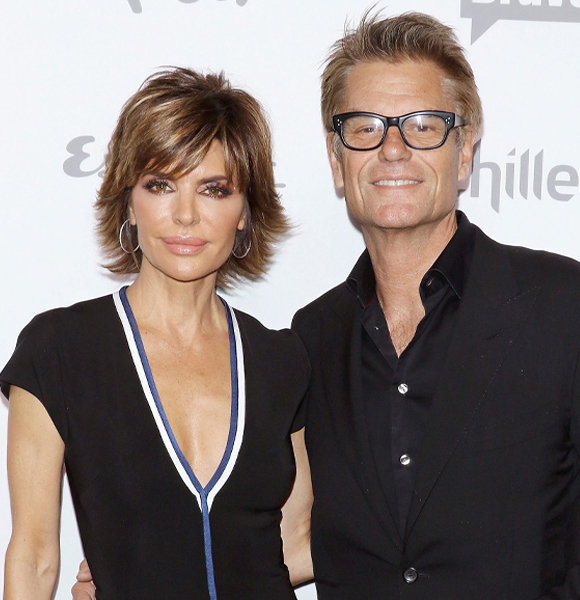 'Clash of The Titans' star Harry Hamlin has made some ineffable contributions in the entertainment industry with his fabulous performances on-screen.
Apart from keeping his shine intact in acting, he has been an inspiration to his fans as an author and entrepreneur. However, the global sensation left the audience skeptical as he hasn't been seen much in Hollywood these days.
As a result, several rumors, criticisms, and assumptions got sporadic. On that note, rumors regarding Hamlin being gay took the Internet by storm.
While many of his audience seem curious about his sexuality, we are here to help you find the right answer. 
Is Harry Hamlin Gay?
To get straight to the point, Harry Hamlin is not gay; he is straight. Harry tied the knots with the love of his life, Lisa Rinna, in 1997. Also, the couple shares two children, Amelia and Deliah.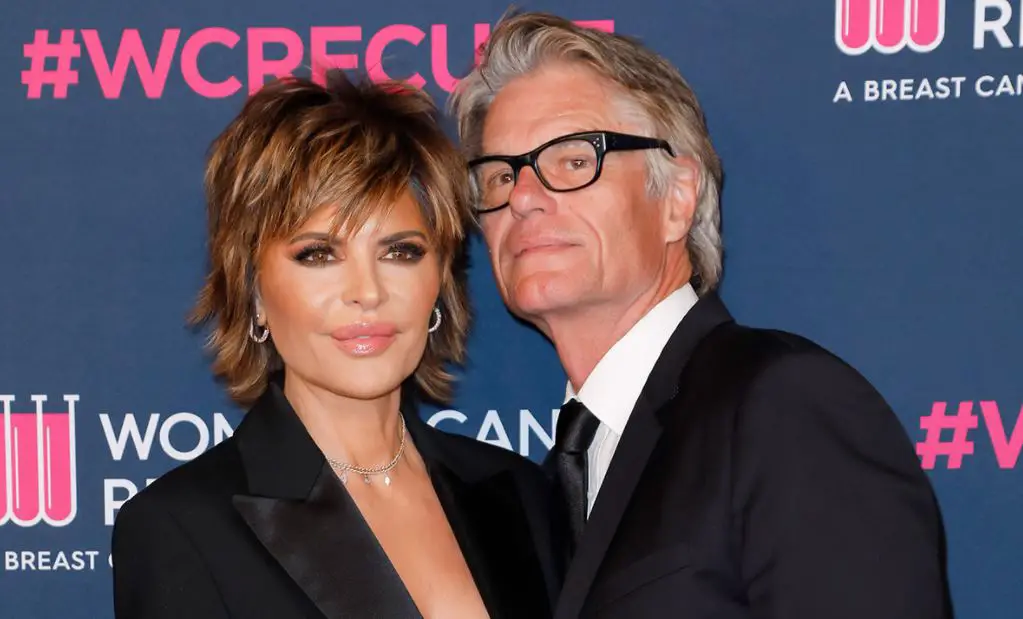 Harry Hamlin alongside his beautiful wife, Lisa Rinna (Image Source: Hello Magazine)
The husband and wife have been together for over two decades already. 
Now, as the point of Harry not being gay is addressed, you might be wondering about the cause that ignited the rumors of him being questioned on his sexuality.
The rumor started catching fire when Harry agreed to contribute to the movie 'Making Love' as a gay character.
His character is portrayed as a novelist who had a serious affair with a married doctor. 
The major motive of Harry being a part of this movie in 1982 was to change people's perception regarding same-sex romance.
Also, read Being Openly Gay, Seimone Augustus Married in 2015 with her Lesbian Girlfriend: Also her Career and Salary
And, it was a movie entirely dedicated to cutting through the gender stereotypes.
Nevertheless, Harry chose the film despite knowing that it could be a bit risky to his career.
He decided to go for it anyway and was ready to bear the consequences. 
But, as Harry was willing to work on something meaningful and serious, he grabbed the opportunity so that he could show off his versatility.
Unfortunately, things didn't turn out that well. After that film, the actor stopped receiving calls from the film industry as he did before. In an interview, he said,
 For years, I'd think was that the reason why I stopped getting calls? And finally realized that was the last time I ever did a movie for a studio.
Harry started believing how that particular movie paused his entire career. He also mentioned,
Regardless of the effect it had on my film career, I went on to have a great career — and I still do. I'm very proud of having done that movie.
Despite facing a sudden break in his colossal career, Harry regrets no bit about doing that film.
On the contrary, each time he is asked about it, he openly talks about how proud he is to have been a part of a movie like that. 
And, what makes him prouder is that a few of the audiences, who watched his movies, thanked him for the making, as it aided a lot of them to come out as their true self to their close ones. 
Harry has been currently staying away from the camera flashes, but he is prospering in his life by making his involvement in entrepreneurship and book writing. 
Just as Harry handled the speculation on his sexuality with ease, his wife is no less in throwing some sarcastic comment targeting the rumors. 
On that note, a few years back, when a social media user accused Hamlin, writing, "Recently read [Hamlin] allegedly beats his women, and also suspected he is gay/woman hater."
To comment as such, Lisa satirically replied with, "Oh damn he's freaking busy."
The comment was deleted shortly after. Anyways, keeping rumors, criticisms, and unnecessary headlines aside, Harry and his wife both have been leading a life with immense glee. 
The couple is together flourishing with heights of success and has always been unbothered about the gay rumors that mean absolutely nothing. They are soon to mark three decades of togetherness.