Celebs
Look Inside Hasan Piker's Sexuality, Ethnicity, Religion & More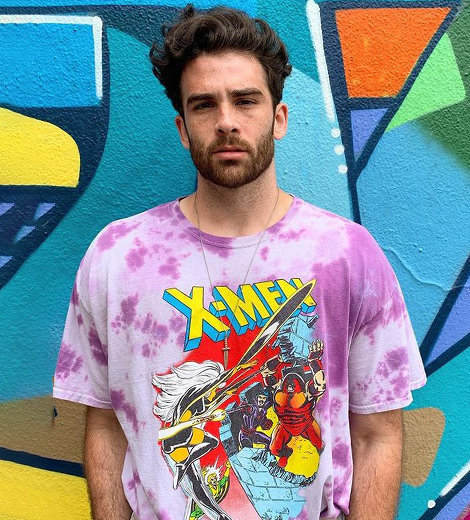 American personality Hasan Piker grabs a great deal of attention, primarily with his political statements and partly due to his striking hunky attractive look.
Popular on Twitch, he was recently banned from the platform for a week for using "racial epithet" for white people. 
The charming hunk is pretty vocal about his opinions regarding political matters, which causes quite a stir at times; another thing that causes some stir on social media with his name is his gay rumors. 
As handsome and well built as he is, him having millions of fan bases totally captivated by his aura is inevitable. However, the few relationships he has been on have often times given rise to some gay specualtions. 
Is Hasan Piker Gay?
Straight away (no pun intended), he is not gay. Many people who follow him might know this, but the columnist (yes, he is a journalist as well; more on that later) was actually in a relationship with a girl. 
He dated adult actress Janice Griffith with whom he has been pretty open in front of social media. The two, however, have split, but Janice was once frequently seen on Piker's posts and YouTube videos. 
By the looks of it, Piker's mother was also familiar with the relationship and fully gave her blessing to them. 
A post that dates back to 2015 features a picture of Piker and his ex-girlfriend as posted by Piker's mother. 
Posting the picture, she wrote, 
"My son and his girlfriend went @thegetty & I got this lovely photo #Giacometti #ProudMama"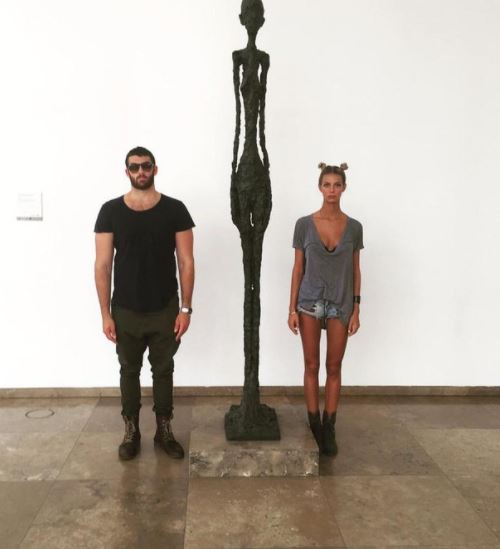 Hasan Piker And His Ex As Posted By Hasan's Mother (Source - Twitter)
In an interview with GQ, Janice revealed that she got her dog because she used to spend time with Hasan's dog, and she wanted a "companion of her own."
Although what went into the relationship to cause the break is a mystery, but the two still seem to be on good terms. 
Well.. they broke the internet when the two came together to talk about their lives and touched some aspects of their past relationship.
Another Notable Twitch Streamer: Valkyrae Wiki: Real Name, Boyfriend To Family Of Pretty Twitch Streamer
The video titled "Ask a pornstar: Janice Griffith (ex gf)" has over 1.1 million views and entertains the two ex-love birds going in at each other, taking digs at times (harmless, of course) while at times talking about their respective lives. 
Seeing the two gorgeous and stunning (THEY REALLY ARE!) ex pairs was really a treat to fans and their followers.
 Hasan Piker And His Ex Janice Griffith In An Youtube Video
So as all seems to be good now, we can confirm that Hasan is not gay. Also, he fully supports any sexual orientation that one has. 
One of the most subscribed streamers on Twitch, as fanciable as his looks are, so are the ways of his thinking, for many at least. 
Hasan, who is pretty open about discussing politics, usually trolls politicians for their contrasting views and opinions. 
When he was reacting to a video by Ben Shapiro, he did not agree to some points provided by Shapiro, for which in return he said how if one turns gay by seeing gay people, then they might probably be gay, and he also added there was nothing wrong with that.
So, it seems like Hasan is in full support of the LGBTQIA+ community, although he is not one of them. 
From garnering massive fan following through his socialist approach of thinking towards building and touching new heights in his career, Hasan Piker is one of the most notable social media personalities of the time. 
Who Is Hasan Piker?
Piker, who is a Muslim, is of Turkish descent. Staying true to his religion and ethnicity, he voiced his opinion in 2017, resisting the Muslim ban. Condemning which he wrote, 
"Banning an entire religion from entering the us, is divisive, delusional, unconstitutional and despotic."
Born in 1991, his birthday falls on July 25, making him 30 years of age as of 2021. He also has a brother named Murat, who is an engineer. His brother works as a Mechanical Systems Design Engineer at Boeing.
Piker is a left-wing political commentator who has worked as a broadcast journalist at The Young Turks and produced the show. 
Keep Reading: Dylan Ratigan Is Married With Beautiful Wife & Gay - Of The Other Kind
Moreover, he has also worked as a columnist at HuffPost. He also teamed up with Ethan Klein to co-host the h3h3Productions podcast named Leftovers.
As much as he tries to actively advocate towards feminism, LGBTQIA+ rights, gun control, Islamophobia, and much more real-world problems, Piker has also actively cared for his followers well being when it comes to the discussion of weight loss. 
Back in 2019, he shared details of his weight loss to one of his followers, who was keen to know about some diet tips. 
He further shared how he had a weight loss of 85 lbs through intermittent fasting. 
Additionally, he also won the 10th Streamy Award that was held in late 2020. As of 2021, he co-hosts the Fear & Malding podcast with Will Neff, a fellow Twitch streamer.