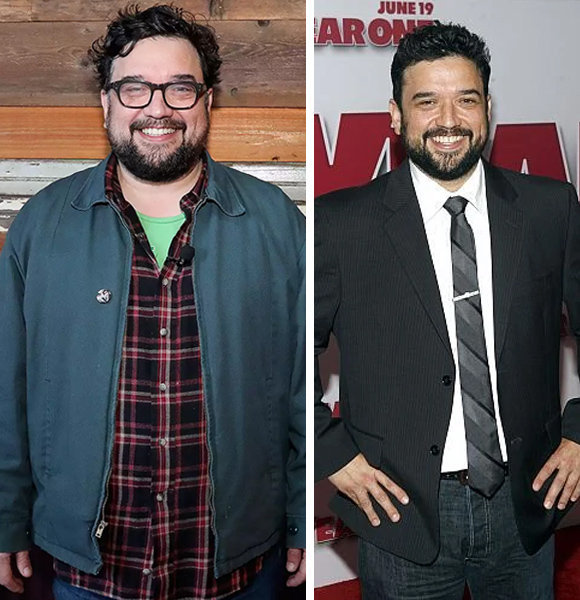 Former SNL star Horatio Sanz has made people laugh ever since he appeared on the screen. However, the comedian known to ignite laughter among the viewers gave his viewers surprise a few years ago.
Horatio shocked the fans with an impressive weight loss transformation, leaving people wondering the secret behind his weight loss techniques.
Horatio Sanz's Weight Loss Transformation
Back in 2008, Horatio made quite the statement by making his public appearance after one year with a completely new look.
Sanz appeared in a new look after weight loss, and looking back; he's hardly recognizable. Well, I guess that's what happens after shedding 100 pounds.
Yes, you heard that right. Horatio had lost a whopping 100-pound off his weight and emerged as a completely transformed man. 
So what went on behind the scenes of such an impressive transformation?
Horatio Sanz Weight Loss Before and After (Source: TMZ)
Spotted by the NY Mag at a play in 2008, they noticed the change in appearance and asked him about it, to which he said, "I've been eating better."
His looks might have changed, but his humorous personality remains the same. Sanz scouted for a joke to crack about the questions regarding his weight, and he sure came up with one.
"I've been trying to come up with a joke about how I've lost weight and I was going to say, 'I stopped putting nuts in my sundaes," he said.
However, the 100-pound number might even go higher, according to him.
The weighing machine becomes a nightmare for people, especially if their numbers are a bit over the norm.
Horatio felt the same, and he refrained from weighing himself due to a fear of sickness. Talking about his weight loss journey, he further added,
 I never weighed myself when I was at my fattest, because I was scared I might die
Of course, health and weight are closely related, and it's great to see him take the step forward to a healthier lifestyle. He has also been working out, and he's been mindful of his eating habits. 
The classic and effective way to weight loss was the way to go for Horatio. So if you were wondering how he did it, exercise, a balanced diet, and no nuts in your sundaes would be Horatio's answer.
You might like: Florence Faivre Reveals the Guy She Is Dating? More on Family
Nevertheless, fans have adored him for his skill and humorous personality, and a few pounds on and off will not change that for sure.
Sanz's SNL days are long gone, but he is still active in the industry with new projects coming up.
More On Horatio Sanz
Chilean-born American actor Horatio left SNL sets in 2006 after eight wonderful years.
Since then, he has appeared in several shows such as 'In the Motherhood,' 'Big Lake,' 'The Mandalorian,' and 'Great News,' to name a few.
Likewise, he has also ventured into the world of movies and voice acting with credits in 'Bachelorette,' 'Wreck-It Ralph,' 'Ralph Breaks the Internet,' and more.
Moreover, he has found love in the same industry. He is married to his wife, actress, and writer Jenn Schatz. 
Horatio is still the same funny guy and has stuck with his love for the comedy genre. Sanz has given us a lot more to look forward to with a new look and new projects up his sleeve.