Music
Jacoby Shaddix Never Shies Away from Expressing Love for His Wife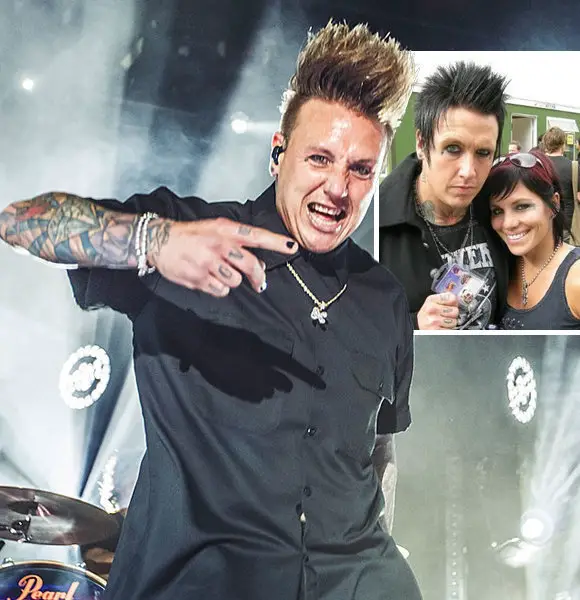 Lead singer of the rock band Papa Roach, Jacoby Shaddix, is widely popular for being the host of the MTV show 'Scarred.' 
Apart from having a prosperous career, he shares his life with his wife he has been married to for two decades, added to his prosperity. 
How cute it is it he calls her the love of his life? And she actually seems to be the one thing that Shaddix loves more than everything. 
Jacoby Shaddix's Wife
Jacoby has been married to his wife Kelly Shaddix since 1997. The two have completed two decades inside their marriage and are going strong in 25 years of their marriage. 
The two were high school sweethearts and had known each other for a long time.
He and his wife are just one the most compatible and loving pairs in the industry, and it is quite evident as Shaddix never shies away from letting the world know how much in love he is with her. 
The testament is his Twitter account that holds all the beautiful and loving words he has shared for his wife. 
"16 YEARS AGO TODAY I MARRIED THE LOVE OF MY LIFE KELLY MICHELLE SHADDIX!!!! SO BLESSED TO HAVE MADE IT…"
He wrote while commemorating 16 whole years along with his beautiful wife. The Twitter post was a shared post from his Instagram account.
The caption was entertained with an image of the two's beautiful hands, laying on each other, donning a beautiful silver ring with the date of their marriage. 
How beautiful!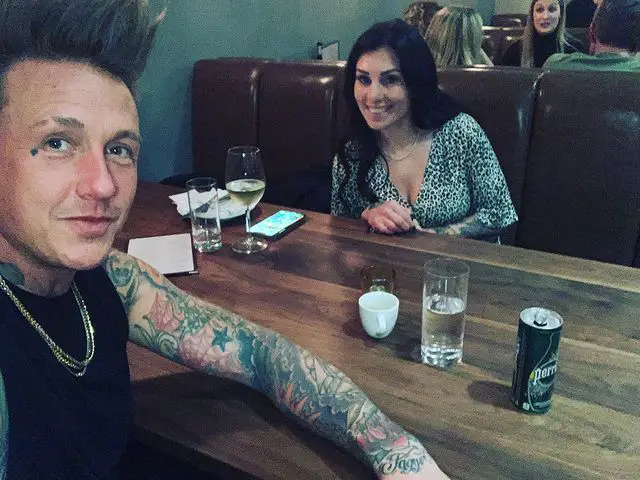 Jacoby Shaddix with His Wife (Source Instagram)
He also posted a picture embracing and commenting on her beauty and shared how he was just so stocked to see her even "just for a day." 
Sharing a beautiful picture of his wife, he wrote, 
My wife is insanely beautiful. So stoked to see her even if it's just for a day!
Shaddix, a busy singer, has to do tours, meet-ups, and concerts, resulting in which he is usually away from his spouse. 
But the Papa Roach founder makes sure to let his beau know how much he misses her quite openly.
He made it certain to let the world know how much he missed his spouse along with hashtags such as "hot mama," "wifey," and "20yearsmarried."
Well, we surely cant wait to see how Shaddix is going to commemorate their 25 years. 
The two are parents to three sons, Brixton Shaddix, Makaile Shaddix, and Jagger Shaddix, and by the looks of it, his sons are stepping on the paths of their father. 
Jacoby Shaddix's Sons
Although there is immense love in the family, there was a time when Jacoby and his wife nearly separated (they actually did). 
Also Read: Gay TV Journalist Seamus O'Regan, Who Fought Alcoholism Revealed How His Husband Helped Him Overcome His Addiction
The reason was Shaddix's problem with alcohol addiction.
However, as they say, love always connects the two souls that are meant to be together; the two got back together later and reunited. 
They now live life together alongside three other children. 
One of Shaddix's sons already seems fond of music and stepping their foot into the industry. 
His son Jagger loves metal music, and he also has a video singing with his middle son Jagger. 
His oldest son, Makaile, seems to be fond of playing lacrosse. However, his youngest is yet to work on his passion as he hasn't even hit his teenage yet. 
But it won't be a shocker if is youngest opts for music as a passion. After all, having a father who has impacted the music industry and is one of the best singers does have its perks.