Entertainment
Seamus O'Regan Fought Through Addiction with Husband By His Side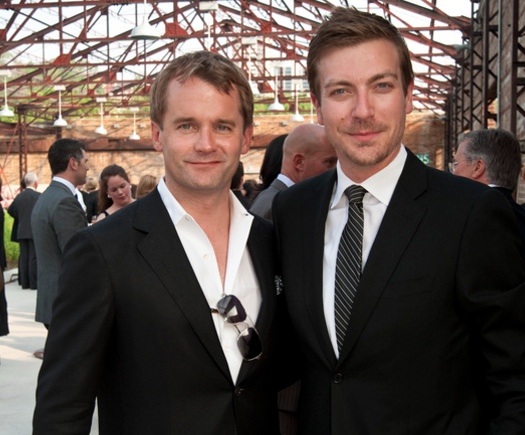 The openly gay broadcast journalist from Newfoundland and Labrador, Seamus O'Regan, is a very lucky man.
With a husband supporting the star through thick and thin,
Did you know that Seamus and his husband fought Seamus's addiction to alcoholism together?
To answer that questions, let's start from the beginning.
Seamus O'Regan's Married Life with Husband
O'Regan never allowed his sexual orientation to affect his career and dreams, no matter how hard it was to confess the truth.
Though people around him took their time to comprehend him and his sentiments, he always tried to find a comfort zone when he was surrounded by reactions.
Read Also: Tom Ashbrook Second Wedding After Tragic Demise Of First Wife
Despite many ups and downs, he is now happily living with his spouse and husband, Steve Doussis.
Steve is a trainer in the hospitality sector, Food and Beverage Director at fogoislandinn, and has his name on Instagram as Stelios.
Back in July 2010, the beautiful couple decided to take a step forward by exchanging their vows and having an amazing wedding.
The couple celebrated the 11th year of happily married life, sharing the emotions; the star captioned a picture with them together, stating,
"Happy anniversary @seamusoregan all I can say is I'm the luckiest man alive to have you by my side! I Love you."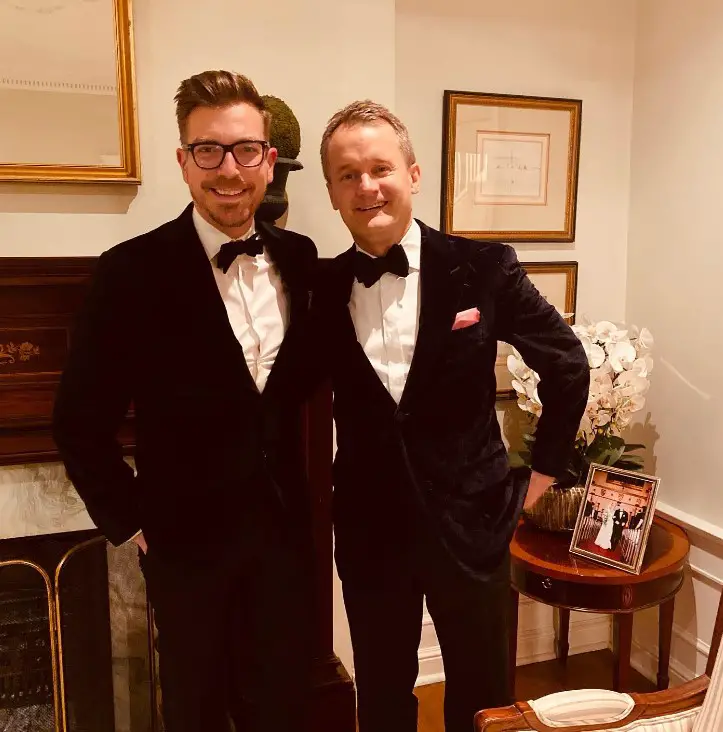 Seamus O'Regan with his husband (Instagram)
Sharing every bit of happy and special memories, Seamus makes sure to update his fans through his social media.
Uploading pictures with his husband and two of their pets, the happy family of four are absolutely adorable.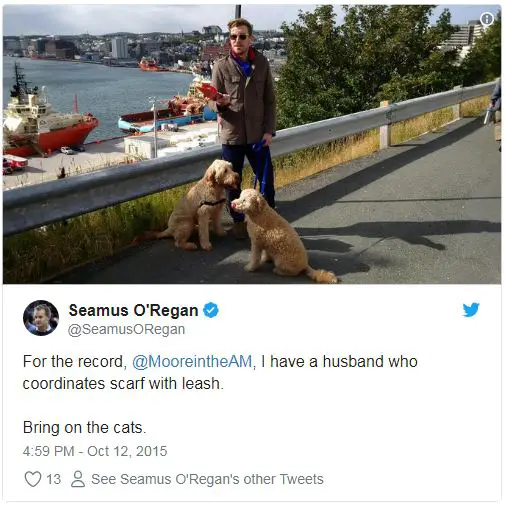 Seamus O'Regan's tweet about his partner(source: Twitter)
Being an incredible partner, Steve has also been a great motivator to Seamus.
Staying by his side through good and bad.
Overcoming Addiction
On his Facebook account some years ago, he stated
"Over the last year or two, alcohol was becoming a part of my daily life. I regularly had several drinks at the end of most days. Sometimes more than several drinks".
He announced that he entered a rehab program to undertake "an alcohol-free lifestyle" in December 1999.
"I was still working effectively and competently, but I realized, over time, that being competent was not good enough. I was far from my best self. And the simple truth is that I owe my best self to my marriage, to my family, to my friends, and to my constituents."
With his loving partner by his side, the TV star overcame his addictions and started a new beginning with his partner.
See Also: They're Dating! Openly Gay Actor Jonathan Bennett Confirms His Relationship with Producer Boyfriend Jaymes Vaughan
Expressing gratitude, Seamus feels very deeply for all his well wishes who stuck with him and encouraged him to be better every single day.
Following his addiction withdrawal, Seamus had to face another health problem in November 2017.
Undergoing an emergency surgery for a serious but non-life-threatening medical issue. The medical details were not made public knowledge.
You may also like: Gay Supporter Malcolm Gladwell Has Wife Amid Girl Problem? Parents Details
Having immense support from the love of his life and well-wishers, Seamus was back on his feet, all fit and fine even though he had just undergone surgery.
If we were to name his experiences away from his personal life, the talented broadcaster is also a Canadian member of parliament.
His talent, dedication, and hard work have played a vital role in his success. A former co-host of "Canada AM" (2003-2011) alongside Beverly Thomson, Seamus was a correspondent with "CTV National News."
Stay with us for more updates regarding the star's personal and professional life.