Entertainment
Jason Benetti's Twitter Statement Points Towards A Potential Partner?
ESPN commentator Jason Benetti's tweet from five years ago hints towards his potential wife. Is it really true?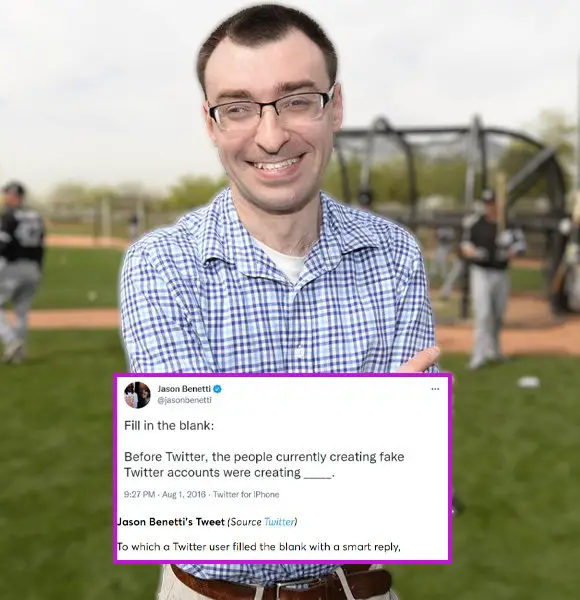 What do you do when you have to cover a celebrity like Jason Benetti, who is very low-key about his personal life?
You scour their down low social media tweets and posts and bring out something that has been long hidden. 
In a tweet made on August 1, 2016, Benetti finally shed some light on his personal relationship, something that his well-wishers and fans have always wanted to know. 
Revealed His Wife?
Sports Commentator Jason Benetti's career accomplishments will land a full page. However, his ever-so-private personal front is neatly hidden from the masses. 
This has made curiosity rise among his fan base; as a result, he gets questions now and then about his love life. 
The same happened five years ago when a Twitter user answered a tweet that Jason Benetti made. 
He asked his followers to fill in a blank to a statement that he provided further. He wrote, 

Jason Benetti's Tweet (Source Twitter)
To which a Twitter user filled the blank with a smart reply, 
Girlfriends who live out of town
The user was smart to point out the fact that his partner lived outside the town. However, Benetti was quick to point out the fact that his girlfriend wasn't actually from another town, but she was from a whole another country. 
He replied, 
Her name is Alberta, she lives in Vancouver....
So, Alberta, it is.. right?
Well, that's what you thought, but the sportscaster was actually pointing out a reference from a play. 
The statement was an Avenue Q reference, and most people still think that he was talking about his girlfriend.
Thankfully for his admirers, your fave never had a girl named Alberta in his life. Unfortunately, however, any answer to his personal life now cannot be addressed as there is no news available. 
Benetti might not have shed proper light on his personal life. However, his professional achievements are one not to miss. 
More On A Famous Sportscaster: Sports Journalist Married to a Player: Heidi Watney And Her Athlete Husband. Children and Dating History?
Salary Of The Sportscaster
Born on September 9, 1983, Benetti started his career as a Chicago sports radio station intern. 
It was in 2011 when he changed to the network that he is famously known for, ESPN. 
His association with ESPN opened the doors of a mainstream broadcasting career for him. He hosted his first football game for ESPN in 2013 for the American Athletic Conference. 
In 2016, he was selected to be the play-by-play announcer for Chicago White Sox. 
Working with Chicago White Sox lands the Benetti with an average salary of $47,196 annually.
As of 2020, the Syracuse University graduate (2005) signed a generous multi-year contract extension with the ESPN network. 
Another Syracuse University Graduate: Nick Wright's Successful Career In Sports Journalism
More On Jason Benetti
Benetti is also the main announcer for ESPN's alternate "StatCast" telecast. Along with ESPN and Chicago White Sox, he has also worked for Fox Sports, Westwood One, and Time Warner. 
He was also a commentator for the 2020 Summer Olympics on NBC. 
Growing up prematurely in 10 weeks, he was hospitalized for a total of three months. This led to complications on his walk, and after years of therapy and surgeries, he managed to improve his walk. 
He now also works with CHAT, Communication Hope through Assistive Technology at Syracuse University.