Sports
Jason Witten Life After Retirement With His Wife & Kids
Jason Witten has garnered millions of fans with his amazing professional front and now he plans to leave his fans in awe with the amazing display of his happy family life alongside his wife.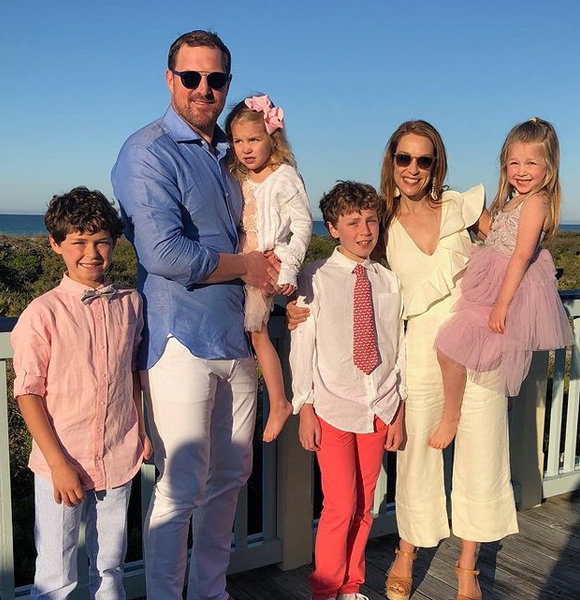 NFL star Jason Witten garnered millions of fans with his amazing professional front, but now it seems like this freshly retired American player plans to leave his fans in awe with the amazing display of his happy family life alongside his wife. 
He recently shared an anniversary post dedicated to his wife, and the words expressed by Witten make one see him in a completely different light than they saw him during his NFL days. 
Jason Witten's Wife & Family
"You inspire me to best man I can be every day."
The former Dallas Cowboys player credited his wife, Michelle Witten, for the amazing life that he lives.
On July 13, 2021, Witten took to his official Instagram page to wish his beautiful wife on the occasion of their anniversary. The post featured a beautiful beach picture of him and his wife with his four kids. 
Hugging each other close and tight, hand in hand, the pure warmth and smile charmed by amazing waves in the background was everything, and beyond that of what a happy family looks like.
Further sharing more on his godly wife, he wrote, 
"I am so proud of you and am eternally grateful for the beautiful life and family we have created."
Indeed, the pair has created a beautiful life together, complimented by their amazing kids.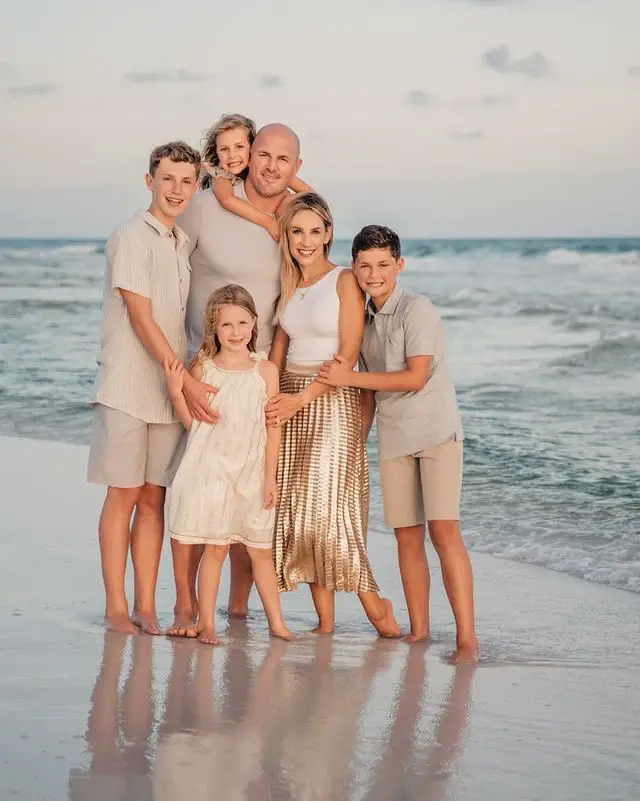 Jason Witten With His Wife And Kids (Source Instagram)
Besides, the husband-wife duo were high school sweethearts and had known each other for a very long time. The two attended Elizabethton High School and also went to the same university together. 
More On Dallas Cowboys: New Era For Dallas Cowboys After Signing Alfred Morris for Two Years At Appeal Up To $5.5M
While he opted for a football career, his wife was a nurse at Parkland Memorial Hospital for over a decade. 
Moreover, Jason and Michelle are parents to four children; two sons named Christopher and Cooper and two daughters named Landry and Hadley. 
Michelle enjoys the process of her motherhood, from getting them ready to school, carpooling them, and helping them with all their activities. However, with his growing family, Jason initially felt like he was not doing much for his children. 
Given that he was busy with his career, he still felt that he wouldn't be a good dad. 
"I still remember the uncertainty I felt when my first son was born. It was the middle of the football season, I was working full-time, and whenever I'd come home I'd try to take over for my wife or at least help out."
He further added, "And those first couple of months, I felt like, "Man, I'm not going to be a really good dad. This doesn't come naturally to me." Still, I did the diapers and I did the bottles and, just like any father, I got the hang of it."
Indeed, the journey of fatherhood was challenging, but seemingly, there is no other way Jason would have wanted his life to be.
The family man values family over anything and never shies away from posting pictures with his wife topped off with romantic captions.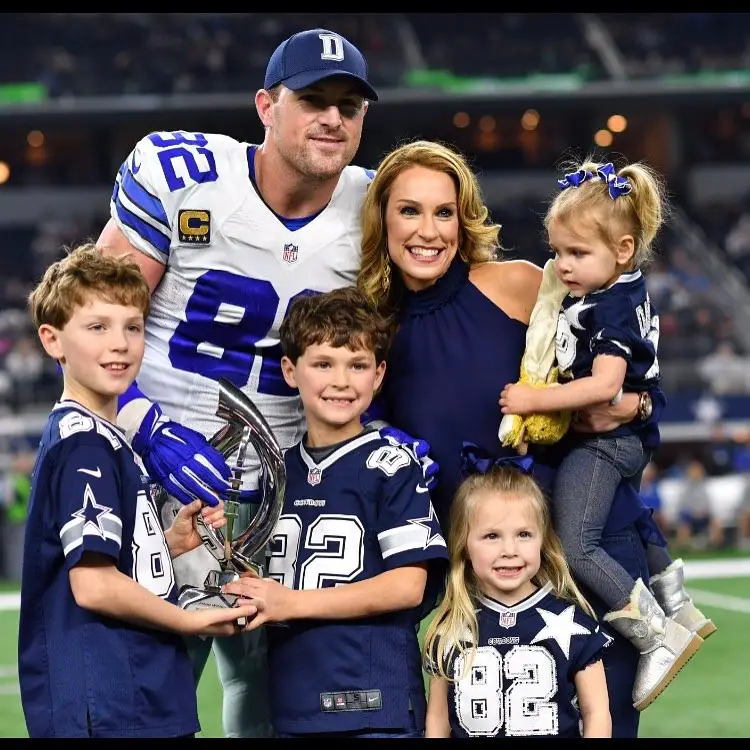 Jason Witten With His Family (Source Instagram)
All in all, life after retirement has kept this father of four quite busy and occupied; the main reason? His children, of course. 
However, Witten has never taken a break from associating himself with football. He works as an Analyst for ESPN, which only adds to his already staggering net worth.
More On: Is Joey Galloway Secretly Married? Retired Player Does Not Talk About His Family
Jason Witten's Net Worth  
Jason played college football for the University of Tennessee, which is the same university where he and his wife went to. He was drafted by Dallas Cowboys in the 2003 NFL Draft. 
After playing four seasons with the Dallas Cowboys, he extended his contract for six more years for $29 million. 
In 2017, he again signed a four-year contract extension with his team. On March 25, 2020, he started his new contract with Las Vegas Raiders; however, when he officially retired on January 27, 2021, he signed a one-day contract with the Cowboys to retire as one of the members of the Cowboys. 
As of now, he appears as a color analyst for ESPN's Monday Night Football. CelebrityNetWorth reports, Jason Witten's net worth to be $12 million.